Look, Jamesons, it's your kid. You can name it whatever you'd like. India. Brooklyn. D'Brickashaw. Apple. Falcon. Seriously, go to town. We're in support of whatever you want to throw our way.
But if you're going to give your daughter a weird name, at least roll with something that doesn't imply you spent the entire pregnancy cycle staring at your iPhone. 
Hashtag Jameson popped into this world on Saturday evening at around 10 o'clock, a precious little bird weighing eight pounds and possessing at least seven fingers—the full extent of what the only identifying picture shows.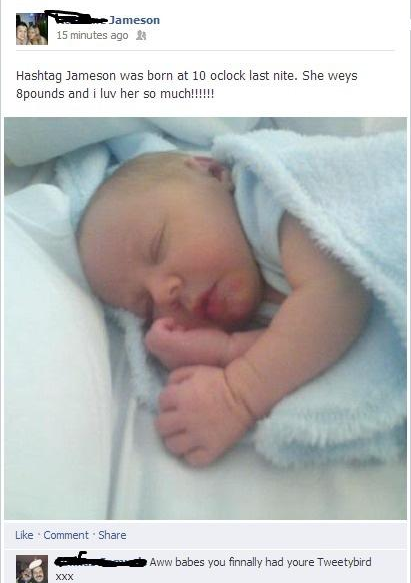 This is not the first time that parents have taken to the social media dictionary to outfit their child's birth certificate. Last February, a man in Egypt named his son Facebook in an effort to honor the role the website played in igniting the country's January 25 revolution.
Right now, Hashtag looks good in blue, but the jury's still out deliberating on how that'll go when the hair finally starts growing in. Her mother, whose first name is not currently known (it's probably not Hashtag!) "luv[s] her so much" that she thought it appropriate to add six exclamation points.
Hashtag will likely grow up to be a happy, healthy, beautiful adult woman, but we can't help but think she's going to face a great deal of scrutiny and teasing on the grade-school playgrounds.
Tag! #YoureIt.
Photo via Riley1Son/Twitter