Beth Cook is a personal coach and writer. Want advice? Have advice? Send her an email.
Who are you? No, really—who?
As a communications consultant, I often help people with their elevator pitches. If you don't know what an elevator pitch is, I'll defer to Wikipedia's definition, which I very much like: 
"An elevator pitch, elevator speech, or elevator statement is a short summary used to quickly and simply define a person, profession, product, service, organization or event and its value proposition."
In my humble opinion, you need an elevator pitch for everything you are trying to achieve at any given time (a better job, new friends, etc)—and especially dating. 
When it comes to online dating, your elevator pitch is essentially your self-summary; there are also elements of it in a profile tagline, or the "You should message me if" section of OkCupid. It is the few sentences in which you describe who you are and what you are offering. And if you want it to work, it should be a description of your true self.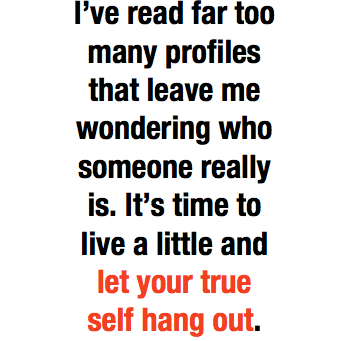 If you are able to accurately describe yourself—and you back that up IRL by behaving the same way—you will magnetically attract what and who you want. No joke.
I get the sense online (and IRL) that many people are trying to be who they think others want, instead of being themselves. A guy or gal will wax on and on about how he or she likes oh so many things, and yet will fail to describe his or her true essence (talents, gifts, values, offerings). I'm sorry to break it to you folks, but this strategy will never work out for you.
You'll probably attract a hodgepodge of characters into your dating life and will have trouble assessing who is actually a good fit for you and how much you really like them.
Why not instead reveal your superpowers right away and attract the gal or guy you want? Do you look at everything in life with a sense of curiosity, creativity or adventure? Do you value vulnerability and intuition? Are you fiercely loyal to those you love? Say it loud and clear!
I've read far too many profiles that leave me wondering who someone really is. It's time to live a little and let your true self hang out. At the end of the day, it's not the bands you like or the trails you hike that make someone fall for you—it's who you are deep down.
So play up your true self in your profile and in life. You'll discover that people find your self-confidence, honesty, and authenticity pretty damn attractive.
Photo by carolina terp/Flickr