He's been called an idiot, ignorant, and a man of flawed logic. He's been ridiculed, chastised, and told that he'll be lost at the airport when his ship comes in. His notes have evoked anger and rage. He's widely considered a little turd. Still, the great Yahoo troll Ken M carries the same sentiment as he did on his first day surfing the site.
"Today's cows are obsessed with brand loyalty."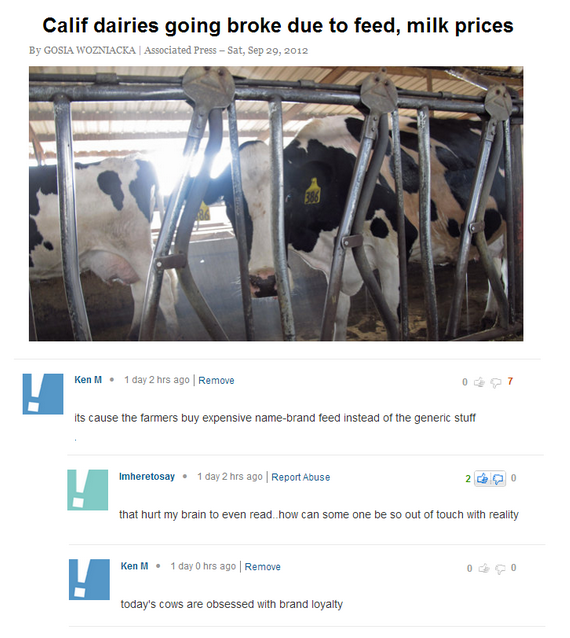 If you've ever been trolled by Ken M, it's hopefully something you were able to take with a well-ground grain of salt. If you haven't, it would be best to keep an eye out. If you spend any type of time working the comments sections within Yahoo posts, you're putting yourself straight between the crosshairs. Ken M curtails his trolling for no man, and the more you post, the more likely it is he'll find you.
"It's like the Wild West out there," Ken M told the Daily Dot. "It's so weirdly, unnecessarily pessimistic. It's poorly moderated. People can say the most offensive things.
"It's a surreal place. You have these archetypes there that…. this amazing thing will get discovered through scientific research and somebody will come by and complain about how many tax dollars were spent. Elderly people will have sweet things to say but not be very Web savvy and come off looking like idiots. There are three or four types of people you'll see, and they're people you won't see on places like Huffington Post or CNN.com. It's kind of a Yahoo thing—the last frontier."
In many ways, Ken M's claim is true. Though not exactly a content farm, Yahoo's journalistic spectrum is as rotund as it is robust. It's where you find articles about Lindsay Lohan's domestic disputes and winners of the Nobel Prize, news concerning the future of hands-free luggage and gas tanker explosions. It syndicates prolifically, pulling stories from Good Morning America and Bon Appétite, and it sees a tremendous amount of readership: The site attracts more than 88 million unique views each month.
Ken M, who wouldn't tell me anything about himself except that he lives in Brooklyn and works as a copyeditor, decided to start trolling each and every one of those 88 million readers in April 2011.
"It kind of evolved into this sloppy thing I do," he said. "At first, I actually tried to engage with these people in earnest, because I do care about stuff that's going on in general."
But Ken M quickly learned that earnest engagement was no way to wade through the depths of a Yahoo comment thread. These are people who take issue with NASA using their tax dollars for dynamic space explorations and legitimately question "why actors pretend to be someone they aren't," after all. They are there to be trifled with. So in April 2011, he decided to start trifling.
"It isn't really a firmly outlined character," he explained. "There are certain hats I'll put on.
"Sometimes I'll be a really nice old man."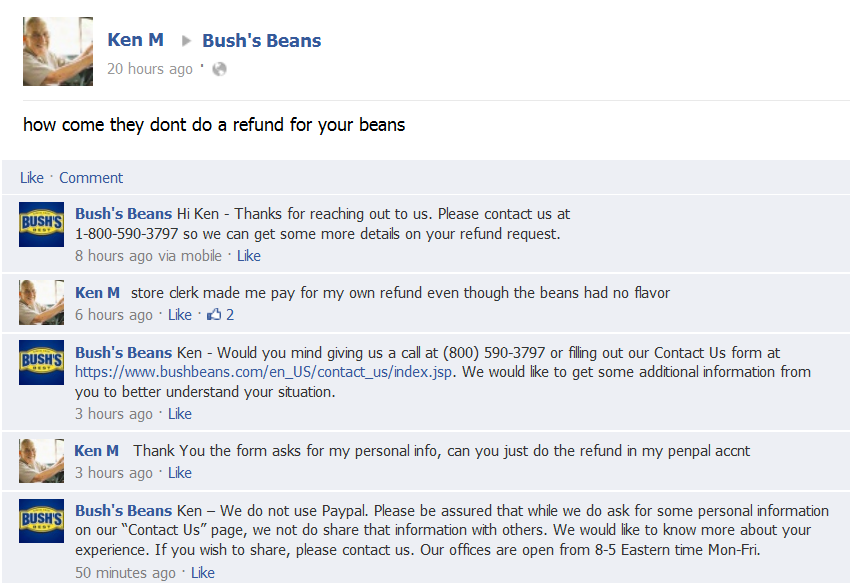 "Other times, I'll be this disgruntled right wing guy who sees the government's hands in his pockets any time there's this government funded program."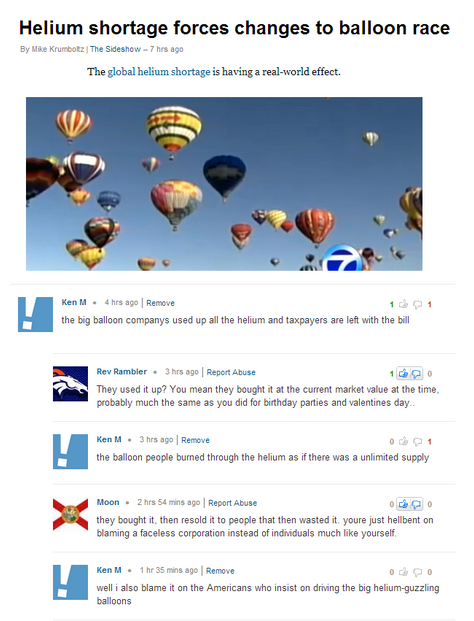 "Other times, and this is more rare because it's difficult to pull off, but Yahoo comment threads have this really big anti-intellectual streak because of the guys I just mentioned. People hate teachers. They hate education."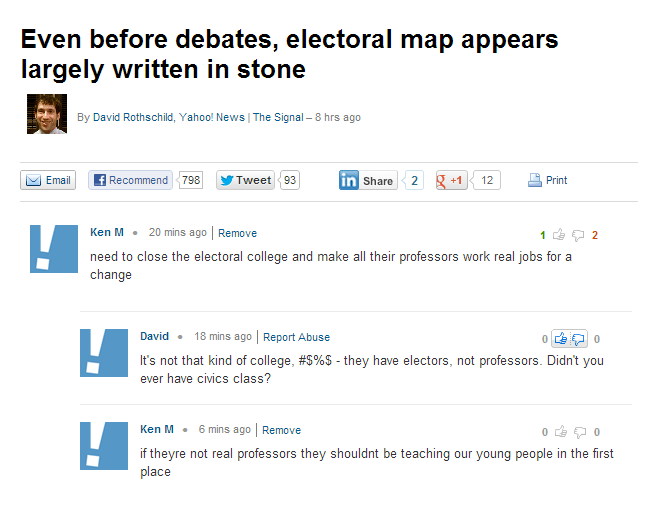 "I don't know if you saw the one about the origin of the word 'brunch' and how it's an onomatopoeia. That's not true at all. That's a very different one that I'll do sometimes."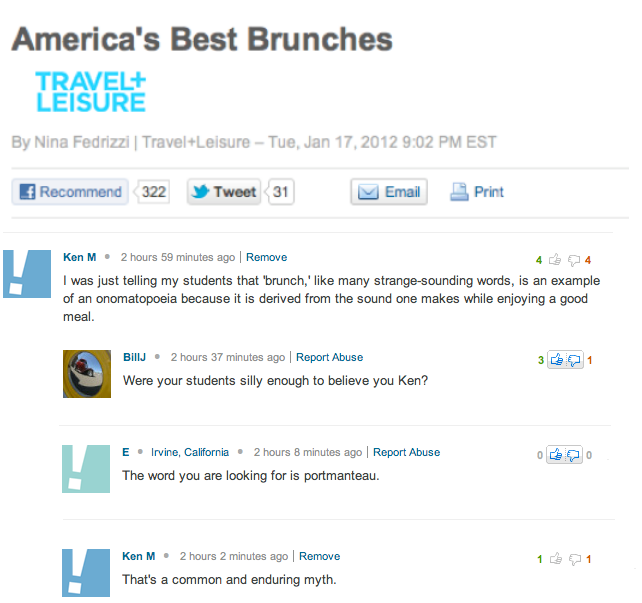 Four hats, one man, no last name. How's Ken M do it? Pretty much the same way you get your morning news report: He surfs the Web.
"I just browse around," he said, and he really means it. He reads the articles, looks for stories, and keeps his eye out for the reports that'll draw ire from the masses. Then he writes the first few words that comes to his head, presses "post," and ditches the scene.
"If I prepare it too much, the end result will get stilted and people won't respond," he said. "They'll know what I'm doing.
"A lot of times, it's just the tone that you strike and the way you misspell things. I want it to look like there's somebody there, but they have a surreal, cartoonist logic. That gives me pleasure."
And distinct pain and frustration for 88 million Yahoo readers worldwide.
Photo via Ken M/Twitter