So much for doctor-patient confidentiality.
Dr. Amy Dunbar, an OB/GYN at a St. Louis hospital, is facing calls to be fired after she posted disparaging comments about a patient on her Facebook account last Monday, reports KMOV-TV. She complained that an unidentified patient was constantly tardy for appointments prompting her to write "May I show up late for her delivery?"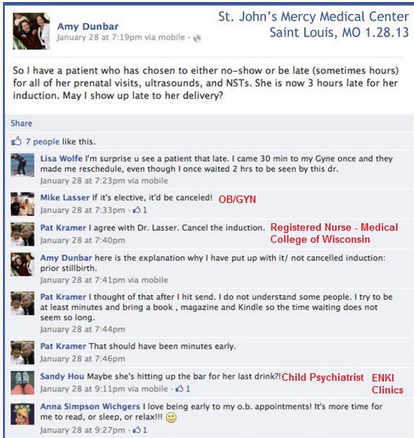 Dunbar's account on Facebook is still visible but she has limited the viewing settings on her status updates and wall.
A screenshot of the post is being circulated on Mercy Hospital's Moms to Be page on Facebook as people are chastising Dunbar for her comments. Hospital employees also participated in the comments, and some are wondering whether the posting breached the patient's privacy although Dunbar didn't mention her by name.
"[Dunbar] should not be allowed to work with patients if she callously talks about them on her own Facebook page. While she does not name patients on her page she gives personal information about patients which could identify who she is talking about," wrote an outraged Heather Tiedemann.
A hospital spokesperson responded that the hospital has reprimanded Dunbar, calling the doctor's comments "definitely inappropriate." The hospital is reviewing the Facebook posts, which may have revealed personal medical history, to see if they violate any privacy regulations.
"That process requires a more thorough review, but we will determine the appropriate response as quickly as possible," it wrote.
Photo via KMOV-TV