Following the tragedy in Newtown, Conn., millions of people around the U.S. shared their thoughts on the shootings that claimed the lives of 26 people, including 20 children, and how the media covered it.
One person who hasn't said anything publicly is Morgan Freeman. Surprised?
If you saw that Morgan Freeman quote circulating around Facebook and Reddit, chastising the mainstream media for turning killers like Adam Lanza into celebrities, you might not have realized that it's a fake. 
You know, this one: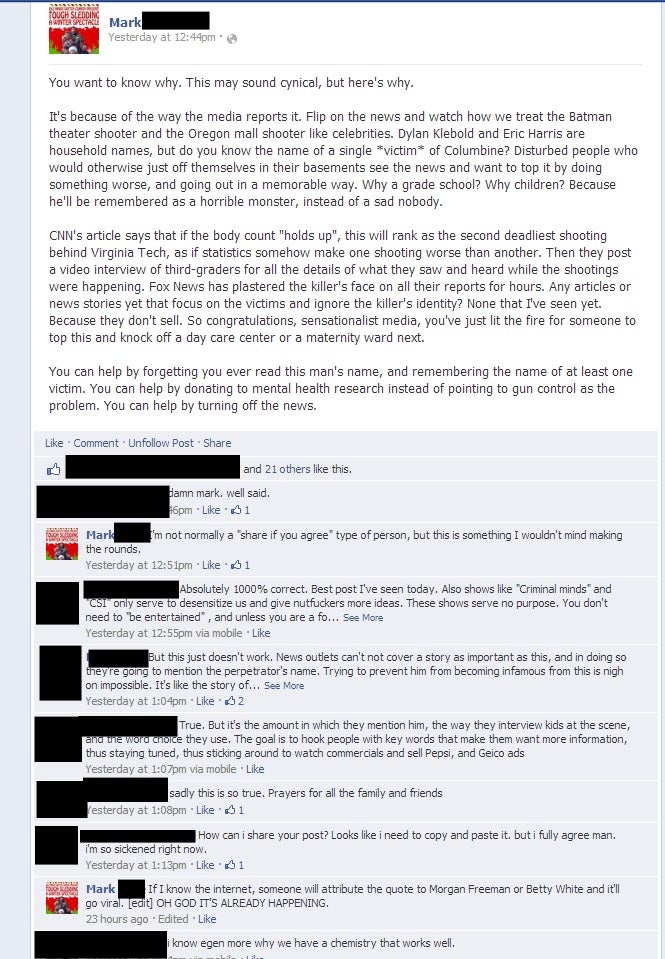 Fox News has plastered the killer's face on all their reports for hours. Any articles or news stories yet that focus on the victims and ignore the killer's identity? None that I've seen yet. Because they don't sell. So congratulations, sensationalist media, you've just lit the fire for someone to top this and knock off a day care center or a maternity ward next. You can help by forgetting you ever read this man's name, and remembering the name of at least one victim. You can help by donating to mental health research instead of pointing to gun control as the problem. You can help by turning off the news.
The hoax was perpetrated by a Reddit user named Mark who "thought it'd be funny" to peg the diatribe to Freeman. A Reddit thread featuring the quote collected more than 1,700 comments from people upset over the hoax and others from people who looked past the lie to discuss the media's influence on society.
"So is the argument that the shooter wouldn't have done this if he wasn't going to get TV famous for it? That's a weak argument in my opinion. What evidence points to him doing this for the infamy? His targets weren't even entirely random people, he was hunting his parents. Everyone is just trying to pin the blame on whatever will further their agenda," Outlulz commented. "I've seen more blame put on guns, mental health industry, the media, and teachers than even placed on the shooter himself."
Freeman's first breakout role was in Driving Miss Daisy (1989) as Hoke Colburn, an illiterate chauffeur. Since then he's starred in hit like The Shawshank Redemption, Million Dollar Baby, and Christopher Nolan's Batman trilogy. But it's been his voicework, suave demeanor, and outspoken political views that has made him an Internet favorite. It's also made him a lightning rod for death hoaxes and outlandish speculations. The following list is just some of the latest rumors connected to Freeman. 
March 18, 2010: The glove hoax
In 2008, America's fascination with gloves was rekindled after Freeman was is a car accident that left him with shoulder damage, a broken elbow, and an injured hand. As part of his recovery, Freeman wore a compression glove on his left hand to the premiere of Invictus. The sight left people wondering, did the actor get a prosthesis? The blog buzz surrounding Freeman's glove ultimately forced the actor to explain his injury.
"I hope it's not permanent but it's been three years and it's not the arm, just the hand, I can't move the fingers," Freeman said on CNN on Sept. 23, 2011. "I have it in a glove because I can't move it and if you can't move your hand—you move your hand a million times a day every day. If you can't move it, blood will pool in it. It doesn't get proper circulation and blood pools in it and it swells."
Nov. 2, 2010: The B.J. Lawson hoax
It was a case of he said, she said during a heated North Carolina political race when Republican B.J. Lawson ran an advertisement featuring what he thought was a genuine endorsement from Freeman. 
"These people are lying. I have never recorded any campaign ads for B.J. Lawson and I do not support his candidacy. And no one who represents me ever has ever authorized the use of my name, voice, or any other likeness in support of Mr. Lawson or his candidacy," Freeman's representative told Politico. 
Lawson's campaign contends that the ad agency, California-based M.E.I., promised to get Freeman. M.E.I. said it did not lie to Lawson—but the video was still taken down. It has since been uploaded to YouTube, where it has collected 77,000 views.
July 28, 2011: The Sheila Harsdorf hoax
With a silky-smooth voice like Freeman's, what politician wouldn't want his endorsement? That was the case when another voice almost identical to Freeman's was used in a commercial supporting Wisconsin state senator Sheila Harsdorf. 
"Our office represents Morgan Freeman. A political ad running in Wisconsin by a conservative group narrated by a someone trying to sound like Morgan Freeman was not narrated by Mr. Freeman. Morgan Freeman did NOT narrate that ad," Freeman's representative Stan Rosenfeld told Politico.
Aug. 28, 2012: The Duke Nukem hoax
Duke Nukem is a brash, cigar-smoking video game character hired by the CIA to save the world from aliens. When the game was first released, in 1991, the character wasn't much of a talker, often muttering his signature phrase, "It's time to kick ass and chew bubble gum, and I'm all out of gum." 
But over the years, as more installments of the game was released and video game technology improved, Nukem was in need of a longer script. That's where a Freeman impersonator came in. A YouTube video by UTRAXHQ features Freeman uttering Nukem's favorite phrase as part of a sound test for a new video game. The hilarious video has collected 319,000 views.
August 2012: The homophobes-are-assholes hoax
In the world of Twitter parody accounts, nothing is more satisfying than seeing people mistake a tweet for the words of the person being parodied. That was the case for a homophobe-bashing tweet from @MorgonFreeman—note the o—in August.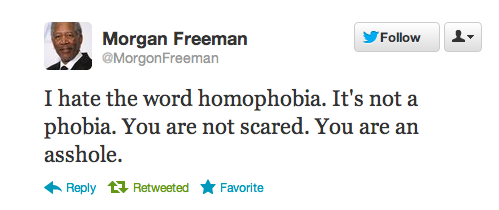 Screengrabs of the tweet have been posted on Facebook and Imgur, where the photo has been viewed more than 1 million times.
Photo by charlieanders2/Flickr