Tech

Tech

The gadgets, platforms, and software that make your digital life possible. If it bleeps, clicks or blinks, you'll find it here.

Internet Culture

Internet Culture

There's a community for everyone online.

Streaming

Streaming

News, reviews, and guides for the world of online entertainment.
Military criticizes breastfeeding moms in uniform
A Facebook group wanting to show the beauty of everyday breastfeeding met the ire of the military.
Breastfeeding photos on Facebook are causing a stir once again, but this time it's not Facebook that has a problem with it.
It's the U.S. Military.
After Mom2Mom Breastfeeding Support Group, a Facebook group that provides a safe-harbor community for nursing mothers, posted a photo of two women breastfeeding in uniform, the Washington National Guard and Fairchild Air Force Base criticized the women pictured and the group.
The controversy began when the group launched a local breastfeeding awareness campaign in Washington. In order to raise awareness for National Breastfeeding Month in August, the group asked Washington photographer Brynja Sigurdardottir to take tasteful photos of ordinary women breastfeeding their babies during day-to-day activities.
Two of those women happened to be uniformed members of the Air National Guard.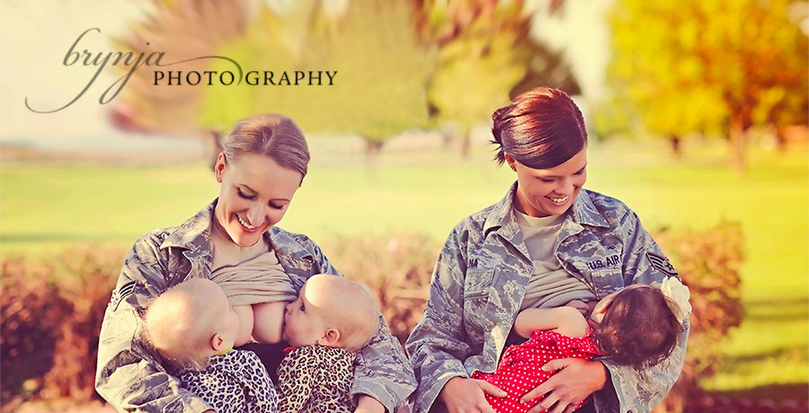 On May 23, when the group posted the preliminary photos on Facebook, the military photo was immediately singled out as offensive.
"As a retired [Armed Forces] veteran, I feel the pictures are completely out of line with them in military uniform," Jimmie L. Zawacki commented on the photo. "What has the AF become? There are many high achieving women in the AF and this is a huge set back for women rights. Breast feed in private – period!" 
It wasn't just commenters who were upset. Washington State National Guard Capt. Keith Kosik told CBS News that the photos were a violation of regulations, since he said they use the U.S. military uniform to promote a separate cause. While the moms won't be disciplined, he said he will use the photo to spark an educational discussion.
The photographer and the group said they never intended to offend.
"The Air Force has never endorsed these photos," Sigurdardottir wrote on her site. "These women just happen to be in the Air Force, in their uniform, breastfeeding their babies."
The group's founder, Crystal Scott, a military spouse herself, told Yahoo that as an X-ray tech, she breastfeeds in uniform all the time and doesn't see why a military uniform should be any different.
"People are comparing breastfeeding in uniform to urinating and defecating in uniform. They're comparing it to the woman who posed in Playboy in uniform," she told them. "We never expected it to be like this."
Scott and the rest of Mom2Mom are not currently taking media interviews. As a spokesperson wrote on Facebook:
"The recent media has portrayed Mom2Mom as not being supportive of the military. We support the military 110% & this was never our intention. We feel blessed to be located on such a wonderful base and do not want anymore [sic] negativity surrounding our support group."
Photo by Brynja Sigurdardottir
Lauren Rae Orsini is a web culture reporter who specializes in anime and the business of fandom. Her work has been published by Forbes and Business Insider.
© The Daily Dot, all rights reserved.
Represented by Complex Media, Inc. for advertising sales.