Administrators at Lil Boosie Release Date, the leading online authority for all things pertaining to Lil Boosie's release date from prison, has it that the cultish Baton Rouge, La., rapper will be free to leave nearby Jackson's Dixon Correctional Institute "early 2014," but a new advertisement posted to Craigslist suggests that the 30-year-old architect of Gangsta Muzik may be getting out the clink much sooner than that. 
Supposed representatives of Houston's Trill Entertainment put a Craigslist callout Wednesday evening for "17. white females and 17 black females and 10 hispanic females for our VIP settings" to celebrate the release of Torrence Hatch, a.k.a. Lil Boosie, on May 29 of this year—one full year before Lil Boosie Release Date lists as Lil Boosie's actual release date from prison.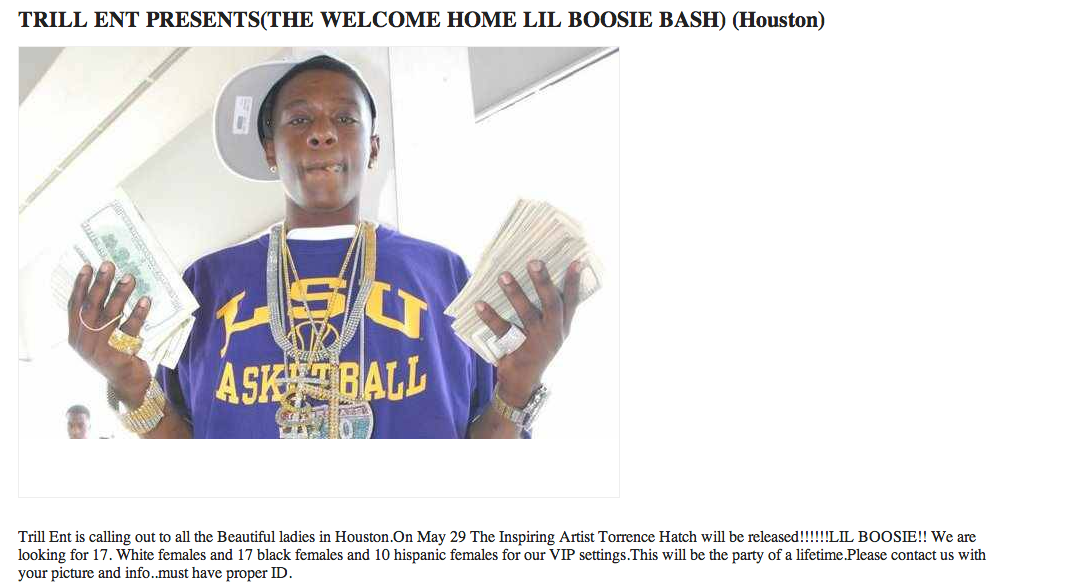 The listing suggests that Boosie's throw down will be the party of a lifetime, and we're inclined to believe it. We're even going to go so far as to drive the two-and-a-half hours from Austin to Houston in an effort to make it inside the venue. We'll even bring the 10 hispanic females if necessary.
Meanwhile, this YouTube video, a 59-second shot of a cellphone making a call to the Offender Locator Service for the Louisiana Department of Public Safety and Corrections, reports that Boosie won't be released until May 5, 2014.
At this point, we're left to consider one option: Lil Boosie's going to escape from jail on or around May 29, 2013. 
He's going to escape from jail and make his way to Houston, where a party will be thrown in his honor, showcasing 44 females of various ethnic backgrounds and diversities. 
And we will be there, whether it's May 29, 2013 or May 29, 2014, because you don't miss a 50 year storm—or any other storm that just so happens to take the full 51. 
Photo via Lil Boosie