This holiday, the Wikimedia Foundation, the non-profit organization that runs and operates Wikipedia, is getting a huge present from Cards Against Humanity.
The folks behind the irreverent (and very popular) party card game—which became a reality thanks to a successful Kickstarter campaign—announced via infographic the sales data from their recently released holiday expansion pack.
The group, which makes the game freely available under a Creative Commons license, sold approximately 85,000 hard copy sets of cards (for a total of $295,831) by allowing customers to name their own price. This unorthodox method of doing business has become more common thanks to artists like Radiohead, who used this model in 2007 upon the release of their album In Rainbows. Humble Bundle also operates this way.
Of the total sales, $225,762.63 will go to cover expenses (the bulk of it paying for manufacturing and postage), meaning that the Cards Against of Humanity holiday expansion set made a profit of $70,066.27.
But what to do with the money?
The group could buy a private island, Or 341 partridges in 341 pear trees. Better yet—or worse—they could buy bucket loads of fresh boar sperm, which at $5 a dose, would total 1,000 liters.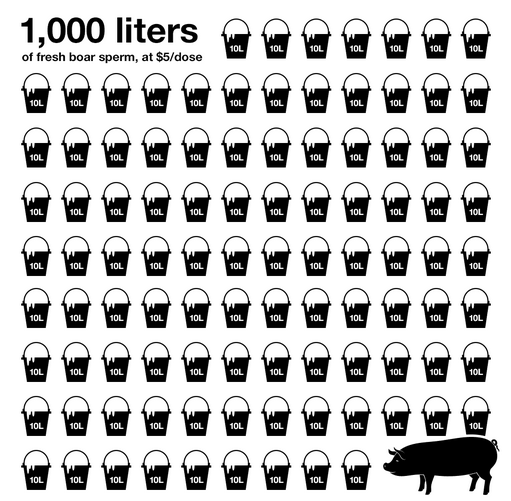 Photo via Cards Against Humanity
Instead of making any of the aforementioned crazy purchases, they've decided to donate the entire proceeds to the Wikimedia Foundation.
"Wikipedia is very important to us because without it we would not have known the exact volume of a dose of fresh boar sperm or graduated from college," they mention in the infographic.
Cards Against Humanity also posted a video showing them writing the check and then mailing it out.
Photo via Max Temkin/Vimeo