Barry West thinks the best way to wink at a Muslim is to swing a double-barreled shotgun in his face.
The Coffee County, Tennessee, commissioner spread that message on Facebook with this delightful image: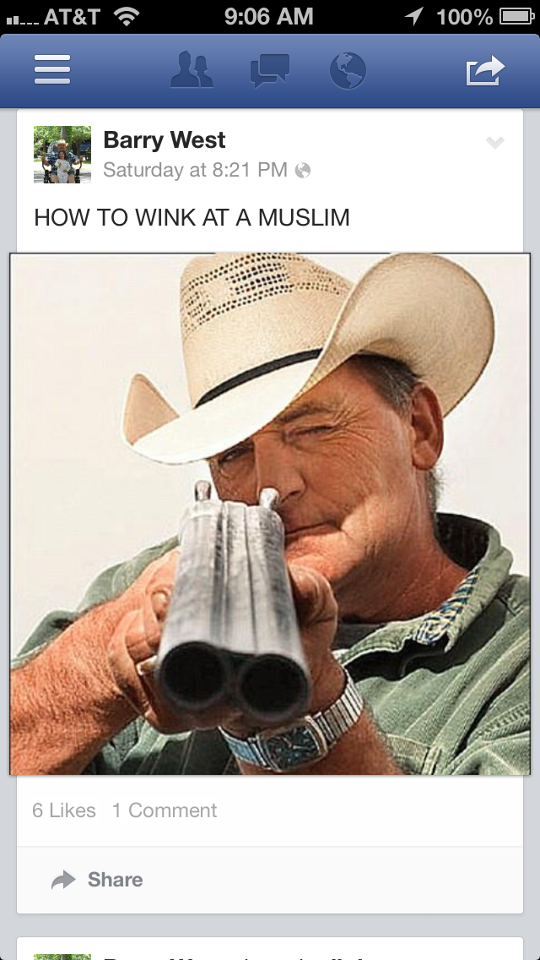 That sparked a swift online activism campaign, and now West says he's the victim.
West's post was quickly discovered by the American Center for Outreach, a Tennessee nonprofit that works to improve relationships between Muslims and non-Muslims in the state—something Tennessee desperately needs. In 2011, lawmakers proposed banning Shariah, Islamic law, with a haphazard bill that religious leaders said was so broad it actually might ban Islam entirely. A year later, a new Mosque in Murfreesboro was subject to an onslaught of vandalism, arson, and bomb threats.
On its own Facebook page, the nonprofit immediately fought back against West's Islamophobia."This is a hate filled post targeted at Muslims and is not acceptable from anyone, let alone someone holding a public office!" the organization wrote.
At its urging, the group's followers flooded his office and the mayor's office with phone calls.
West felt the heat, and he didn't like it. The whole thing was a misunderstanding. It was unfair, he told a local paper: "[N]o I did not create this picture … yes I shared it … so why am I being singled out?"
He didn't help his case when he laid his prejudices bare in another interview: "I'm prejudiced against anyone who's trying to tear down this country, Muslims, Mexicans, anybody," he told the Tullahoma News. "If you come into this country illegally or harm us or take away benefits, I'm against it."
County Coffee mayor David Pennington took notice, too. In a statement issued late Tuesday, he tried to distance himself as far as possible from West: "As the Mayor of Coffee County I apologize to the Muslim people. I have no control over what the commissioners do outside of public meetings. I personally wouldn't have done it, I have a great relationship with the Muslim community."
West has since deleted the image. But he still hasn't apologized.
Photo via the American Center for Outreach/Facebook