Before "webcomics" was a common term, David Willis was posting his work online. He started sharing his comics after they were accepted by Indiana University's Indiana Daily Student in 1997. Willis wanted to be able to show his work to friends outside his college, so he created a Tripod website and updated it every day. 
Once he left school, he continued to share his work, and one of the earliest webcomics was born.
Now Willis is a full-time creator with a number of successful comics under his belt. Most of these take place in an ever-expanding universe known as the Walkyverse. Willis' first comic, Roomies!, focused on a pair of college roommates but grew into a sci-fi adventure comic called It's Walky!, and a sequel titled Joyce and Walky! Since their creation 17 years ago, these comics have come to an end. But one Walkyverse comic remains: a spinoff called Shortpacked!.

The first Roomies! strip was published on Sept. 10, 1997.
Shortpacked! features some familiar characters from the other comics but takes place in a toy store, and has a heavy focus on toy culture and fandom. It was inspired by the two years Willis spent working in a Toys 'R' Us in Columbus, Ohio. Before that, he had tried living cheaply on the small funds his comics were generating, but when his truck started to have brake problems he took the toy store job to pay for repairs. 
After two years, he was able to quit Toys 'R' Us and work on his comics full time, but the experience stayed with him. That's how Shortpacked! was born.
"I was happy to work at Toys 'R' Us (sort of) because I liked action figures, particularly Transformers, and I had been involved in its online fandom for a decade at that point. Write what you know, and all. It was a nice relatively peaceful place to reside my comics in versus the apocalyptic nature of It's Walky!," Willis told the Daily Dot.
Shortpacked! follows the lives of a group of toy store employees and often references pop culture and current issues in fandom. Fandoms explored go beyond Transformers, ranging from Batman to Teenage Mutant Ninja Turtles. Whether or not Willis mentions a current issue in fandom depends on whether he feels he has something to say about it and whether it's something that can be reduced to four or six panels.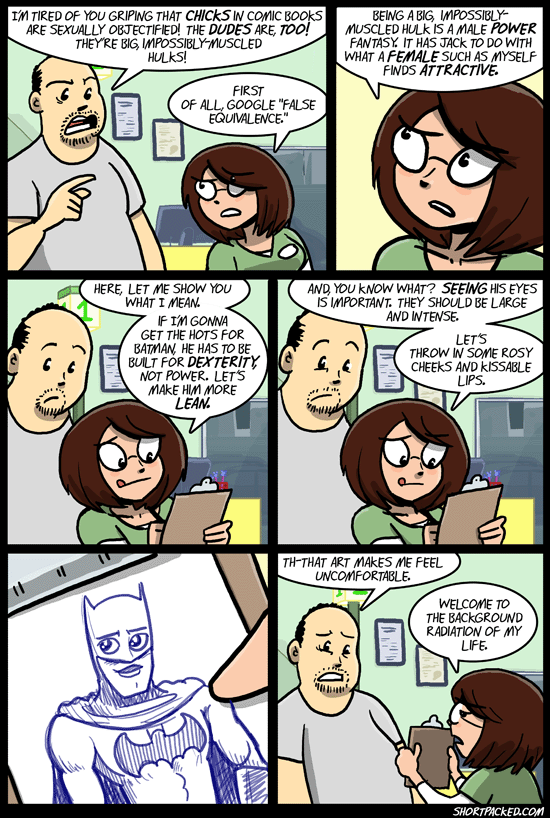 "A lot of them are anger- or frustration-fueled, and then they often feed into more comics later down the line. If you say something about misogyny in fandom, for example, you're gonna have a pile of retorts from unseemly characters with which you can fuel later material. It can become this awful neverending cycle," he explained. "I usually try to sit on my responses for a while so they're less personal and more general-purpose statements, and they usually float around in my brain until someone else does a similar thing later on down the line that reignites the inspiration again."
Willis doesn't shy away from mentioning these uncomfortable areas of fandom in his comic. Misogyny is just one of many issues, including sexism and racism, that he'll shine the spotlight on. The result is a lively comments section full of debates between readers. According to Willis, mentioning misogyny tends to spark the most heated discussions—second only to those that resulted when one of his main characters came out as gay—and said many people are mad that he talks even a little bit about the issue. Eventually, the content of his comics tends to drive away that angry group of readers, though, which is just fine by Willis.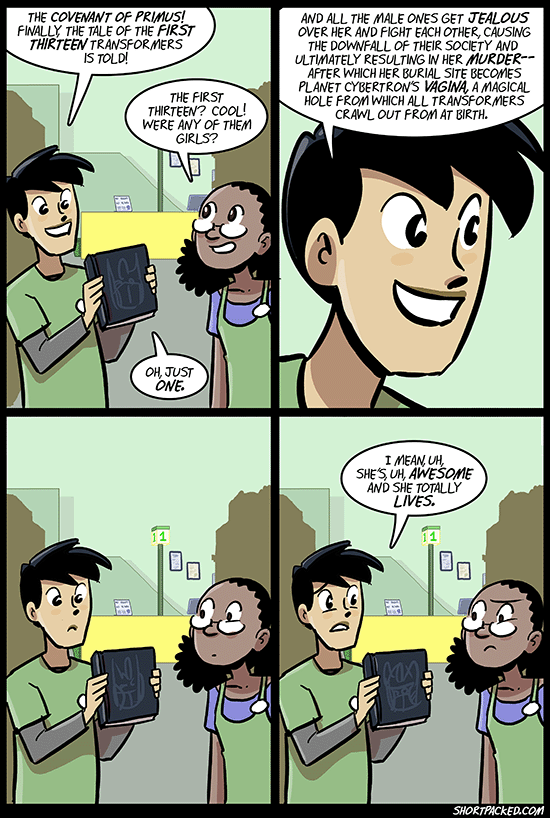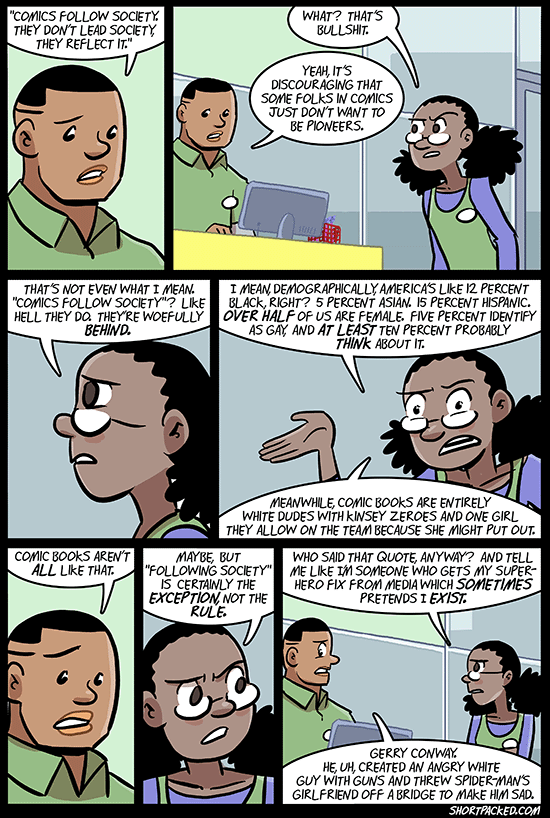 "Doing comics about homosexuality or sexism or racism is a great way to prune away jerks," he said.
Occasionally he'll jump into the comments section, sometimes to respond right away to a statement that makes him angry or to give a high five to someone who told a cool joke. Since his comics tend to be polarizing, many of the responses fall in line with personal viewpoints. 
Entire Shortpacked! comics are dedicated to these issues, but others just have subtle fandom references scattered throughout their storylines. These subtleties are what really sets Shortpacked! apart from other webcomics. Even if a character is not commenting on the latest geek news, the alt-text of a strip—revealed when you hover your mouse over a panel—might provide the day's pop culture reference. If you're not careful, you might miss it.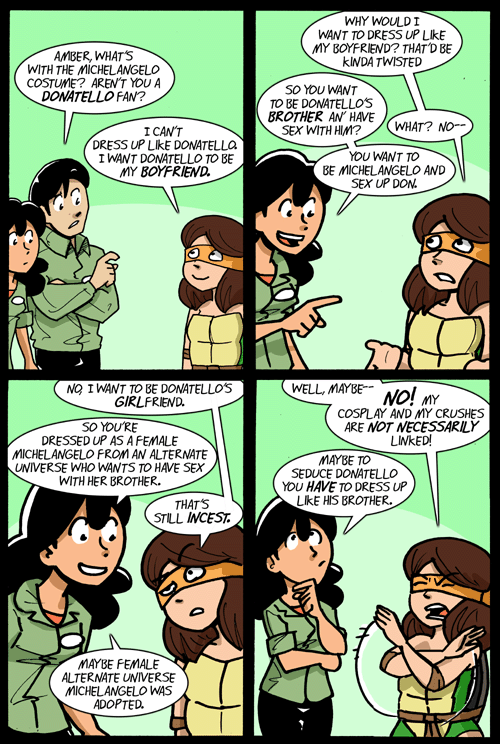 Unfortunately for the worlds of webcomics and fandom, Shortpacked! will be ceasing regular updates next year. 
Willis announced the news on Jan. 17, the comic's ninth birthday, and posted an explanation on Tumblr. Right now, his heart currently lies with his one other ongoing comic, Dumbing of Age, which goes back to his roots and focuses on college students. There are some familiar faces in the comic, but Dumbing of Age takes place in a different comic world—the Dumbiverse, not the Walkyverse—so even those characters get a fresh start. Dumbing of Age already has twice the audience of Shortpacked!, which left Willis in a secure enough financial position to end his older comic whenever he wants.
"It wasn't an easy decision to make, since I know a lot of people have a lot of emotions invested in my world, and this is the end of it. But the heart's gotta do what the heart's gotta do. My heart's in Dumbing of Age," Willis said. 
His readers' comments make it clear they were saddened by the news, but most offered their thanks for the past nine years. Overall Willis said people have been very supportive of his decision. 
While he never had an end to Shortpacked! planned, he has some story beats in mind for the comic's final year, and says it's "an open field to fill in random gags." With the end in sight, there will be some long-awaited events readers can look forward to, including the wedding of Leslie and Robin.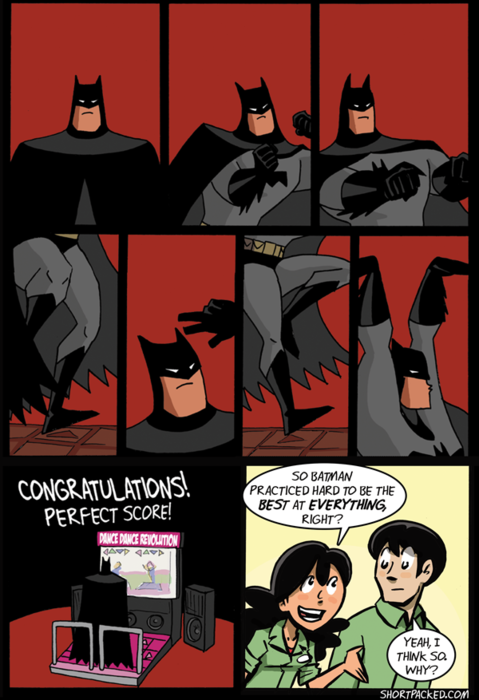 But does the end of Shortpacked! mean the end of the Walkyverse? 
"I started it sixteen years ago, and some of that older stuff is kind of not what I want to have in my universe anymore. There's some terrible stuff. I'm happier over in the Dumbiverse, where things have started off on a smarter foot. I have a much better grasp of people and the larger world outside my stupid brain," Willis said.
Until Jan. 17, 2015, though, you'll still be able to get your fill of Shortpacked! Willis will continue to regularly update the comic every Monday, Wednesday, and Friday.
Illustrations by David Willis