Rod Roddenberry, son of Star Trek creator Gene Roddenberry, has unveiled a brand-new Star Trek forum, Trek Initiative, that aims to be the single comprehensive community space on the web. It's a first for the Star Trek fandom—unlike other franchises, Star Trek has never had a fan-friendly website officially sanctioned, much less created, by its rightsholders. It's a positive step forward for a franchise that has suffered from fragmentation in the past.
But is the fan forum of the future really wiki-based?
Roddenberry seems to think so. According to Mashable, he approached the paid wiki site Wikia to help him build the ultimate consolidated fan space.  The archive has categories for fan fiction, fan films, other fan projects, meetup groups, and information about the series. 
Other wiki-based Star Trek archives exist, particularly Memory Alpha and Memory Beta, which between them encompass info on most of the massive Star Trek franchise and its many literary and media offshoots. But neither of them emphasize fan creations and fanworks the way that Roddenberry's Trek Initiative does. Roddenberry seems to be taking a page out of his book from another mega-fandom, Star Wars, whose own wiki, Wookiepedia, has over a hundred thousand pages in its massive archive.
Roddenberry compared the two sci-fi franchises to Mashable, musing that the reason Star Wars had translated better to the new, meme-friendly web generation was that it was dumbed down:
"Star Wars is based more on fantasy, more creative, more fun, more entertainment; easier thing to play with. Star Trek is entertainment, but more intellectual," he explained, adding that the show asks people to "think about something."
While this may be true, let's not forget that Star Trek also did an entire episode devoted to furry puffballs, so perhaps some of its appeal is in the ease of playing with its familiar tropes and famous episodes decades later.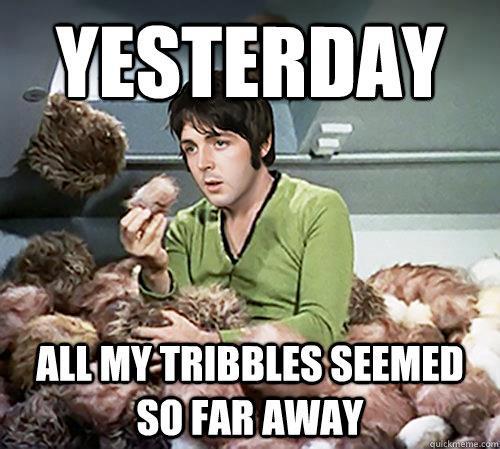 Photo via mistressawesome/Tumblr
For all his very positive feelings on the mighty Trek fanbase, Roddenberry's take on Star Trek feels slightly out-dated. For one thing, he says he hasn't actually seen JJ Abrams' 2009 reboot; for another, not only are wiki forums somewhat outmoded and old ways to engage with an ever more media-intensive Internet fandom, they are notoriously skewed towards male users, although Wikipedia co-founder Jimmy Wales, who created Wikia, has worked to remedy the large wiki gender gap.  Within a traditionally male-dominated space like the science fiction community, it seems odd that Roddenberry has gone the traditional route of archives, wikis, and fan forums, rather than the more web 2.0 route emphasizing social media, media sharing, and interactive media. It's possible he hasn't registered just how big Star Trek is on Tumblr, where the new reboot reigns supreme among millions of fans, mostly women. 
Roddenberry is clearly positive about the Trek Initiative's ability to bring old and new facets of online Trek fandom together–and while it only has 35 pages so far, the fan contributions are already starting to pour in. Whether it will breathe new life into a heavily fragmented fanbase remains to be seen, but this is, after all, Star Trek: we can be sure it will, at the least, boldly go where it's already gone before. 
Photo via TheAngryAngel/deviantART