We all know that loving a band can drive some people to emotional extremes. From Elvis and Beatlemania, legions have fans have screamed, raved, and bawled for the songs and singers they adore. But services like Twitter have become platforms for even stranger declarations of undying loyalty to these musicians, who are often themselves active within and (theoretically) accessible via social media.
What this means, in practical terms, is Directioners pleading with members of the boy band to follow them, often on the grounds that it would alleviate some recent unpleasantness. Users try to attract pity for bodily ailments, a bad day at school, or, in some cases, a dead pet. The account @HarryMyCatDied, which retweets "the dark side of One Direction fans," collects odd and disturbing appeals for attention like these:
@Harry_Styles Think, one day you see my funeral and everybody says "she died because of you." What do you think?

— HOŞ GELDİN LİMİT ! (@ozgeeHoran) August 24, 2013
@Harry_Styles My father died 2 januar R.I.P dad . -follow me.

— ★ Randi (@RandiYoussef) September 1, 2013
Far more common, though, are messages that a beloved fish, cat, or dog—frequently named after a member of One Direction—has passed away. Perhaps these fans believe that only their favorite pop stars can console them in such circumstances.
@Harry_Styles my cat died :c

— ♡Carissa♡ (@VasHappeninLad) September 7, 2013
@Harry_Styles my dog died yesterday had this name ✯✯

— flavia e marcella (@exwhiteskimo) September 3, 2013
That sort of thing would be strange enough, but fresh controversy erupted over tweets from the account @illumivato, since suspended. In the first, the apparently young and female admirer wrote an ultimatum to the band: "FOLLOW ME OR I'LL BREAK MY DOG'S NECK." The threat came along with a photo of a human hand appearing to strangle a Chihuahua.
When this bit of grotesquerie went ignored by One Direction for several days, the fan saw fit to try again, this time targeting just Liam Payne. "I love you. Follow me. My dog has just died," the tweet read, accompanied by a photo of the teary-eyed user cradling her pet—though it's far from clear whether the animal was deceased.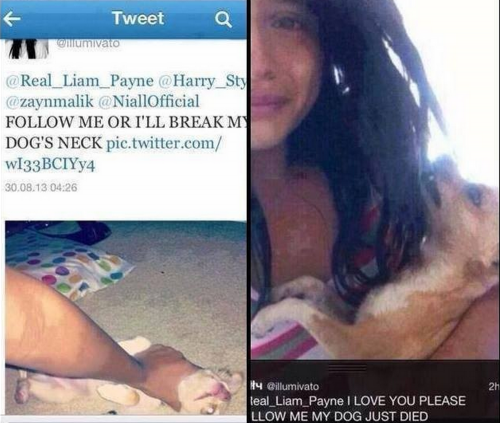 While some One Direction feared the worst and others cried hoax, nearly everyone was outraged and inclined to label @illumivato a "psycho" or some variation thereof.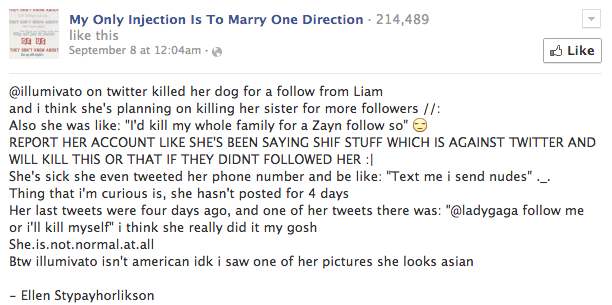 Mya Fhya of Atlanta even took to Change.org to draft a petition beseeching law enforcement (or any authorities, really) to investigate the matter, as this was far from the only alarming content associated with the account:
There is a person on twitter by the name of @Illumivato who is posting pictures of her killing her dog by snapping its neck to get more followers. She has pictures of animals in blenders, a dog with guns up to its head, a picture of her strangling (what looks to be her mom), a young boy with duct tape tied around arms on the ground, (and the list continues) basically implying that if she does not get more followers she will kill all of these beings. I need this to be looked at by the police, government, and if nothing else twitter.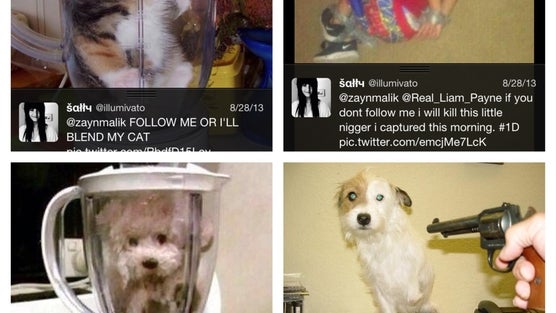 So far Fhya has collected about 3,000 signatures, though @illumivato's current whereabouts, either online or off, are unknown. Instead of answers, we're left with the question of how and why someone could be driven to such intimations of violence by no more than a passion for a slickly produced pop group.
And the uncomfortable fact remains: @illumivato is hardly the only one who sees a connection between One Direction and untimely death, whether human or animal. Could it be that only the anguish of losing a close relative or pet can compare to the depths of passion stirred by One Direction? Because in that case, maybe these kids should listen to Bob Dylan instead—or anyone else who can't be stalked and extorted online.
Photo by Carlos Massieu/Flickr