For weeks, Doctor Who fans have been waiting for a glimpse of Peter Capaldi's new costume as the Twelfth Doctor. And no, photos of him wearing Matt Smith's old outfit do not count.
As the second oldest actor to take on the role, Capaldi's costume was expected to be rather more conservative than Matt Smith's hipsterish skinny trousers and bow tie combo, or David Tennant's Converse sneakers. The fact that Capaldi's new costume includes anything as punk rock as Doc Martens is actually quite a surprise, although it does indicate that he might be a little more badass than his predecessors.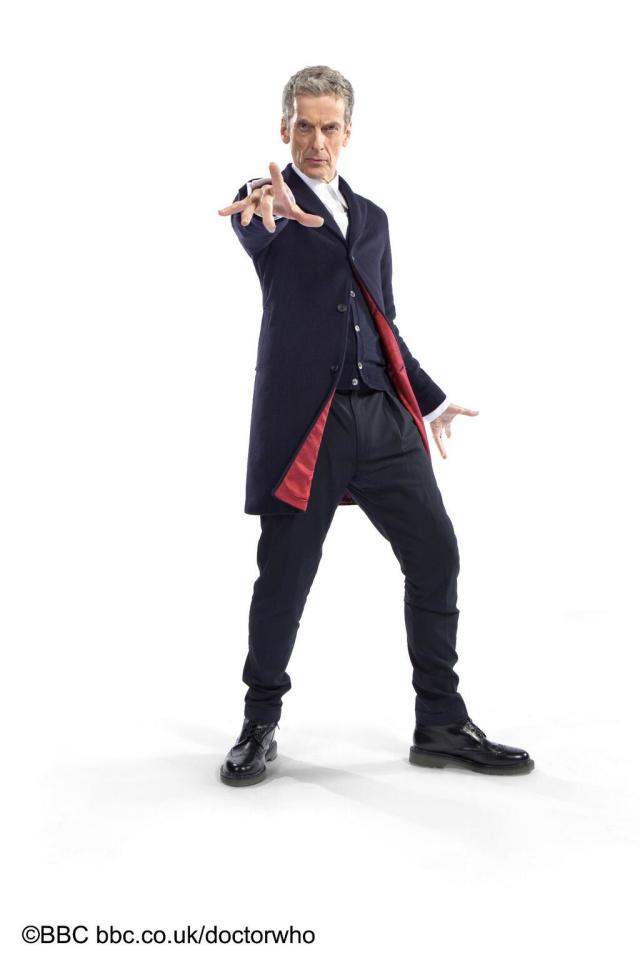 Photo via BBC
In a BBC announcement on Monday, Capaldi explained the concept behind the Twelfth Doctor's new outfit.
"He's woven the future from the cloth of the past. Simple, stark, and back to basics. No frills, no scarf, no messing, just 100 percent Rebel Time Lord," he said.   
The mod-ish look combines a plain, navy blue coat, trousers, and cardigan with a stark white shirt and Doc Marten boots, making him one of the easiest Doctors to cosplay so far. Also, some fans are pointing out there's a certain resemblance to Third Doctor, John Pertwee, who played the role when a teenage Capaldi was still writing fan letters to the BBC production offices.
For those asking about the connection to Pertwee, here's a Pertwee and Capaldi comparison :) pic.twitter.com/2DScHmLwhx

— Tony Lee (@mrtonylee) January 27, 2014
Possibly because this is the most eagerly awaited new Doctor costume since the show's 21st century reboot, a lot of thought seems to have gone into the design. It refers back to Doctor Who history and bears a certain resemblance to Matt Smith's final costume, but it still says something about Twelve's character. He's a lot older than the other recent Doctors (hence the sensible cardigan, or "Capaldigan" as some fans are already calling it), but he's also got some of that tough Peter Capaldi edge. Too bad we won't be seeing much more of him for another seven or eight months.

Photo via jaredpadalaughi / Tumblr