Ever since kindergarten, Katie Cook knew she wanted to be a cartoonist and never dreamed of being anything else. Now she's one of the most well-known illustrators and writers on the Internet.
Cook graduated from the College for Creative Studies in 2004 with a bachelor of fine arts degree in illustration. She worked for five years as a graphic designer while cartooning on the side. But after she decided to quit and work full-time as a writer and illustrator, she's gotten the chance to play around in some of the most popular fandoms.
Cook has produced licensed work for many well-known companies including DC, Marvel, Lucasfilm, and The Jim Henson Company. The impressive number of licenses she works in is a result of companies reaching directly out to her after they see her work online. Her work with Lucasfilm for example was a result of the company noticing her Star Wars fanart. They then asked her to do some official work for them on trading cards and the Star Wars: The Clone Wars webcomic.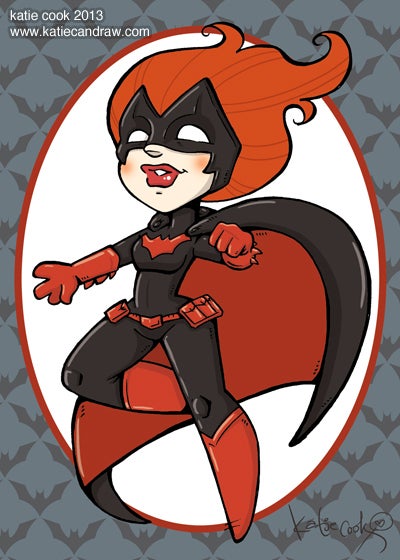 Part of that successful online presence is her original webcomic, Gronk, which follows the adventures of a young, squat, cute monster. The character started as a joke back in college when she drew a self-portrait of herself as the little green monster. But instead of letting its story end there, eventually Cook decided to do something with the character. These days, she calls Gronk a labor of love.
"I update Gronk every week and it's my me time. I get to draw something for me every week and have an hour to myself. It's time for me to sit down and focus on something that's not Star Wars or My Little Pony," Cook told the Daily Dot. "It's been really interesting to watch it evolve over time. I have a toddler now, which I didn't have when this started. I have this little inspiration walking around the house all the time. Gronk is essentially a child, and it's fun to have that inspiration."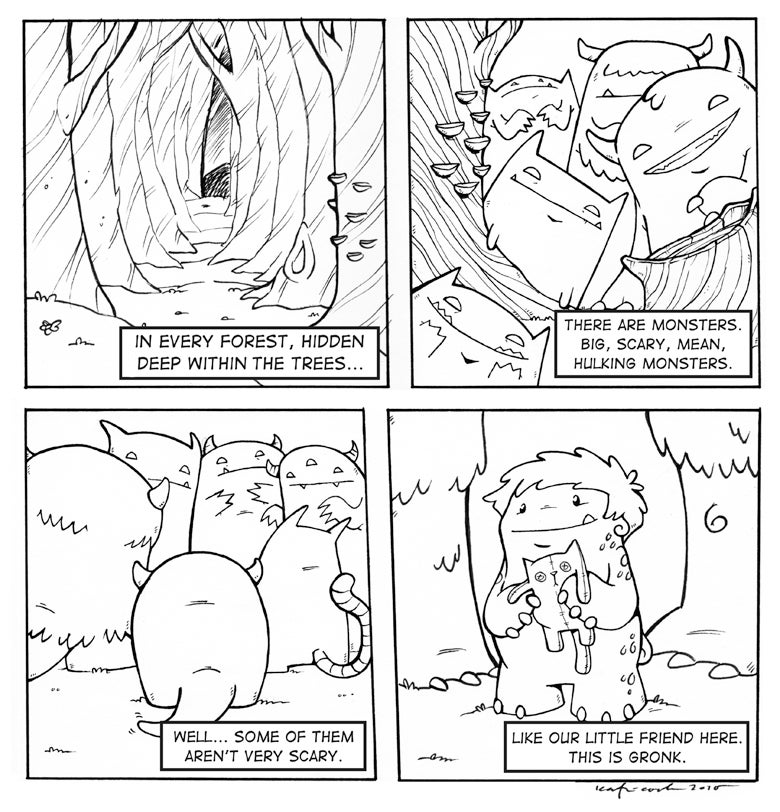 Illustration via GronkComic.com
Cook said when her comic first started to get readers, it freaked her out. All of a sudden she was getting comments and emails from fans. Now she uses it as motivation to keep up with the comic during weeks she may not feel like updating. She doesn't want to disappoint her fans or ever have them check for an update and not find one.
Unlike some other well-known webcomic creators like Ryan North (Dinosaur Comics) and Christopher Hastings (The Adventures of Dr. McNinja), Cook doesn't make the majority of her income from her comic. She self-publishes the expensive full-color Gronk books for purchase, but a lot of her income results from her illustrations and comic book work.
The process for print is quite different from her webcomic, with editors and licensors offering their views on what needs to be fixed or changed but Cook said both types are fun and challenging in their own way. 
Cook's experience in print comics includes a run as a writer and illustrator for the Fraggle Rock series by Archaia Studios Press. As an '80s kid who loved the show and The Jim Henson Company, she had a lot of fun playing with iconic characters that were such a big part of her childhood.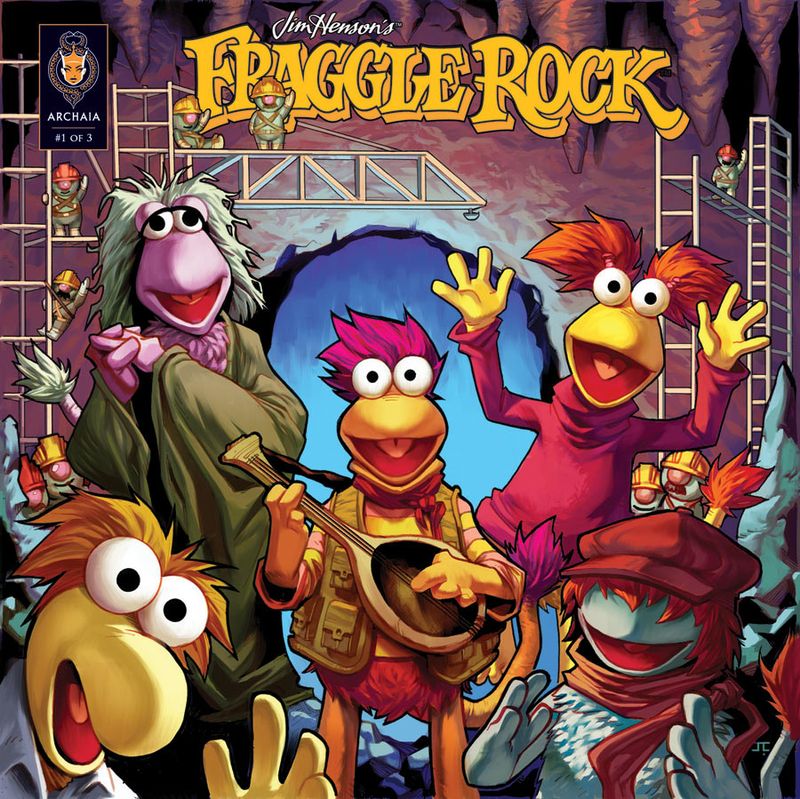 "The same goes for Star Wars, Marvel, and My Little Pony. So many of these properties instilled a sense of humor in me that I now get to bring back to them," said Cook, who is now a writer for IDW Publishing's My Little Pony: Friendship Is Magic comic series.
Cook's art has also transcended print and the Internet to find its way onto clothing, which presented a whole new challenge. Her clothing designs are perhaps most well-known as a part of the HerUniverse Star Wars collection.
"Designing clothing is a whole other beast. You have to think about how the shirt is going to fit on a body and different body types. Instead of drawing a whole square picture you're taking into account the shirt and how it fits so it doesn't fold weird and so the type is readable," Cook said.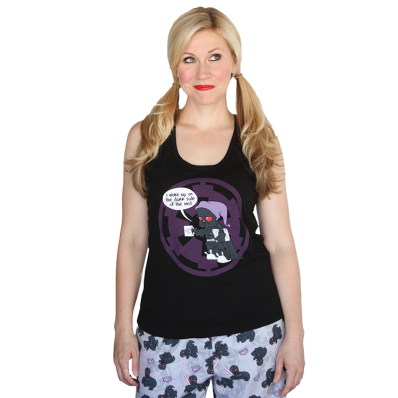 Photo via HerUniverse
She has designed art for a number of T-shirts and a set of pajamas for the online geek girl fashion retailer founded by entrepreneur and actress Ashley Eckstein. Cook thinks Eckstein is doing something great and fun with licensed nerd apparel, giving women options that aren't just pink.
"She doesn't talk down to fans. As a nerd myself, I think there was a big black hole in girl apparel and the only choices were really men's shirts. Ashley's changing that," she said.
Cook's experience with multiple fandoms in so many mediums means she's interacted with a lot of dedicated, passionate fans. 
"You get so many people that love those characters and love, love what you do and then there's the .3 percent that hate it and are the most vocal so you never forget those. You get it both ways," she said.
The most challenging fandom she's worked in to date has been My Little Pony. She was introduced to the new show, My Little Pony: Friendship Is Magic, by her brother and was asked to work on the comic book series after she started to express how much she liked the show online. Thanks to her brother, she knew all about the brony subculture when she started work on the comic. 
"It's really challenging to work in such a fanbase that's really, really so outspoken and a lot of them come from online," she explained. "Brony culture came out of love online so they're there and they let me know that they're there."
Katie Cook at BronyCon 2013
Photo via Facebook
Cook was slightly terrified by the popularity of the series and the amount of preorders for the very first issue of the comic, but said most of the fandom has been supportive and wonderful.
"It's such a vocal community. The adult fans know what they like and what they don't, and they're very vocal about it online. I learned not to read the comments on websites; people either love it or hate it. There's no grey area," she said.
From ponies to Jedi, it's easy to see how her unique illustration style would bring out such passionate feelings in fans and continued requests from licenses for her work. Whichever fandom she's asked to conquer next has a lot to look forward to.
Illustrations via Katiecandraw.typepad.com