Amazingly, some people don't like it when a company tries to define a community.
Cosplay is all about having fun and expressing yourself, but sometimes cosplayers find themselves confronting serious problems. From conventional harassment to a larger public misunderstanding about what they do and why, it's not always easy to be a cosplayer
But it's not just these outside forces that cosplayers have to worry about. Some cosplayers believe there's only room for professionals, while others insist that people of any size, color, and skill level should be welcome
Fashion retailer Hot Topic stirred up this debate when they offered a "Define Cosplay" shirt for sale that stated "do it right or not at all." The implied idea that there's a "right" and a "wrong" way to cosplay upset many, including some prominent cosplayers who took to Twitter Thursday to voice their disapproval of the shirt's message.
We cosplay for FUN @HotTopic, this shirt is sending the wrong message! #WTF https://t.co/rzCo7GwXvw

— Commander Holly (@HollyConrad) November 14, 2013
Tell me, @hottopic, what is the "right" way to cosplay?

— Bill Doran (@chinbeard) November 14, 2013
Hey @HotTopic, I'm REALLY disappointed in your "Cosplay: Do it Right or Not at All" shirt. You're promoting bullying – not cool!

— Molly McIsaac (@MollyMcIsaac) November 14, 2013
The disappointment is the result of Hot Topic being one of the few mainstream brands to actually support the geek community, especially geek girls, when it comes to providing a variety of pop culture-themed fashion items. They are even partners with online geek girl fashion retailer, Her Universe, who has worked for the advancement of fangirl fashion and tried to create a supportive community for female geeks. Her Universe is one of the reasons Hot Topic has offered more geeky clothing options over the last few years.
Her Universe founder Ashley Eckstein told the Daily Dot she agrees that cosplay should be for everyone but said that Hot Topic was listening to a segment of fans when they decided to sell this shirt.
"The fact is that Hot Topic is listening to the fans,"  Eckstein said.
"They are on social media all day, everyday listening to what fans are saying. They are literally picking their designs from what fans are telling them, so fans shouldn't be upset with Hot Topic but should look at themselves and look at what the community is saying. Half are saying what's on the shirt and half are saying 'no it's for everyone.'"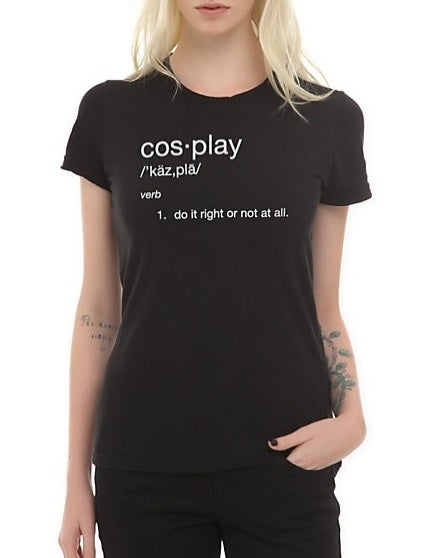 Hot Topic replied every angry tweet with the same message: "Our intent was to encourage cosplayers 2 go all out. So sorry. It will be removed from our site in response 2 your feedback."
The quick response and removal of the shirt was appreciated by many, though some still expressed their disappointment in the brand on Friday.
"Congrats on losing the cosplay community's respect. Horrible horrible shirt you put out," wrote Kelsey Lawson-Henderson on Facebook. "That is not what cosplay is about, and the people who think that, don't deserve to cosplay."
.@HotTopic Thank you. I really appreciate you guys taking this seriously.

— Jessica MerizaN7 (@JessicaMerizan) November 15, 2013
Still, the fact that they listened to the overwhelmingly negative fan reaction speaks to how Hot Topic is listening to the community. Victoria Schmidt, a veteran cosplayer and cofounder of the geek style blog Set to Stunning, echoed Eckstein's opinion that Hot Topic must have heard this idea somewhere in a post on her Facebook page.
"It exists, and whether we like it or not (obviously, we don't), it's the loudest message out there," Schmidt wrote.
"Personally, I love this shirt. Why? Because 'do it right or not at all' is totally my own PERSONAL way of cosplaying, so I was like 'Hey! a shirt that speaks to me!' Keyword being 'personal.' Cosplay is different for everyone, but it's a pretty universal agreement that at its core, cosplay is FOR FUN. So do I want this shirt representing the cosplay community? ABSOLUTELY NOT."
Hot Topic did not respond to a request for comment by the time of publication.
Photo by Gage Skidmore/Flickr