If you're attending San Diego Comic-Con this week, then you're probably planning every minute of every day to make the most of it. If you don't plan on cosplaying this year there are still a number of ways you can add some geekiness to your style at the event, from graphic T-shirts to jewelry.
Sellers on Etsy offer a wide range of clothes and accessories that are usually handcrafted and uniquely designed, meaning you can probably find an item to show off your love of even the most obscure video game or comic book.
Here are six Etsy stores in particular that offer some great geek fashion that will definitely make you stand apart from the rest of the comic-con crowd.
1) GeekyU
This family owned business is the place to look if you want a variety of unique geeky options to add to your wardrobe. GeekyU sells everything from T-shirts to leggings, and it includes options for men and women. Item themes range from the Legend of Zelda to Batman.
Prices run from $19.94 to $199.99.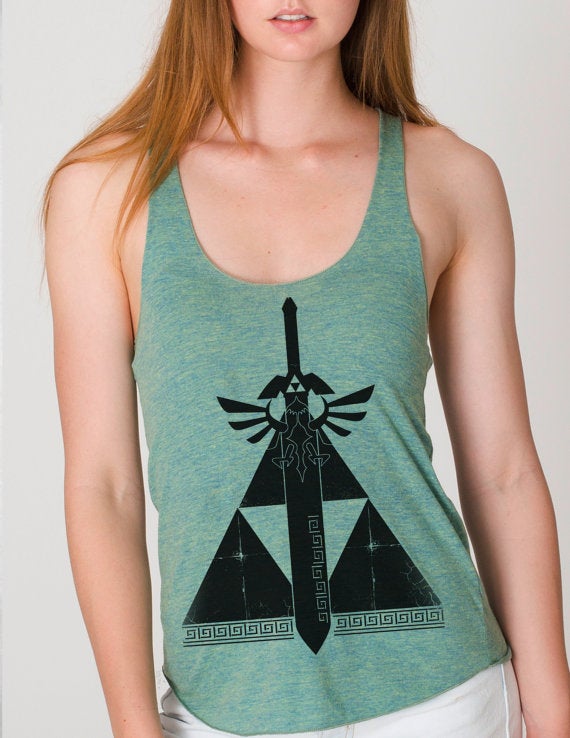 Photo via GeekyU/Etsy
2) Geek Outlet!
If video games are your passion, and you're looking to add some jewelry to your look, store owner Leah offers over 200 geeky items through this unique Etsy shop. Individually made bracelets, earrings, necklaces, cufflinks, and more are all available in a variety of themes. Games represented include Mass Effect, Final Fantasy, and Resident Evil.
Item prices range from $5.00 to $80.00.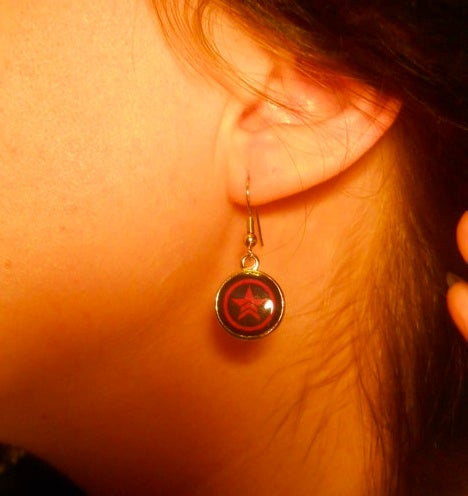 Photo via Geek Outlet!/Etsy
If you're specifically after a geeky skirt, look no further than Go Follow Rabbits. Store owner Ashley Mertz custom designs and makes each skirt, the majority of which are full skirts with stretchy black waistbands—which will definitely add to the comfort of sporting these during an active day at comic-con. Her skirts come in a wide range of themes, including Doctor Who, Star Wars, and Harry Potter.
Skirts range from $24.99 to $54.99.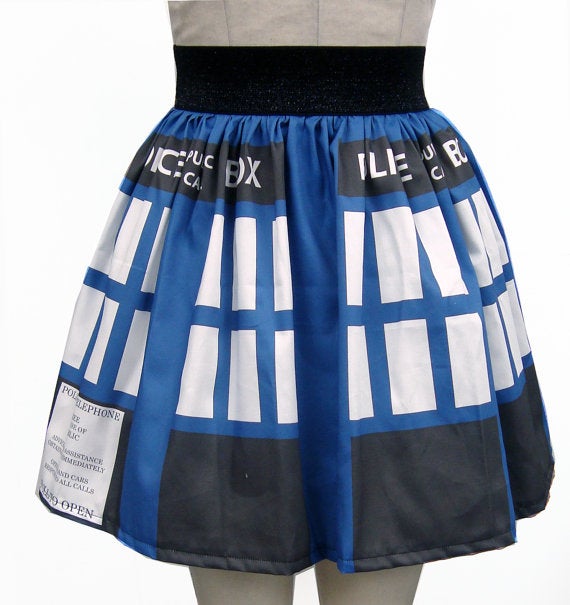 Photo via Go Follow Rabbits/Etsy
4) Murals4U
If you're a charm fan, you need to visit Murals4U. This Etsy shop sells dangle charm earrings and charm bracelets that are lightweight and made of durable plastic. You can find items inspired by Harry Potter, Doctor Who, Pokemon, and more. Pop culture mash ups of different fandoms like Hello Kitty and Star Wars are also available. Almost any area you're interested in, from science fiction to Disney, can be found in this store.
The charm bracelets and earrings sell from $4.99 to $24.99.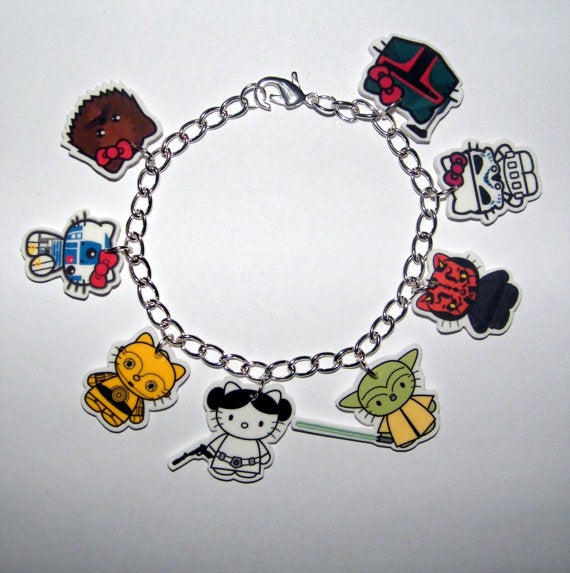 Photo via Murals4U/Etsy
5) Sceene Shoes
If you're looking for a more unique geek-chic option, why not try hand-painted bras and shoes? While you may be the only one to know your bra is designed to look like a Star Trek Starfleet uniform, it'll still make you feel geeky on the inside! Bra themes include Portal, Wonder Woman, and Super Mario Brothers. If you want something more on public display, hand-painted shoes that look like a Nintendo NES Controller or the Teenage Mutant Ninja Turtles are also available here.
Prices run from $30.00 to $90.00.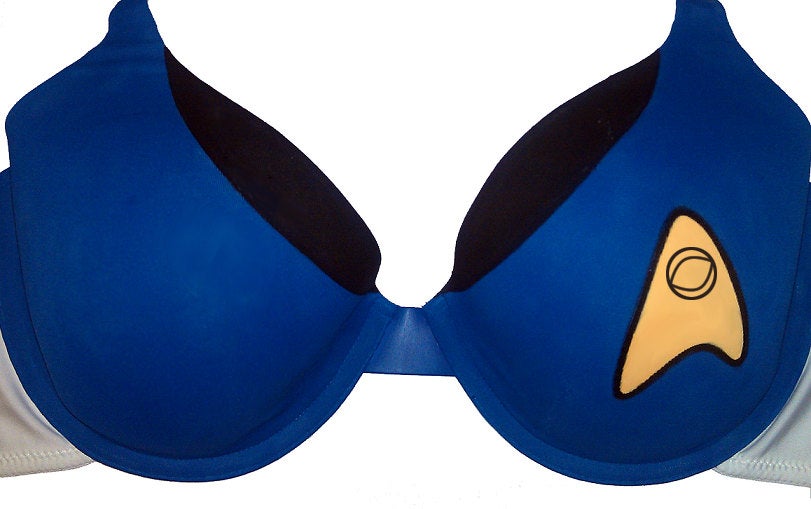 Photo via Sceene Shoes/Etsy
This store is a must-see for those looking for science fiction and comic book jewelry. It offers affordable, handcrafted necklaces with a particular focus on superheroes like Batwoman and Superman. These elegant designs can make a great addition to any ensemble.
Necklaces sell for $10.00.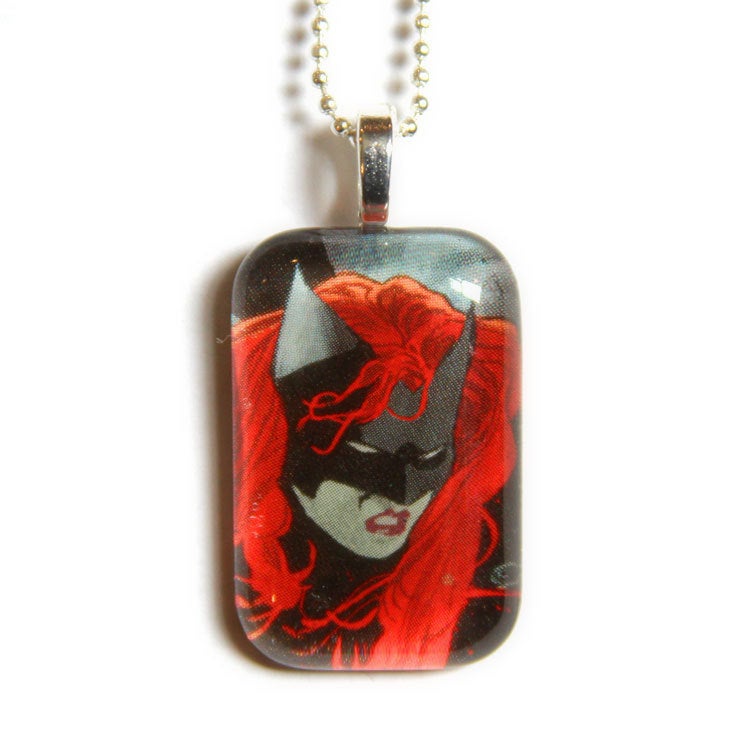 Photo via Golden Lasso Designs/Etsy
Photo via GeekyU/Etsy