Here's one to cheer up your inner 8-year-old: In the next few years, you may be able to visit a real-life Millennium Falcon.
Since 2005, Chris Lee's Full Scale Falcon project has been one of those Internet curiosities that seems so epically ambitious that you can't quite believe it's actually real. Well, it is. All 114 feet of it, currently waiting to be assembled in a field just outside of Nashville, Tenn.
Although when we say "a field", what we actually mean is, "This guy bought 88 acres of land for the express purpose of building a full-scale replica of the most iconic ship in Star Wars."
In an interview with the Daily Dot, Lee explained that originally, he planned to build the entire ship himself. A glance at the Full Scale Falcon's website will tell you that this plan didn't last long.
Thanks to Star Wars fan forums and a steady stream of people visiting the Full Scale Falcon website, the project has attracted Makers (of the geeky, DIY-fanatic breed) as well as the expected audience of Star Wars superfans. At the moment, the project's core team includes a PR rep, a 3D model builder, and "a couple of dozen" international contributors currently hunting for Falcon parts across the globe.
By the time the Falcon is complete, Chris told us, "It'll truly be a community project, because almost every piece of it will have been touched or created by a different person." At the risk of annoying all the Burning Man attendees out there, this has got to be one of the most ambitious amateur Maker projects in the world.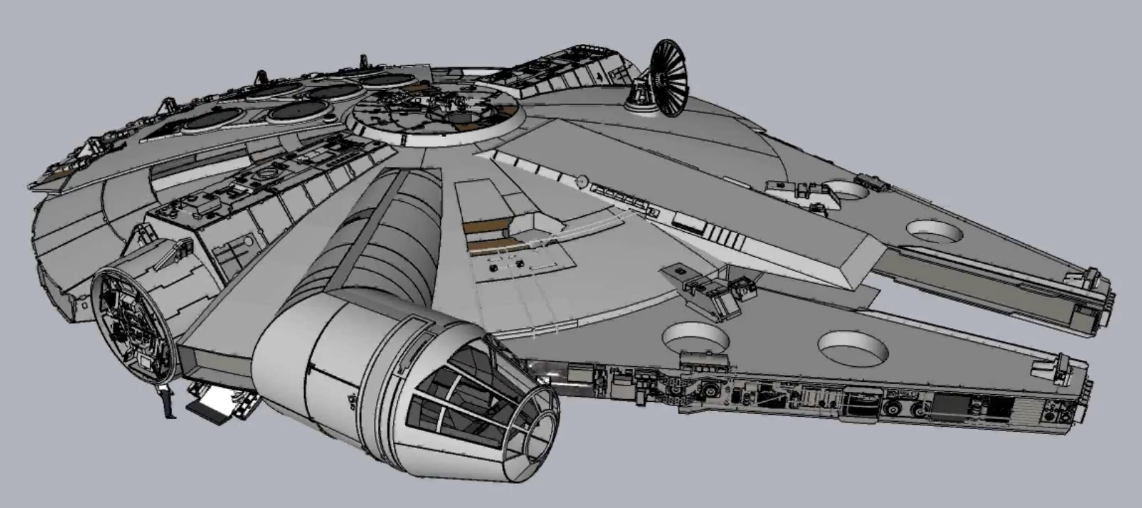 Photo via finfito/YouTube
It seems that when you announce you're building a full-scale replica of the Millennium Falcon, there are two kinds of people: the ones who say, "That's awesome, but you're totally crazy," and the small but enthusiastic minority who offer to spend their free time tracking down vintage aircraft components or reconstructing panels of fake light switches. For Full Scale Falconeers, the goal is complete, picture-perfect Millennium Falcon authenticity. 
"Everything that lit up in the film will light up the exact same way," says Lee. In fact, thanks to a group of professional audiovisual engineers, the finished product may even provide a kind of theme park-like experience.
"They've even got to the point where they're designing giant sub-woofer cabinets that can go below the decks of the ship so that when we flip switches like we're gonna take off, we can rumblr the deck plates and make the whole thing feel like it's taking off."
Once building work is complete, they're hoping to incorporate movie sound effects of engine noises and the ship being hit by asteroids. No wonder the project is already getting requests from people asking to use the Falcon for their Star Wars theme weddings and fan films. That's ambience.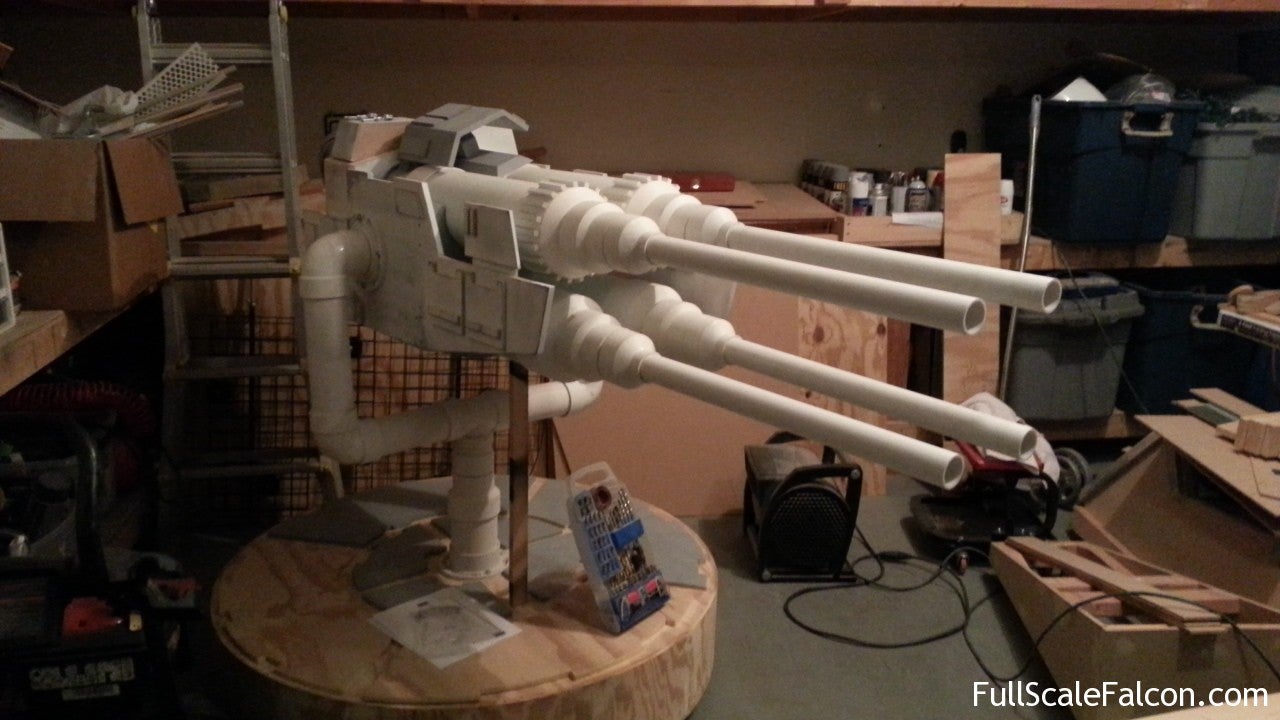 Photo via Full Scale Falcon
Not surprisingly, building a fictional spaceship has presented a few logistical difficulties. Because it was filmed using multiple sets and scale models, the original Falcon's interior and exterior dimensions didn't really match up. Since the Project is hampered by the laws of physics (this isn't a TARDIS, after all), structural engineers and architects had to map out a new version of the ship, and are still working on keeping it upright as an outdoor structure in Earth gravity. And that's far from the only concern.
"George Lucas's mandate to the props guys was that he wanted what he called a 'used universe'," Chris explains. "He wanted his sci-fi to look lived-in and beat up, as opposed to things like Star Trek where everything looks brand new and shiny and perfect."
The result is an aesthetic that Chris describes as "greebled". Back in the '70s, bits of old machinery (known as "greebles") were incorporated into the Star Wars sets to add a more grimy, industrial look.
The problem is, most of the original greebles came from mid-20th century aircraft parts, so sourcing the correct type of junk now requires people to dig through scrap yards across the world. It's this kind of manic dedication to detail that makes the Full Scale Falcon project seem like it might actually achieve its goal. 
Many of the exterior shots of the original Falcon were, for obvious reasons, made using scale models. Since this means that some parts of the ship were only ever six inches high, you'd think this might present a problem when recreating a Full Scale Falcon. Not so much. They just got in touch with a scale modeling community online, and asked to use their database (yes, they have a database) of all the scale model kits used to build the original Falcon.
So now, part of the Full Scale version is going to be a sized-up version of a wheel from a 1960s vehicle modeling kit. And that isn't even the weirdest thing they've had to track down in the quest for complete authenticity.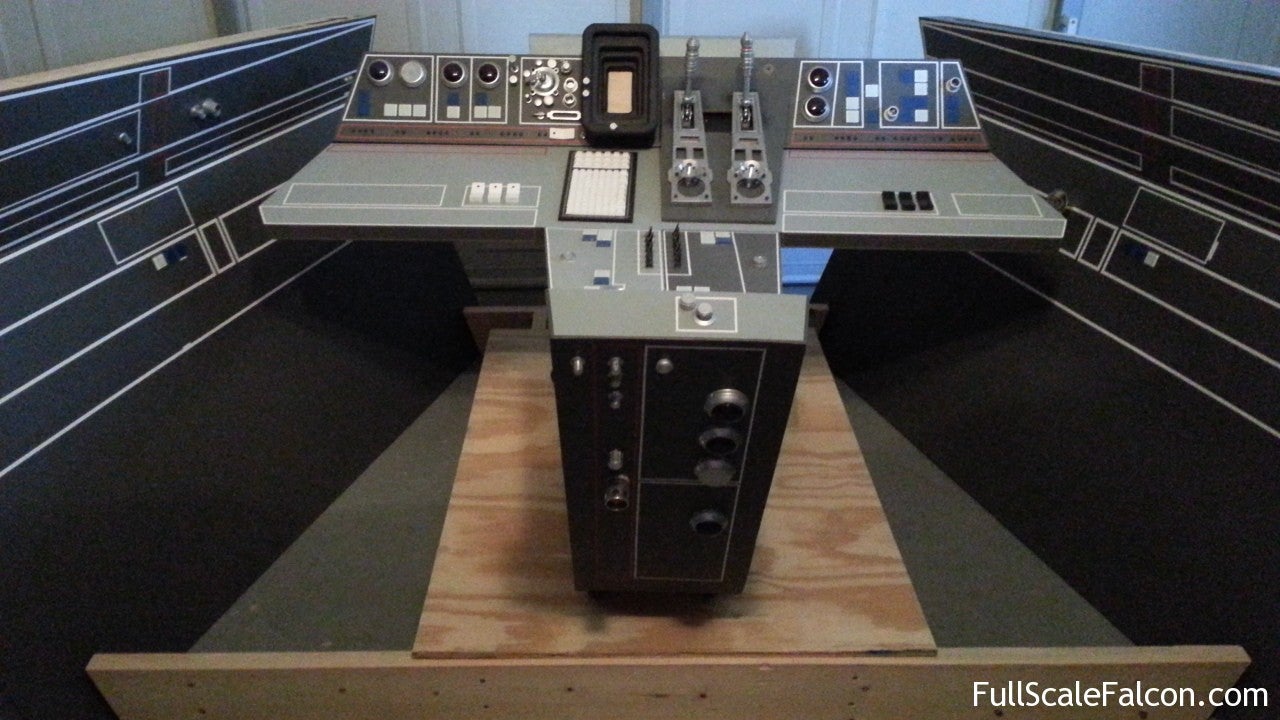 Photo via Full Scale Falcon
 
To get the correct lighting fixtures for the interior, one Falconeer got his family to go back to his old elementary school in Bermuda, where he remembered seeing some similar lights. They "obtained" one, which has now been shipped off to Canada for a Falconeer to make 60 resin cast forgeries.
"It's almost like an archaeological expedition," says Chris. Except unlike archaeologists, they aren't getting paid.
Because the Millennium Falcon is the intellectual property of LucasFilm, the Full Scale Falcon project can't directly raise funds or use a crowdsourcing service like Kickstarter or Indiegogo. "We won't be charging any admission," says Chris. "But once it's complete, obviously we want people to come see it. It'll be the Mecca for all the fan groups." 
The Project's long-term plan is to set up a kind of community center around the Falcon. Because the ship is still in pieces (some of them on separate continents) there isn't much to see at the moment. But once the larger structure has been assembled, the project will open to school trips and fans who'd like to learn some DIY skills and participate in the building work.
You've got to admit that helping to build a spaceship sounds a lot more fun than a typical workshop class. And the project has already caught the eye of Make Magazine, who have organized a Millennium Falcon-themed Maker Faire in Nashville this September.
When asked about the timeframe for the project's completion, Chris Lee is understandably cagey. "There are several large pieces being worked on right now: the cockpit, the landing gear, the dish."
As far as the main outside structure goes, though, they haven't started pouring concrete or digging foundations. This is partly for funding reasons, but Chris is optimistic. "There are plenty of ways around that around that," he tells me. "With the enthusiasm we're getting from some of these people who are wanting to donate, we get phone calls and emails from people all the time who say, 'Hey, I own a construction company, if you ever need a bulldozer, we'll bring 'em.'"
Still, slow and steady wins the race. As ever, the main focus is on getting everything right, rather than finishing it as quickly as possible.
"I'm very confident that we're going to reproduce this thing to such a level of accuracy that everyone will be satisfied."
Star Wars light-fixture aficionados: Your time has come. 
Photo via kneoh/Flickr