The major box office success of Disney's Frozen may have gotten a boost from the extended winter chill that swept over the U.S. over the last two months, but on Tumblr, the film's massive fanbase has been thawing out with the hottest meme of 2014—literally.
Over the last few weeks, fans have spontaneously evolved a thriving sub-fandom around an alternate universe (AU) version of Elsa, the tormented snow queen, in which she has the ability to control the element of fire instead of ice. Replacing her austere blue and white color palette for every possible shade of red, the fandom has churned out fanart, song lyrics, GIF sets, and fanfiction devoted to the fiery queen. 
They've also used the meme as an opportunity to explore Frozen's controversial underbelly—its lack of non-white characters—by giving Elsa new ethnic backgrounds along with her new powers.
One of the first and most viral instances of this trend, which seems to have, er, snowballed, was a post by Tumblr artist cccrystalclear that's racked up 88,000 notes, all within the last two weeks: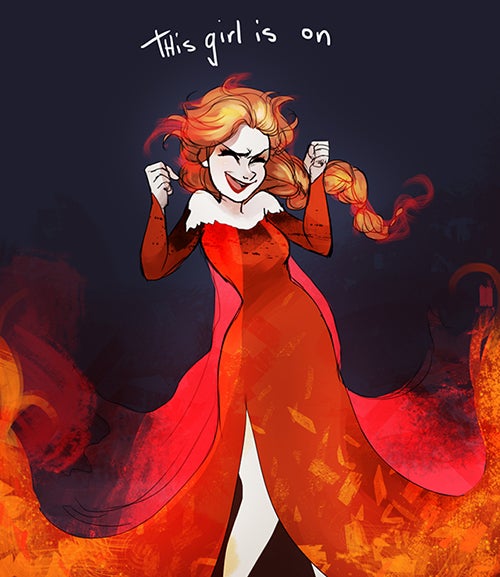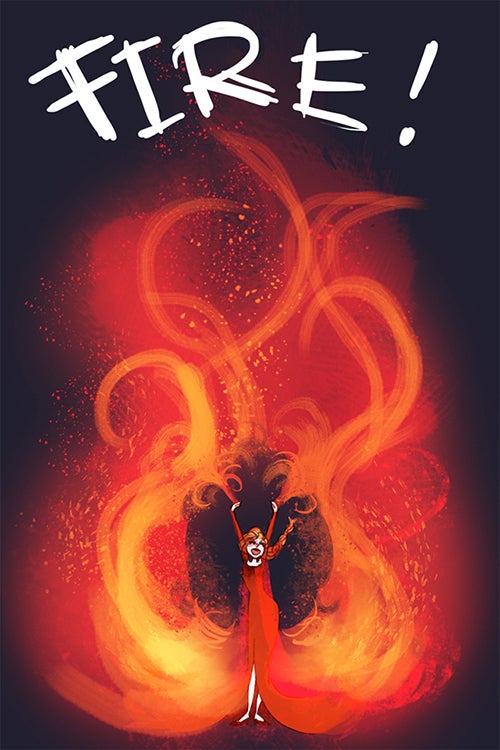 Illustration by cccrystalclear/Tumblr
Another widely circulated contribution to the trend comes from fanartist Nikola Stojkovic, who was one of several artists to imagine movie posters for the AU Disney film: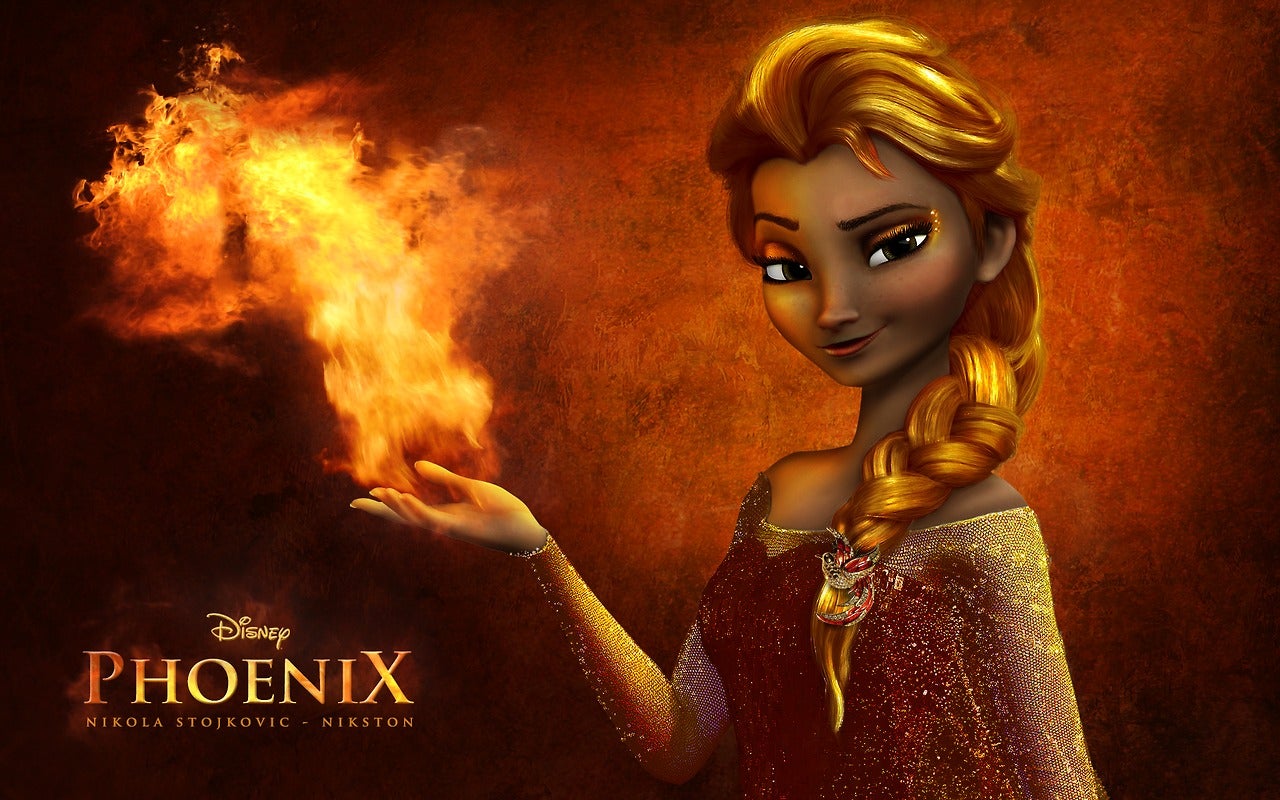 Illustration by nickston/Tumblr
An alternate concept for the poster and movie title is "Melted," beautifully illustrated by Tumblr user kristoffbjorgman: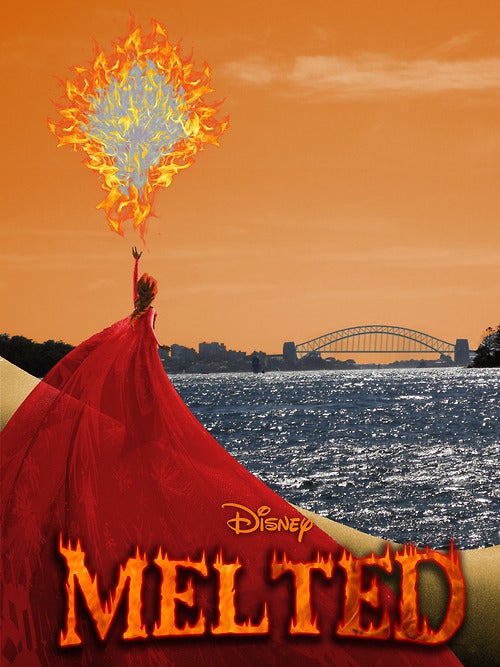 Illustration by kristoffbjorgman/Tumblr
The success of these and other pieces has led to a veritable explosion of fanworks in the "Fire Queen" AU, documented on Tumblrs like firequeenelsa and theheatneverbotheredmeanyway: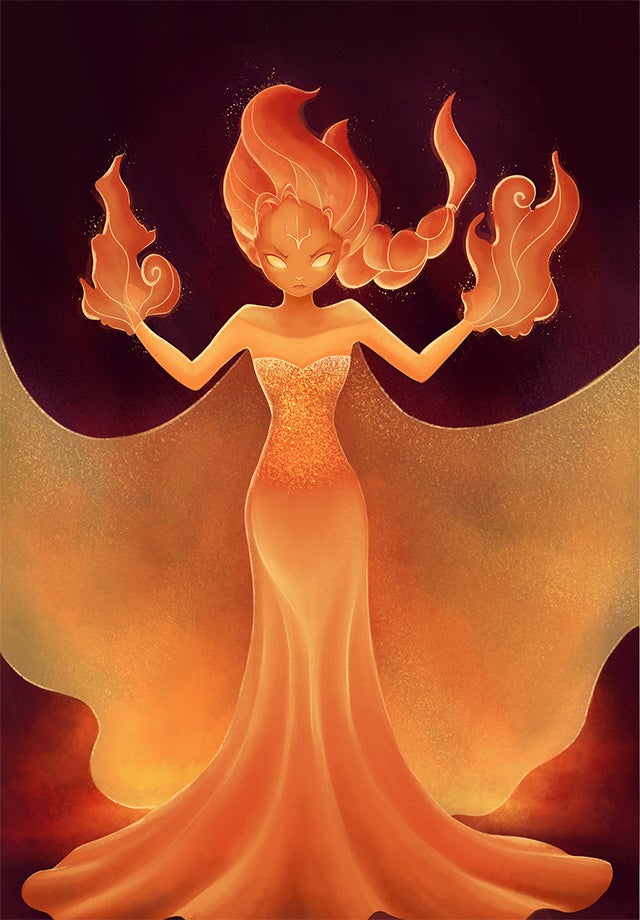 Illustration by Lynne Liu via axolotldesign/deviantART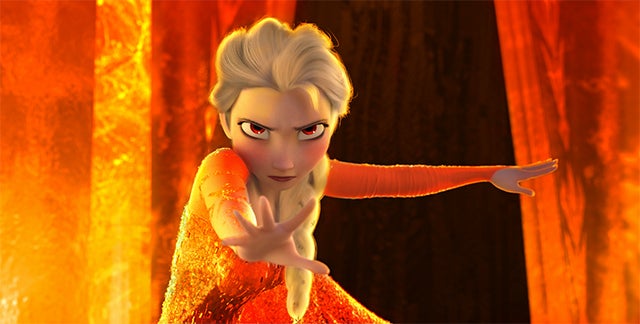 Illustration by treepelta113/deviantART
At times the artwork can get a bit dark. After all, if Elsa's powers can get a bit scary when she can control ice, the prospect of her controlling fire isn't for the faint of heart—or the faint of art, in this case: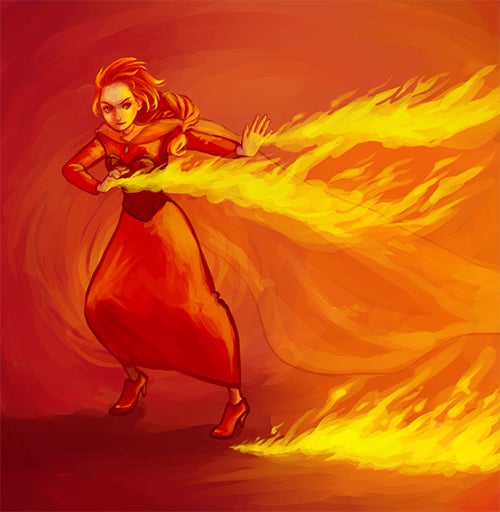 Illustration by inorheona/Tumblr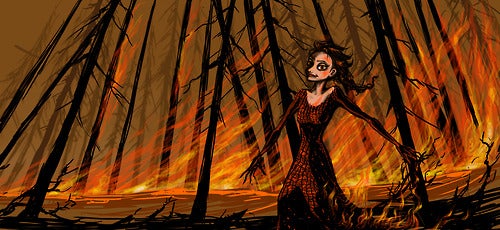 Illustration by hypnolizard/Tumblr
There's also been a smattering of Fire Queen cosplay. Yet perhaps the most impressive entries to the broad collection of fanart are the GIFs: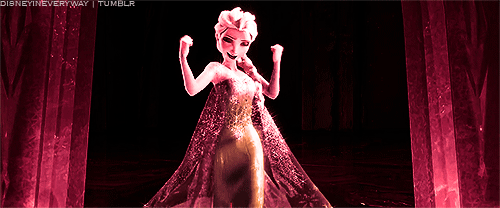 GIF by disneyineveryway/Tumblr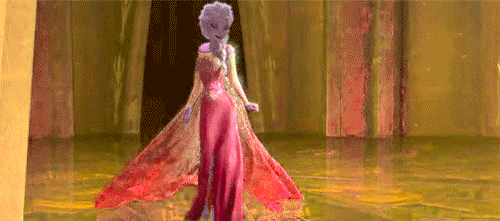 GIF by darkdood/Tumblr
Among the most prolific GIF-makers is dreamberks, who has produced a number of stunning viral pieces that show Frozen's Elsa transforming into the Fire Queen:

GIF by dreamberks/Tumblr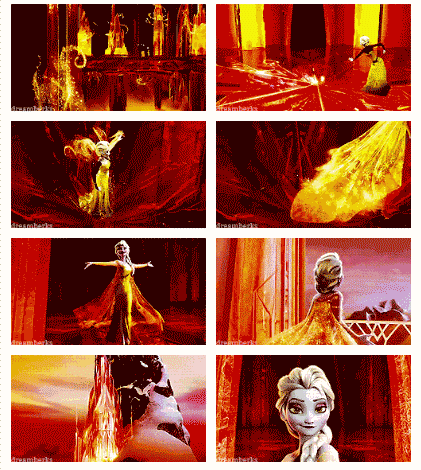 GIF by dreamberksTumblr
Then there's this viral GIFset by rotbtdgifs, or this one by darrenisadaisy:
GIF by darrenisadaisy/Tumblr
Robotdgifs' post led to the creation of new lyrics for Frozen's hit song, "Let It Go," by Tumblr user tuiteyfruityundead. The new song, "Let It Burn," has inevitably inspired an endless number of cover renditions by various Tumblr users. There have been many other Fire!AU rewrites of the song as well, and even one adorable "Do You Wanna Build a (Sand)Castle?"  
But perhaps the most notable effect that the new Frozen AU has had is upon the faction of fans who advocate for greater cultural representation in their Disney films. Fans may have to wait until 2018 for the next non-white Disney princess in the lineup, but they're busy making a wealth of diversified fanart—beginning with "The Elements," featuring contributions from a variety of Tumblr fanartists, all inspired by Stojkovic's movie poster remix. 
The array of cultural riffs on the Fire Queen meme are truly inspiring: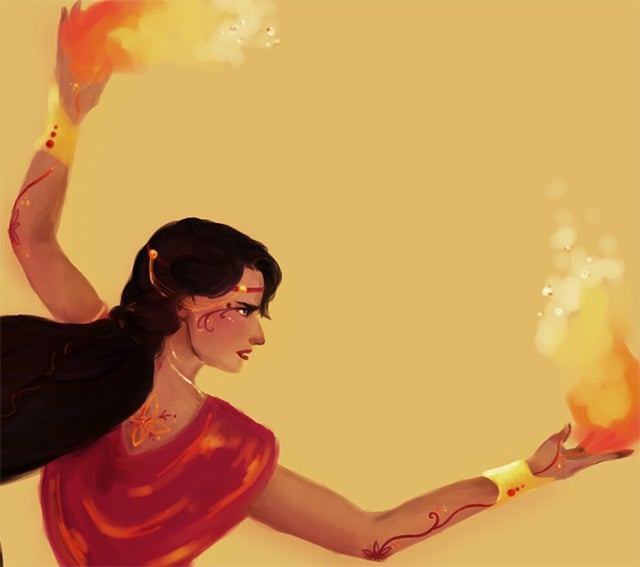 Illustration by essie-art/Tumblr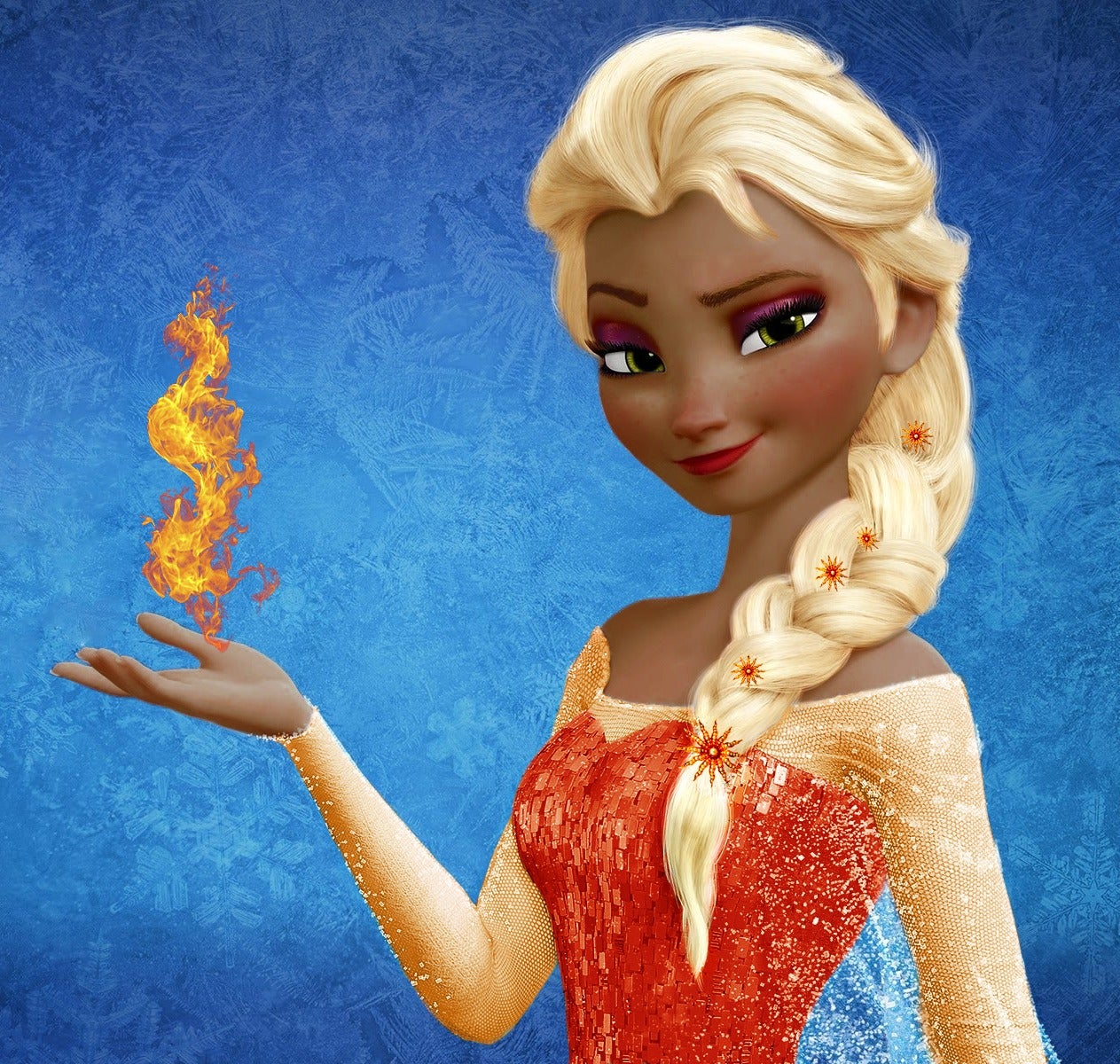 Illustration by ticktoast/Tumblr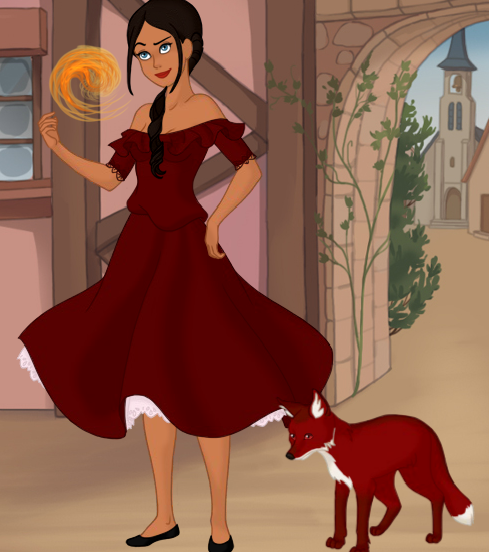 Illustration by firequeenelsa/Tumblr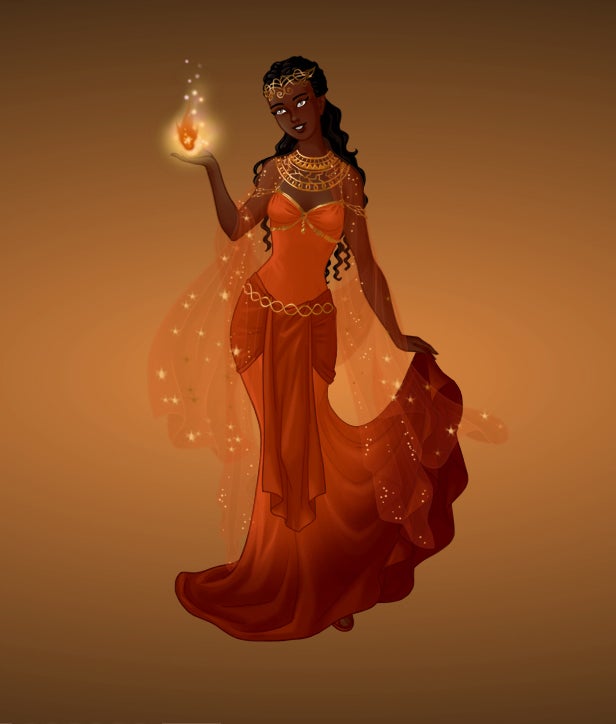 Illustration by hannahwolfcross/Tumblr via theheatneverbotheredmeanyway
"This AU is so important," wrote Tumblr user wemustneverever in presenting her own fanart version of POC Elsa. "I figured I should try my hand at it."
"Also can you imagine how good this would be for international relations and diplomacy and trade?!?!" added vaudevillellain. "IT'S LIKE WIN/WIN/WIN/WIN/WIN."
It's certainly a win/win for the growing number of fans who celebrate a combined crossover of several recent Disney, DreamWorks, and Pixar films together, collectively known as "The Rise of the Brave Tangled Frozen Dragons," or sometimes the Super Six. This crossover fandom, too, has gotten its share of the Fire AU meme.
So what do all of these many varied Elsas have in common besides the color red? Elsa's voice actress, Broadway star Idina Menzel, may have given us some insight in a November interview:
"[W]here Elsa and I meet, is wrestling with being a strong, powerful, extraordinary woman. Also, we worry about having to hide that, in fear of hurting other people. I understand and relate to that. I think as women, the smarter and more powerful we are, the more it can be threatening and alienating to other people, more than with men. That's something we need to support each other with."
Despite the variety of all these different fandom versions of Elsa as Fire Queen, they all share a common strength and a power source—one for which fire is only a rich metaphor. They all express female desire to manifest inner strength, in the most effective way possible. Disney has finally given audiences a narrative featuring two strong female characters with agency, who support each other and find their own power; is it any wonder that fans, especially female fans, are clamoring for more? 
Thanks to the wonders of fandom, "more" doesn't mean waiting for Disney or any other studio to put out a similarly exciting, female-focused film. 
In this case, it only takes setting the world Disney has already given us ablaze.
Illustration by kristoffbjorgman/Tumblr