Casting for the Fifty Shades of Grey movie was always going to be kind of a lose-lose scenario. Or win-win, depending on whether or not you're entertained by fandom agony.
Whoever was chosen to play Christian Grey and Anastasia Steele, countless thousands of Fifty Shades fans were always going to be disappointed. Today's announcement that the lead roles were going to Charlie Hunnam (Pacific Rim) and Dakota Johnson (Ben and Kate) means that the wait is over… until the first trailer comes out, that is.
So far, the general consensus is that Charlie Hunnam is hot, maybe even hot enough to draw in some new viewers from the vast number of people who seem to actively dislike the Fifty Shades books. But is he Christian Grey? His hair is the wrong color, but hair can be dyed. The bigger issue is the fact that both the lead characters in Fifty Shades are, arguably, malleable sex fantasies, which means that they're even harder to cast "accurately" than characters in a normal book adaptation.
On the bright side, today's casting announcement means that people have found a new use for the old Pacific Rim Jaeger generator: Fifty Shades parody quote Jaegers. Prepare yourself for a lot more Pacific Rim/Fifty Shades jokes in the upcoming months.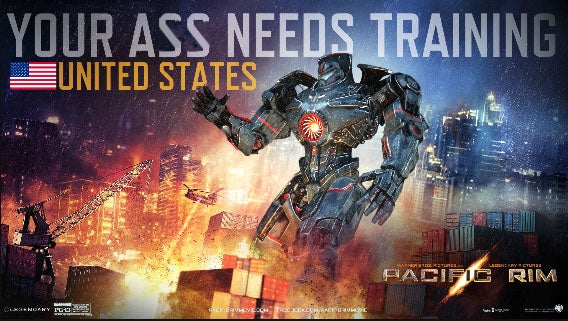 Photo via mongooseland/Tumblr
Still, Hunnam seems to have widespread appeal outside of 50 Shades' original fanbase. Which is ideal, because the books have such a dodgy reputation that the movie will need something extra to draw in non-fans. And that something may be Charlie Hunnam, Charlie Hunnam's abs, and Charlie Hunnam's dreamy eyes. As Tumblr user christinahendricks put it:
"pros:
he'll be naked
we'll definitely see the booty ( ͡° ͜ʖ ͡°)
he'll be wearing a suit
cons:
it's fucking fifty shades of grey"
While this tweet pretty much sums up the reaction from casual readers:
Charlie Hunnam is perfect for 50 Shades of Grey, because I don't respect him as an actor, but I do enjoy seeing him naked.

— Andrew Wheeler (@Wheeler) September 2, 2013
Yep, at this point, Charlie Hunnam's shirtless scenes in Pacific Rim are starting to seem like a teaser trailer for what we're going to get in Fifty Shades of Grey. 
As for Dakota Johnson, we're kind of hoping that she gets a pep-talk from Kristen Stewart before they start filming. Anastasia may well be an even less likeable character than Twilight's Bella Swan, and will probably be even harder to play, because she has to combine low self-esteem with childlike naivete and an unquenchable desire to be tied up and whipped by her boss. Good luck. 
Now the lead characters have been cast, the biggest question for Fifty Shades fans is just how much sex is going to end up in the movie. Sex is kind of the selling point of the whole franchise, but it seems unlikely that they'll be able to keep all those scenes in and still release it as a mainstream movie. The problem is, once you remove the sex scenes, what do you have left? An awful lot of filler. And slightly creepy office politics. 
Pretty sure no one who read 50SoG will even recognize the plot of a film adaptation.

— Rainbow Rowell (@rainbowrowell) September 2, 2013
Without the explicit sex, it's just a stern man teaching a bizarrely sheltered woman how to use email … Plus some contract law. #50SoG

— Rainbow Rowell (@rainbowrowell) September 2, 2013
Image via dailymeatmarket/Tumblr