While mixtape culture was making its way from 1990s High Fidelity-style cassettes to cheesy iPod playlists, online fandom was developing the fanmix.
Fandom has always been about collaboration. Even the earliest Star Trek zines had illustrations to go along with the fanfiction, and the Internet quickly added a multimedia component. Along with the simple text of a fanfic or movie review, we now have GIFs, fanvids, art, cosplay, and music. 
Fanmixes can be created as the soundtrack to a fanfic, but they're just as likely to be like a normal mixtape: capturing a particular moment or mood. It's just than being "breakup songs of 2007," the mood in question is more likely to be "music on the theme of defeating Voldemort." 
In an email to the Daily Dot, fanmix artist morethanonepage explained that more often than not, fanmixes are about storytelling:
"For me, putting the songs in the 'right' order is just as important as picking them. But it really is like building a story: with pairing mixes especially, I like to convey a whole relationship arc (the meet cute song, the getting-to-know/trust-you song, the swoon-i'm-so-in-love song, and so on)."
So while services like iTunes encourage listeners to shuffle through music rather than listening to an album as a complete work, fanmix artists are very concerned with the overall narrative of a mix.
"Song order is something I obsess about even more than song choice," said morethanonepage. "But I'd feel like a real snob if I put a thing up saying "NO YOU HAVE TO LISTEN TO MY MASTERPIECE IN ORDER, AS I DESIGNED IT!"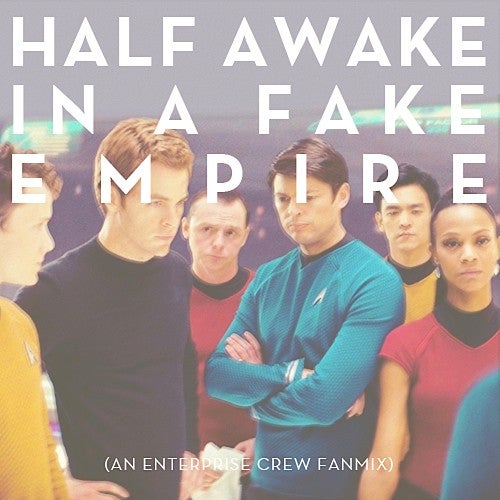 Photo via 8tracks / corbomites
With the advent of playlist sites like 8tracks and Spotify, fanmixing has become a lot more accessible. Up until recently, mixes were mostly uploaded onto file-sharing websites and then posted to LiveJournal communities, meaning listeners had to commit to downloading the whole thing. Plus, there was the ever-present threat of copyright infringement (the boogeyman of fandom), so a lot of those communities were members only.
Alexandra Edwards has been making fanmixes since 2007, and seems thoroughly in favor of the accessibility provided by 8tracks.
"It's a really great service that thankfully seems to have embraced fanmixes and fandom in general," she told us. "It used to be so much work to gather and listen to mixes—download a .zip, unzip it, add the songs to iTunes as a playlist, etc."
"It's just like YouTube making it easier to experience fanvids and the AO3 [Archive of Our Own] making it easier to find and read good fanfic. We're really lucky to have these kinds of emergent technologies giving us easier access to fan creativity."
While LiveJournal fandom depended on file-sharing sites and quotes from songs to try and appeal to listeners, 8tracks fanmix culture is very clearly a product of the Tumblr generation. First of all, most of the popular playlists on 8tracks' fanmix tag are clearly aimed at One Direction fans. But also, the medium itself dovetails neatly with Tumblr culture's desire for instant gratification and reblog-ability. You can start streaming at once, and don't have to worry about crappy old playlists clogging up your hard drive if you don't like them. And 8tracks' fashion for Photoshopped mixtape covers appeals to the visual nature of Tumblr fandom.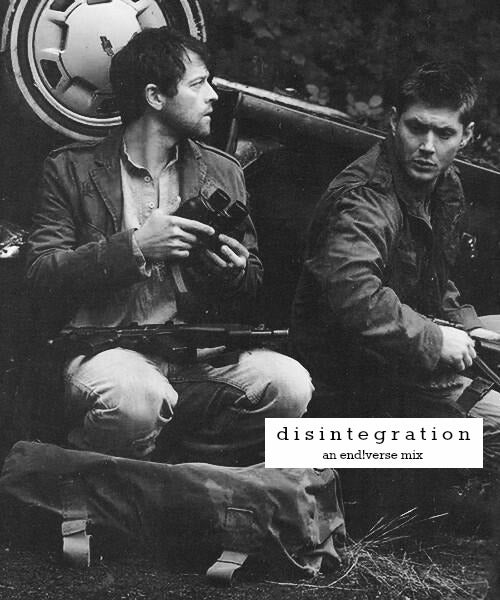 Photo via jenseny/Tumblr
So, what makes a good fanmix?
According to the Fanlore wiki entry, it's important to avoid Top 40 hits, because they have too much "cultural baggage." In other words, most fanmixes are going to seem kind of hipster to the uninitiated. While there are plenty that include one or two well-known pop songs (Alexandra Edwards tells us that Coldplay is "a widespread infectious disease" on 8tracks), you're way more likely to hear music from bands you've never heard of, arranged in a way that only makes sense if you're familiar with the fandom involved. 
Lyrics are important, although as morethanonepage points out, sometimes the lyrics can be perfect while the tone of a song is completely inappropriate. One of her favourite cheats is to find a good cover version. "Lady Gaga's 'Bad Romance' is kind of ridiculously flashy, but listen to the Frank Ocean cover and it's something entirely different."
When it comes to the tone problem, Fanlore emphasizes the importance of picking the right genre. After all, people are definitely going to judge you if you post an all-Britney Spears playlist in Lord of the Rings fandom. 
"If you're making an ASOIAF [Game of Thrones] fanmix, R&B is probably not the way to go. The tone won't mesh well with the tone of the books it reflects. Of course, the reverse can work equally well if you've thought about it. Like if you want to make a Dany [Daenerys Targaryen] fanmix, you could choose punk and post punk bands with female singers, to capture Dany's rebellion against the gender norms of her society."
Some might argue that because fanmixing seems to involve less direct creativity than writing a story or drawing some fanart, it's the "easy" option. However, many fanmixers put a great deal of research into their projects. According to Edwards (whose most recent fanmix involved looking into the music of Northern Georgia, the home of Star Trek's Dr. McCoy), "The really magical mixes are the ones that reveal something you didn't know before
So, now that you know a little about the thought that goes into a fanmix, here are a few recommendations—some more serious than others. 
Everything is people (Hannibal)
"This is a completely serious Hannibal fanmix," reads the description. "Completely. Serious." Sample tracks include "Cannibal" by Ke$ha, "The Only Way To My Heart Is With An Axe" by Foxy Shazam, and "Brain Stew" by Green Day. And it comes with an equally serious cover, featuring this timelessly beautiful Instagram portrait of Mads Mikkelsen: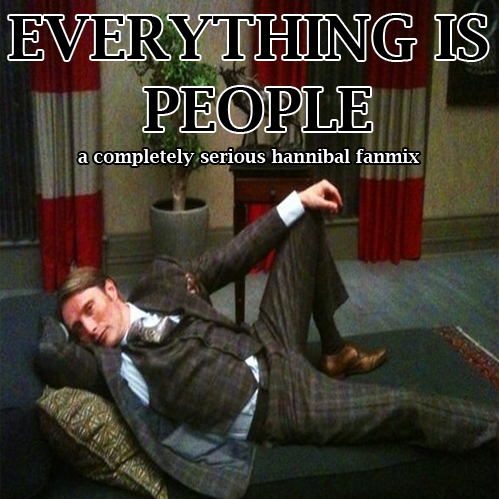 Black Sails, Black Deeds (Game of Thrones)
Dedicated to everyone's least-favourite character from Game of Thrones, Theon Greyjoy. With songs from artists like Woodkid and Fever Rat, this fanmix is as ominous as the Greyjoy family's murky seaside castle.
I'm on explicit orders dare not speak its name (Welcome to Night Vale)
After almost a year on the backburner, surreal fake-NPR podcast Welcome To Night Vale has suddenly generated an enthusiastic Tumblr fanbase in the past couple of weeks. And appropriately enough for an audio fandom, they're really into making fanmixes. Kinda weird ones, with pictures of human teeth on the covers. Highly recommended if you like Donnie Darko or the Twilight Zone, or have a strange feeling that just out the corner of your eye, someone is watching you. 
GIRLS RUN THE WORLD (Texas Sen. Wendy Davis fandom)
"ARE YOU FEELING HIGH ON FEMINISM AND READY TO FIGHT INJUSTICE AFTER WATCHING WHAT A F**KING BADASS WENDY DAVIS IS??" If the answer is yes, then put on your Wendy Davis sneakers, click on this topical playlist, and get ready for a revitalizing dose of Beyonce and No Doubt. 
Photo via thebigdeadwaltz