It's a classic case of imperialism: fans of the BBC's Doctor Who staking their claim and refusing to budge ground. But in this case, it's not a piece of colonized land that's at stake: it's a day—specifically November 23, the day that parts of fandom had apparently roped off as a day of devotion to the sci-fi series' long-awaited 50th anniversary special.
But then, as they tend to do, the One Direction fandom brought chaos to the orderly proceedings of fandom worship. The band recently announced a whopping 7 hour livestreamed special called "1D Day" in which they hang out with their fans on YouTube. 
That's it. That's the plan. 
Seems harmless, right? But check the date—1D's big day overlaps with the Whovians' birthday bash.
@Harry_Styles we take it you'll all be watching #DoctorWho 50th on #1DDay, right? Okay, good. #SaveTheDay #1DDAYSUGGESTIONS

— BBC One (@BBCOne) October 2, 2013
While One Direction fans celebrated the bliss of an entire day to themselves, many Whovians were incensed that "their" day had been usurped by a fandom event of relative magnitude.
Doctor Who fans, apparently believing that Directioners themselves had something to do with the naming of the band's YouTube session, have spent the week circulating the digital equivalent of protest flyers across Tumblr: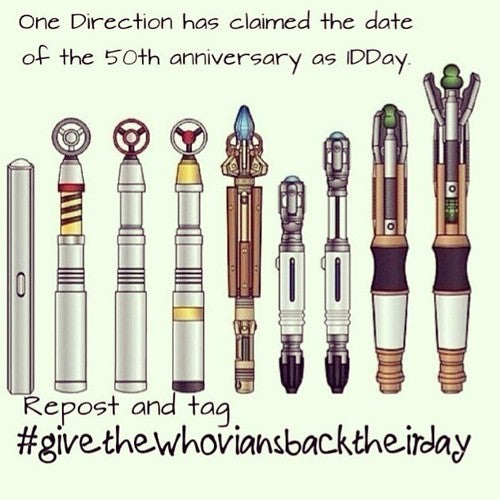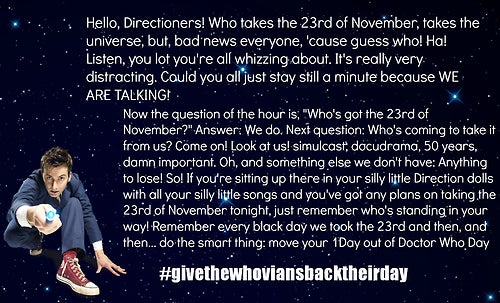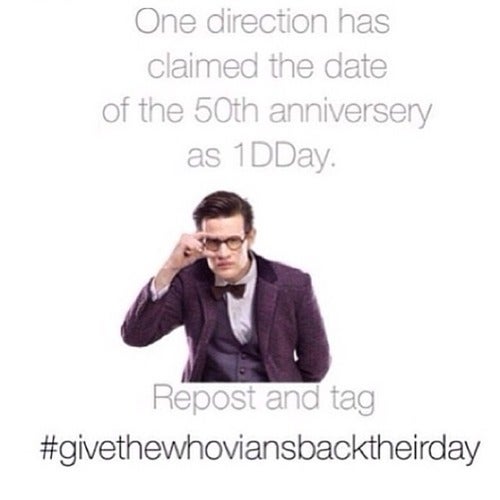 Photos via its-halloween-bitches/Tumblr
One version of the post, uploaded by my-volume-drops, has garnered nearly 20,000 notes since October 3.  Fans circulated the tag #givethewhoviansbacktheirday on Tumblr and Twitter. 
#givethewhoviansbacktheirday please!!!! it'll literally be taken over by directioners, it's been 50 years guys! pic.twitter.com/8CrmtLTxA7

— marths (@MarthaGrug) October 10, 2013
Whovians also took to YouTube to berate One Direction directly for picking that day of all days to steal their thunder. As Alicelikessushi put it, "Doctor Who had that day for 50 years!!!! What right do you have to take it away from us whovians!"
@onedirection #givethewhoviansbacktheirday HOW FUCKING DARE YOU! THE 23 NOVEMBER IS OUR DAY!!😡CELEBRATE YOUR GAY LITTLE BAND SOMETIME ELSE!

— Charlock (@RedYellowBadger) October 10, 2013
"They've taken on an army that's nearly 50 years strong," commented one Facebook user as the rallying cry made the rounds.
But by and large, if Directioners noticed the kerfuffle they responded with eyerolling. "[G]od," wrote Tumblr user allthemadnessthatoccurs, "[O]ne [D]irection didn't steal anything from you. [Y]ou can still enjoy your day without thinking about [O]ne [D]irection in any way."
The #givethewhoviansbacktheirday is so dumb like can't you guys just share a day damn

— luciburger (@stumphatic) October 10, 2013
But while some Who fans called for reason, Tumblr user love-bubblenugget had these cautionary words of wisdom: 
Think how sad you would be if we were doing this to your fandom.
One has a feeling if the shoe were on the other foot, not even the Doctor could face the wrath of Directioners asked to cede their turf.
Photo via civil-war-casualty/deviantART