You know things are bad when there's an entire website devoted to your poor business decisions. 
You'd think DC Comics would have learned its lesson by now, yet this morning distraught fans of Batwoman, widely considered one of the most successful of DC's line of revamped "New 52" comics, found out its writers are calling it quits.
Citing consistent editorial interference, a lack of creative control, and censorship of the series' developing lesbian relationship, DC writers W. Haden Blackman and J.H. Williams III released joint announcements early this morning that they are resigning from Batwoman as of issue #26:
Unfortunately, in recent months, DC has asked us to alter or completely discard many long-standing storylines in ways that we feel compromise the character and the series. We were told to ditch plans for Killer Croc's origins; forced to drastically alter the original ending of our current arc, which would have defined Batwoman's heroic future in bold new ways; and, most crushingly, prohibited from ever showing Kate and Maggie actually getting married. All of these editorial decisions came at the last minute, and always after a year or more of planning and plotting on our end.

We've always understood that, as much as we love the character, Batwoman ultimately belongs to DC. However, the eleventh-hour nature of these changes left us frustrated and angry — because they prevent us from telling the best stories we can. So, after a lot of soul-searching, we've decided to leave the book after Issue 26.
Fans, including professional ones, are deeply upset by the announcement, with many vowing that Issue #26 will be the last one they buy.
"You are in an industry that survives on people loving a certain character so much that they'll stick with them regardless of creator changes, reboots, and retcons," wrote The Mary Sue's Susana Polo: 
I'm not going to stick around or put down money up front to see [Batwoman's] potential as a hero for actual people who do not have very many examples like her hampered by editorial meddling. And that's not because I don't love her enough. It's because I love her too much to watch that happen to her.
DC isn't refusing to allow Batwoman, a.k.a. Kate Kane, to marry her partner, Gotham cop Maggie Sawyer. In fact, Williams noted on Twitter that DC was anti-"marriage," never "gay marriage."  But it never publicized or celebrated the engagement, and now, according to Blackman and Williams, it's refusing to show the wedding in the actual comic. 
The incident illustrates one facet of the increasingly widening divide between Marvel and DC when it comes to commitments to diversity. As thethoughtbubbleblog pointed out, Marvel has had no problem showing and celebrating same-sex weddings: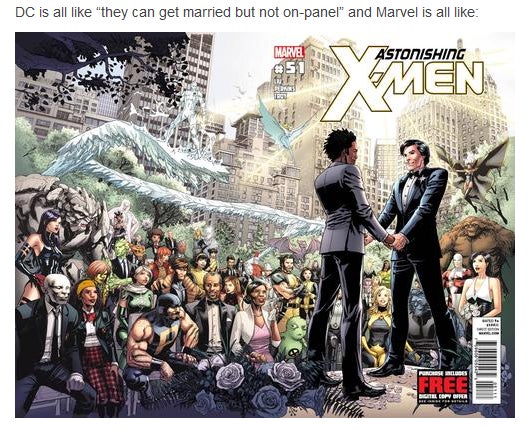 But while the queer rights aspect of the issue will probably continue to enrage members of communities outside DC's typical target audience, comics fans have plenty of reason to care about all the other reasons that Blackman and Williams cited for their departure.
Beyond DC editors' unwillingness to show a gay wedding, the larger issue is that many fans have come to believe the comics company is simply uninterested in investing in their characters, writers, and audiences. In 2011, DC decided to reboot itself completely with the "New 52" lineup of brand-new rewrites of classic series. It effectively cancelled all in-progress series, tossed out the historic storylines associated with all of its titles, and cherry-picked which plot arcs from the old series carried over into the new. 
The move was a drastic, risky one, and it alienated many of DC's readers; but what further drove a wedge between readers and corporation was DC's dramatic drop of women writers on staff from 12 percent to 1 percent, its firing and subsequent rehiring of beloved Batgirl author Gail Simone after a public outcry, and its tendency to lose quality writers because of overediting, mishandling, and devaluation of storylines.
In June, writer George Perez explained the post-New 52 atmosphere while discussing why his work on Superman ended after just 6 issues:
I had to [keep] rewriting things because another person changed their mind… I was given a full year to get Wonder Woman established before enfolded into the DC Universe properly…. They wanted me to recreate what I did through Wonder Woman, but it's not the same age, not the same atmosphere, I couldn't do it any more….
The editorial upheaval has plagued many DC titles. By March, the long line of series whose writers had walked off included Superman, Birds of Prey, Grifter, Hawkman, Action Comics, Green Lantern, and Deathstroke. In June, just as Williams was starting to openly complain about the level of confusion his Batwoman plots were suffering, the influential writer Paul Jenkins had harsh words for the company and its tendency to micromanage plots to death at the expense of its creative teams. Calling DC's editorial problems "Machiavellian bullshit," he asserted:
Suffice it to say that the fans are not getting the creators in these books – they are getting an unpalatable product, which is destroyed by editorial interference perpetrated by unqualified project managers.
And the fans have noticed. At Dragon Con last weekend, a number of anonymous female fans vented to me about their growing frustration with what they perceive as DC's apathy towards women and diversity, as well as the narrative changes they're enforcing on their characters:
I feel like at this point, if you've always read DC then you'll keep reading DC, but if you were thinking about reading DC, [DC is] going to probably do everything in [its] power to keep you from picking up a book…. They kill women and children, and they erase gay characters and make formerly straight characters gay, because it doesn't really matter, right?…. They retcon backstories and treat their characters poorly, so they can say, 'we've tried doing female superheroes, we've tried doing non-white superheroes, we even had a gay person at one point, but nobody read it, so nevermind. I guess you guys don't want it. Meanwhile, there are like a dozen Batman-related titles, and it's like, how do you need that much, but you can't have a decent Catwoman story?
This morning on Tumblr, virginiagentlenerd echoed them, lashing out at DC's "anti-marriage" stance and its harsh treatment of its writers:
If DC editorial can give me a single good reason why Kate and Maggie shouldn't be married, I'd be impressed. I'd also like to know the reason for jerking their creators around so much. How many people have quit from the Superman/Action comics universe alone? Why the hell was Gail Simone fired? Why are scenes changed between the single issue and the trade? What possible good comes from messing with a story you approved a year ago, that's already done, and half assing a new ending?
Last month on Tumblr, oratorasaurus summed up the DC attitude towards its own characters as apologetic and embarrassed:
"We're sorry you're watching a Green Lantern movie. We don't get the character or care about him either. It's so retarded and gay. We'll just… we'll just try to get this over with fast, alright? We're really sorry that we've produced a movie with this character in it."

….

Marvel embraces the joy and the madness of [superhero comics]. DC cringes from it like a nerd that's gotten too many wedgies from the schoolyard bullies and has promised not to like the things he likes anymore.
Meanwhile, Williams is going on to do the artwork for Neil Gaiman's Sandman and DC's Vertigo imprint. "[P]lease stick with us through issue 26," he tweeted. "We hope to give something strong in our last issue."
Increasingly, it seems as though the "last issues" may be coming for more and more DC fans.
Photo via ComicsAlliance