Actor Benedict Cumberbatch's Reddit AMA (Ask Me Anything), held Friday afternoon, was intended to focus on his role as Julian Assange, a character who holds a great deal of interest for Redditors.
But Cumberbatch himself holds a great deal of interest for, well, millions and millions of Sherlock fans—and when the Reddit thread went live at 2:36 pm, they were ready.
Just one minute after it opened, Cumberbatch's AMA already had 350 comments. Two minutes later, that number had jumped to a thousand.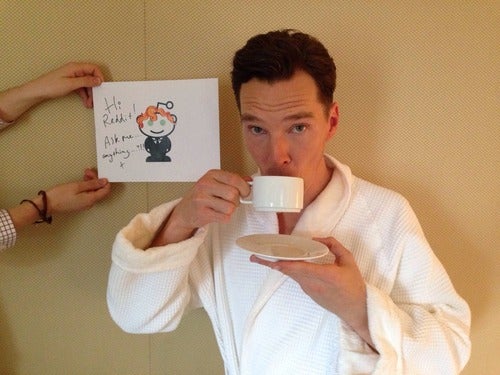 The Sherlock fans, many of whom joined Reddit especially for the occasion, were out in force.  One subreddit of Cumberbatch fans, /r/Cumberbitches, presented the actor a series of joint group questions, which he answered immediately (but selectively).
Other fans settled for the urgent issues, like which Muppet he'd like to share a scene with (Answer: "Animal").
But the highlight of the day came when Redditor hcm11 asked, "Do you, Matt Smith, and Tom Hiddleston have cheekbone polishing parties?" Cumberbatch's reply was a coup de gras: 
We like nothing better than buffing our Zygoma. And imagining a horny time traveling long overcoat purple scarf wearing super sleuth nordic legend fuck fantasy. Get to work on that, internet. 
Having reduced the entirety of Reddit to a smoldering heap of wilted underthings—even the Men's Rights Activists probably felt a strange twinge in their nether regions—Cumberbatch set about having fun, discussing his own fanboy nerves, chatting about his love of comedy and noting that his Sherlock co-star Martin Freeman taught him well, and also made him sassier. 
He gave a nod to his love of serious drama and literature, noting that if he could play any character, he'd choose Edward St. Aubyn's tortured autobiographical hero in the Patrick Melrose series. Then, as only the best actors can, he whiplashed to admit that John Hughes films and Ghostbusters were among his favorite "comfort movies." And finally, in true auteur style, he delivered a note of poignance when, asked what he planned on being for Halloween, he quipped, "The invisible man. Oh, how I love to disappear."
But he was there to discuss Julian Assange, the enigmatic and elusive WikiLeaks founder and fugitive played by Cumberbatch in The Fifth Estate, who refused Cumberbatch's requests for assistance in playing the part. On this subject, Cumberbatch was at his most forthcoming and heated. When asked if Assange's labeling him a "hired gun" had impacted how he portrayed the role, Cumberbatch retorted, "of course it did," then launched into an impassioned defense of his choice to take on the part:
Cumberbatch stayed for over an hour, interacting with fans as they ruthlessly downvoted each other in attempts to push their questions to the forefront his attention. Although he must have felt a bit like a piñata in a windstorm, he rolled with the theme, indulging fans On Tumblr, fans were beside themselves. On Twitter, fans were confused about how to use Reddit, but also beside themselves: "He's playing with us and he so knows it."
But to our surprise, Cumberbatch was as sincere as he was teasing. An early answer that he gave, in response to the question, "what do you WISH someone would ask?" pointed towards the type of answers that Cumberbatch could have lingered over:
I often feel in interviews people should ask about the culture and people that I engage with as an audience rather than the same bio or personal life details. Rough with the very, very smooth, these are high class problems. The best interviews evolve like conversation. 
But he went out of his way to indulge fans, waxing nostalgic, getting snarky, and cracking jokes about the many, many jokes surrounding his name and his fandom's name—the odious "Cumberbitches" having largely been replaced with the "Cumbercollective." And, of course, he gave us a hint of what we can expect after the eternal wait of Sherlock Season 3. When asked, "Is it hard to keep the secret of how Sherlock survived?…How do you cope?" he answered:
I cry myself to sleep at night. And then wake up laughing.
To this, we can only declare this Reddit AMA a rousing success, echo Redditor marialfc, and add a question of our own: 
Mr. Cumberbatch: How does it feel to break the Internet?
Photo via Reddit