A TikTok video that went viral this week allegedly shows security camera footage of a woman's ex-boyfriend hopping the fence of her property and waving at the security camera.
"I'm being stalked by my ex boyfriend and his behavior is escalating," wrote a Twitter user with the same username as the TikToker, @haleyyjay. "He's violent and dangerous. Creating a trail documenting this any way I can."
The woman, Hayley, said she wouldn't have to resort to posting content online if the police took the situation more seriously. According to a comment Hayley made on TikTok, her ex-boyfriend broke into her property twice a few years ago.
'"I had a very young officer look me directly in the face and say, 'The law isn't written in a way that protects you,'" Hayley wrote.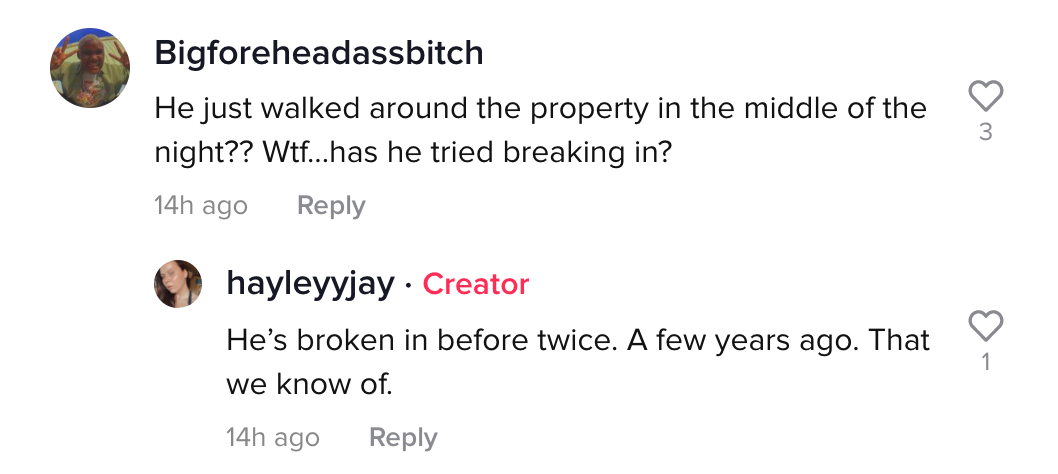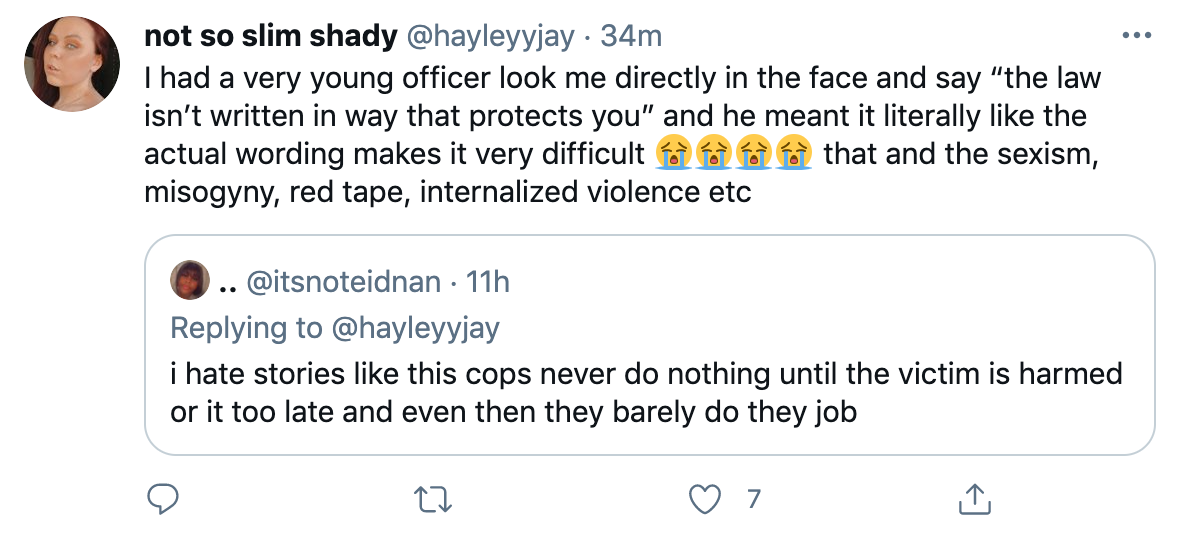 People online reacted with concern for her safety and asked if she had an alarm system, filed a restraining order, or own a gun for protection.
"I'm so disgusted nothing is happening to him," user @kceegee3 tweeted. "You shouldn't have to prove danger. This video alone is enough."
Others said the system does not protect women and individuals going through domestic violence enough. "Literally you have to be injured or killed for them to be able to take any further steps for protection," user @_golddustwoman tweeted.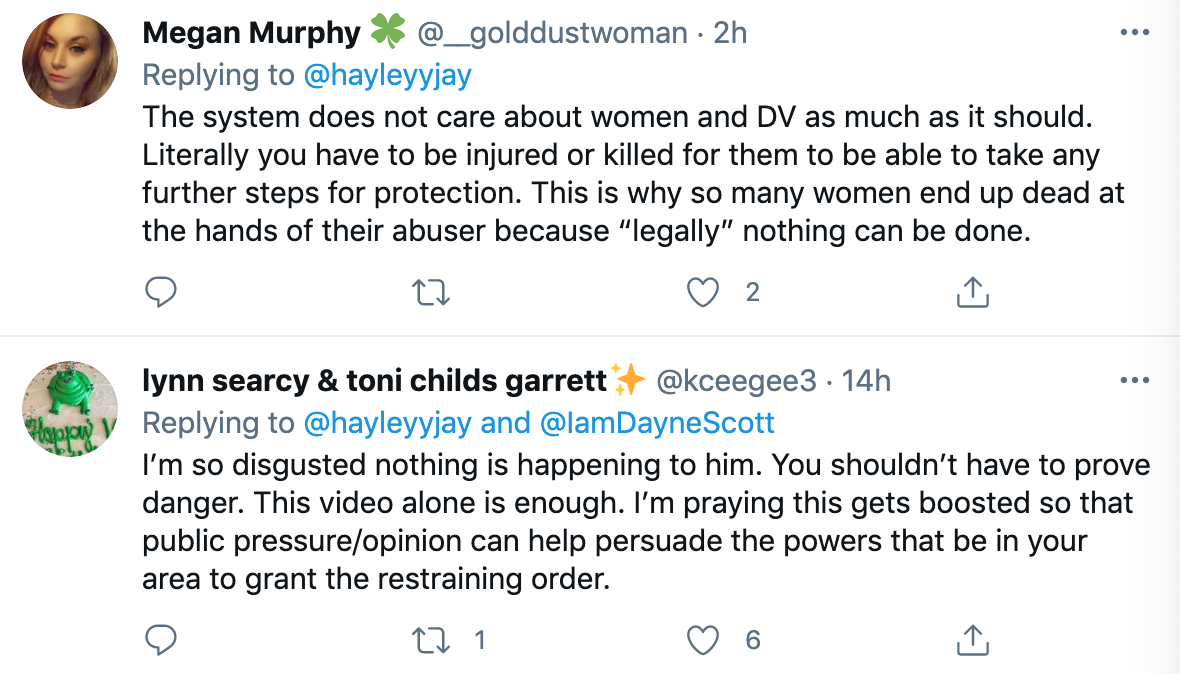 Hayley said she is currently looking into getting a temporary restraining order but ran into complications. In California, where she lives, a person can ask for a domestic violence restraining order for someone they have a close relationship with, including someone they used to date. A restrained person can be ordered to stop contacting or stalking a protected person and keep away from certain distances depending on the type of order.
A temporary restraining order is one type of domestic restraining order that lasts between 20 to 25 days until a court hearing date. After a person files court forms on what kind of order they want and why, a judge will give the restraining order if they decide the person needs protection.
In hopes of bringing more attention to the woman's video, TikTok users started commenting their favorite colors and words of support. "Please boost this for Hayley's safety!" @tequilaaunt1311 commented. "This man needs to be arrested before he can do worse. Comment your favorite color. Mine is green."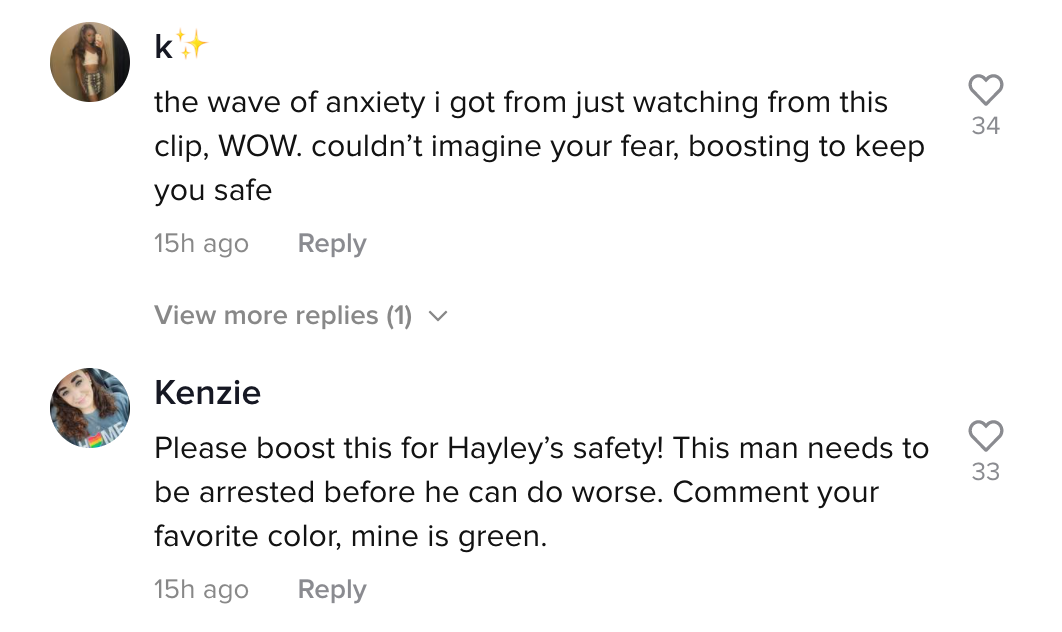 However, other people online said the video was fake and made light of the situation. "She locked her brother out of the house to become Twitter famous," @kkewak44 commented.

Hayley previously opened up on TikTok about being a domestic abuse survivor. "At the time the incident occurred, I was being subjected to two to three ass beatings a day, minimum," she said in a three-part video.
She also shared that her abuser used to bug her house and force her to listen to recordings of herself sleeping as he screamed that he was going to "catch her."
Hayley said the doorbell camera sends alarms to her phone when it detects activity and that her dogs are helping serve as an alarm system themselves. "I don't know how I allowed someone in my life like this," she said. "I'm really at a loss. It is what it is."

Hayley did not immediately respond to the Daily Dot's request for comment.
If you are a victim of domestic abuse or want more information on domestic violence and resources for victims, contact the National Domestic Violence Hotlineonline or at 1-800-799-SAFE (7233).
---
Must-reads on the Daily Dot