The post is coming from inside the campus.
While Virginia Tech's campus is still on lockdown after reports that a gunman shot at least two people, one student is using the experience to answer questions from his fellow redditors.
jammastajayt, a history major and redditor for two months, began an AMA , Ask Me Anything, after securing his place in a campus building. He first called his parents, he said. But  most calls won't go through because so many students had the same idea.
"We are all huddled in our rooms watching the news, some are hiding in closets," he writes. "We are really close to the where the shooter is, we just dont know his whereabouts. VT has done a great job of getting information out though."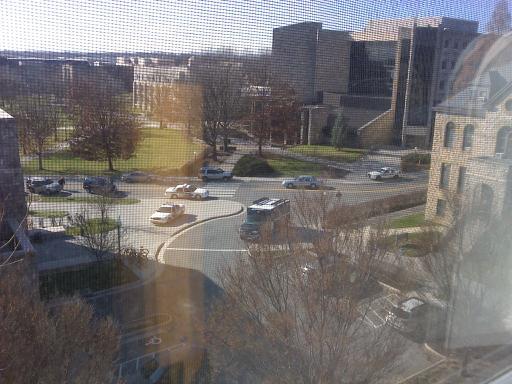 Many AMAs end up proven fakes, but jammastajayt offered a few pictures as proof. Only one, the photo above, fulfills all the criteria of showing the campus, showing police, and has no duplicates found with a Google Image search. A Virginia Tech alumni confirmed to the Daily Dot: "The picture is definitely from campus. I *believe* that's the view out the window of Torgerson Hall, probs 3rd floor."
jammastajayt writes that he's seen one building get raided by a SWAT team.
"We saw SWAT headed into one of our buildings in formation," he says. "From people I know in that building (Squires [Student Center]) ATF rounded up everyone in there into one of the rooms and patted them down to look for the gunman."
Pictures are circling online purportedly showing SWAT members teaming up with the Bureau of Alcohol, Tobacco and Firearms to sweep the campus. Other redditors have been listening to a live news feed and reporting all updates. They have confirmed that armed forces swept Squires.
However, jammastajayt doesn't think he's seen the gunman.
"We dont believe we have seen the shooter," he says. "We have seen some people get tackled by cops. We have just seen the SWAT and ATF trucks."
"We havent heard shots," he adds.
Despite the two campus shootings in just four years, jammastajayt is comfortable in Blacksburg.
"I have never felt unsafe on this campus. After the first shooting VT became an icon for safety. We have the newest alert systems and our police presence is massive. I have no idea why these things keep plaguing my school. I have been updated from VT by text/email/loudspeakers and cops themselves. Every measure has been taken. I have faith in my school."
Photo by  jammastajayt