Whether by choice or force, Patreon's NSFW creators are increasingly ditching the site over its 18+ rules. The latest casualties include a gay hypnosis erotica site and an adult anime artist who claims Patreon tried to "exercise a scary amount of financial and public control."
On July 15, Gay Spiral Stories owner Martin announced that the site would no longer be available for funding on Patreon. The move came after Patreon approached Martin and told him that he violated the site's rules on "no non-consensual sexual scenarios and no minors in sexual situations," he told the Daily Dot.
When asked to clarify, Patreon simply told him to "remove anything which would violate their regulations." The only example Martin could think of was a story that was rewritten with a 16-year-old character aged up to 18. When Patreon revealed "this was not what they were seeing as problematic, and that [he] still would have to remove all non-consensual content," Martin realized Patreon wanted him to remove all mind control-based erotica material, he told the Daily Dot.
"I told them that if they'd classify fictional, fantastical stories around mind control as 'non-consensual,' the whole content of the site would violate their policies, which was simply affirmed," Martin told the Daily Dot. "So I had no choice but to shut down the presentation on Patreon and remove all links to Patreon from my site."
Patreon tries to control Gay Spiral Stories' off-site content
Gay Spiral Stories' Patreon did not share any erotica stories on the crowdfunding platform, nor did Martin have any issues with Patreon in the previous two years, he told the Daily Dot. An archived version of Gay Spiral Stories' Patreon confirms his account was created to help cover the site's hosting costs. In other words, Patreon was attempting to control what content Gay Spiral Stories could host off-site, regardless of Gay Spiral Stories' Patreon presence.
According to Patreon's terms of service, the site now monitors creators' work off-site for "abusive content." Patreon quietly implemented the rule around April 2019, according to one artist's tweet, although enforcement has increased over the past year, particularly against anime artists. In March, Patreon's Trust & Safety team forced one adult anime artist to provide a Google Drive copy of their portfolio to inspect their work.
"If you are a creator raising funds on Patreon, we may be held accountable for what you do with those funds," the site's terms of service states. "As a result, we also look at what you do with your membership off our platform."
Slugbox's Patreon departure
It appears that Patreon is increasingly forcing adult artists to surrender their portfolios to the site's control. In June, adult anime artist Slugbox wrote a patron-only post announcing he would no longer offer explicit material on Patreon, according to one of three leaked patron-only posts shared on Gamergate subreddit r/KotakuInAction. In the post, Slugbox says Patreon changed its content rules so "titties [are] good and staying," but "penetration [can] no longer" be posted on his page. Slugbox confirmed the leaks' validity and told the Daily Dot that he made this decision because of Patreon's mixed messaging.
"Theoretically, illustrated penetration and explicit adult activity are 'allowed' on the platform. I made a choice to stop posting it there anyway though, as these policies were not being unilaterally enforced across users," he said. "One Patreon employee could say it's 'too far' and another could have no problem. That's a very ambiguous doctrine to work under. I would rather be safe than sorry."
Shortly after, Slugbox decided to leave Patreon for good, according to a second leak. Under the site's contemporary terms of service, he wrote, "'Slugbox' becomes a 'project' that belongs to Patreon," which in turn means Patreon can "dictate where Slugbox can operate, where Slugbox can make money, and how [Slugbox can] make money, and then hold my success here as a hostage." This caused stress and left him feeling watched by the company, he said.
In 2019, Patreon dug up Slugbox's Hentai Foundry account from five years prior and flagged an illustration of his anthropomorphic original character, Cteno, as "inappropriate" for her lack of breasts. To appease Patreon, he would have to stop drawing Cteno "anywhere" and "delete [his] entire backlog of work all over the internet," he wrote in a third leaked post.
"She's an adult as much as any fictional slime insect bug monster can be, or as much as anyone perceives an illustration," Slugbox told the Daily Dot. "I think Patreon doesn't know what Cteno is, or how old it/she is. And I'm not interested in changing her design to gigantic titties or having her constantly show off an in-universe date of birth."
Still, Slugbox told the Daily Dot he couldn't pinpoint what material needed to be purged to appease Patreon: an illustration of the Digimon Renamon "with giant titties going down a floating dong" or an illustration of Cteno. In fact, the real issue may have nothing to do with adult content. He said the "vast majority" of Patreon's issues with his work involved "images or platforms that advertised other services, even long-dead ones from nearly a decade ago." Forced to guess, Slugbox erred on the side of censoring and removing more content over less.
He said that Patreon exerts demands for "all-encompassing" adherence to Patreon's demands while exerting "a lack of consistency on top."
"Because Patreon rarely provides specific examples of exactly WHAT was the offending issue off-site, it's up to us to either purge our external platforms (bolstering Patreon's prominence through the elimination of others) or do it one image at a time until whatever employee we are working with feels satisfied," Slugbox said. "I get the feeling that [Patreon wants] to clear out a variety of creators at a certain income or influence level, but again, this isn't something anyone can PROVE."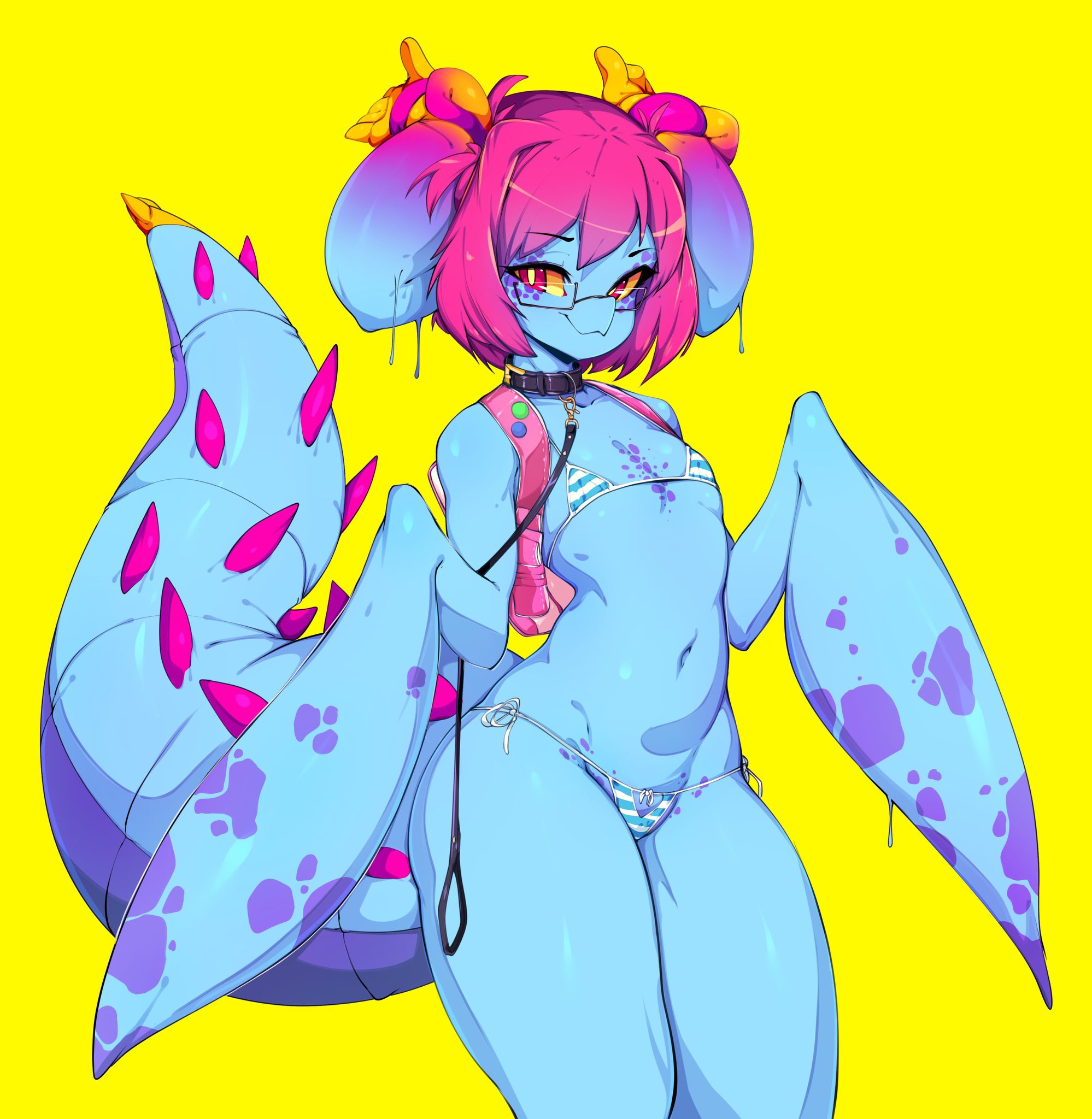 The NSFW Patreon artist exodus
Slugbox has since left Patreon for SubscribeStar. Other adult illustrators, including popular artists Krekkov, Polyle1, and Drawsputin, have followed and pulled out of Patreon preemptively.
"They ban more adult content every day, and now they threaten and monitor artists to remove all art they deem 'problematic' from all sites," Drawsputin tweeted on Friday. "The money isn't worth the censorship. I am leaving Patreon soon."
Patreon increased pressure against adult artists last summer, starting with hypnosis content and forced transformation material before moving on to furry porn. Some creators suspect banks and credit card companies may be to blame, while others think Patreon is specifically targeting adult creators for its own gain.
"I do get the impression that [Patreon wants] to exercise a scary level of control over fiction, as well as set their authority over it in stone, much like many entities," Slugbox told the Daily Dot. "They'd like to set a singular and predictable standard for adult content that cannot be questioned. Because who wouldn't want to control everything?"
The Daily Dot reached out to Patreon for comment.
READ MORE: