Gaby Dunn contributed to this report.
 
For a director who made his name on surprising reveals, this might be the most shocking of all: M. Night Shyamalan claimed that he ghostwrote über-'90s rom-com She's All That.
Wait, it gets even more shocking: Shyamalan lied.
Or so claims the writer who says he really penned She's All That.
In the 2000s, Shyamalan never shied away from the limelight, especially when it came to promoting the works of M. Night Shyamalan. But after a series of increasingly gratuitous cameos, high-profile flops, and the lasting damage done by the bizarre staged documentary that accompanied the release of 2004's The Village, Shyamalan stepped out of the spotlight for a while, even allowing producer-star Will Smith to take the blame for Shyamalan's latest bomb, After Earth.
So why choose now to reveal another unexpected secret, as he did in a May 29 interview with Movies.com. And compounding the mystery, is it even true?
The credited screenwriter, R. Lee Fleming, says no.
@jxmitchell @nicolarz Only in his mind, James.

— R. Lee Fleming, Jr. (@QualityShorts) June 11, 2013
Fleming has a strong case: His other credits include the double-feature-worthy 2001 comedy Get Over It and a current producing gig on ABC Family's teen-centric The Lying Game. But when you're dealing with the Master of Mystery—or the Shyamalan of Suspense—how can you tell what's artful misdirection and what's the delusion of a notoriously self-serving auteur?
Here's one explanation: R. Lee Fleming is actually Shyamalan. 
Here's another: R. Lee Fleming doesn't exist.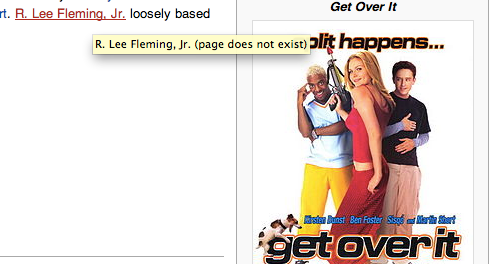 But if the writer isn't a real person, then why does the Texas native run active Twitter and Instagram accounts, plus a Facebook page? 
One obvious explanation was that Fleming was a pseudonym for work-for-hire outside Shyamalan's spooky brand. Both writers, R. Lee Fleming and M. Night Shyamalan, go by first initial, middle name. Both were (coincidentally?) born in the same month and year, and both lay claim to authorship of the timeless teen comedy that contains the biggest twist of all—Rachael Leigh Cook was pretty the whole time.
But a fairly cursory glance lets us dismiss this possibility almost immediately. Fleming's credits are consistent and current, and his social media presence, while sparse, doesn't have the too-good-to-be-true guerrilla marketing signifiers of Shyamalan's past fumbling attempts. R. Lee Fleming is a real screenwriter from Texas, currently working in Los Angeles.
A tweet to Fleming went unanswered. A rep from United Talent Agency told me over the phone, "We're working on this for you." Another wrote in an email, "[Name] forwarded your email about Lee to me. We aren't making any statements about it right now. If that changes, I'll circle back with you."
Even though Shyamalan seemed embarrassed to admit he was involved with the film, Fleming seems miffed that he's claiming to have written it.
Fleming is real. He has to be. So either M. Night Shyamalan is the fake one, or he's just lying.
Big twist ending: Shyamalan's career was dead all along.
Photo via indieflickr/Flickr