Many of us can't hold back our unbridled glee over new teen-gossip overlords Taylor Swift and Harry Styles. But naturally there are some outspoken haters out there—the most vocal being a Twitter user claiming to be Hailie Mathers, daughter of Marshall, a.k.a. Eminem.
Slim Shady's rambunctious daughter—or someone claiming to be Hailie—threw some serious shade on Twitter Monday night about Swift's encroachment on the One Direction singer. She was none too thrilled about Haylor, New York's hottest new couple.
"if @taylorswift13 is really dating the love of my life @Harry_Styles i will not be happy.!" tweeted @hailiejade_x. Clearly displeased to be learning this pop culture news, she told Swift to stop "whoring around with every guy" she sees.
"We all know you're only doing it so you can make another album," she tweeted, which is so going to make seventh-period gym class awkward for all of us. She ended her Twitter rant by promising to delete Swift's music faster than she can down a Smirnoff Ice.
"I, am never, ever, everrrrr, listening to your music againnnn @taylorswift13. LIKE EVER," zinged @hailiejade_x.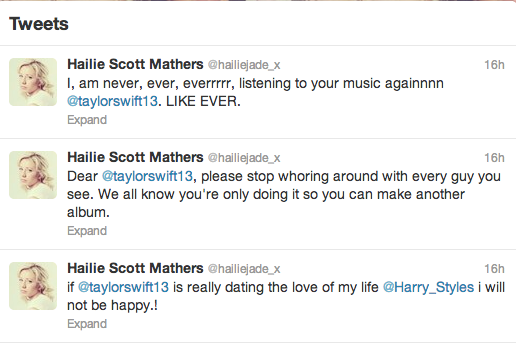 The person behind the Mathers account has made it clear she's #Team1D, so her frustration is totes understandable. She regularly tweets at One Direction members and gushes with her best friend, who also has a nod to 1D in her Twitter name.
Hailie, if you need a shoulder to cry on and a basket of cheese fries to mull life over with, we're here for you, girl.
UPDATE: She's since apologized, called the media "BS," and deleted her Twitter.
CORRECTION: In a statement to E! News, a representative for Eminem said that the rapper's teenage daughter was not actually behind @hailiejade_x. The account has been deleted, but Facebook and Instagram accounts associated with it remain active.
Photo via Hailie Jade Scott Mathers/Facebook