In 2005, Shine Louise Houston released her studio's first film feature, The Crash Pad. Described as a "hot hardcore indie feminist dyke porn," it told of a secret apartment in San Francisco where guests lucky enough to get the key could explore their deepest fantasies. From Black butch lovers to busty, tattooed femmes, the film was heralded for its authentic representations of sexuality and its diverse cast and crew.
Although it wasn't the first—or last—erotic film to be made by a woman of color, its emphasis on an inclusive range of body types, sexualities, and ethnicities painted a vision of what porn could look like.
"Whoever wins the war gets to write the history, right? So whoever's behind the camera is basically writing the story," Houston, who has gone to win dozens of industry awards, tells the Daily Dot. "And if all we have are white cis guys writing their story, those are the only stories we have."
The porn industry may seem like a glorified virtual boys' club—and that's because, well, for a long time it has been. But for Black women like Houston—whose 13-year-old Pink and White Productions houses the CrashPadSeries and has produced around 15 films since its inception—it's providing an artistic outlet and an opportunity to expand the possibilities of porn beyond the white male gaze. Armed with social media, increasingly available technology, and the reach of the world wide web, women of color are putting themselves at the helm. They're making space and they're taking names.
And little by little, they're winning the war and telling the story.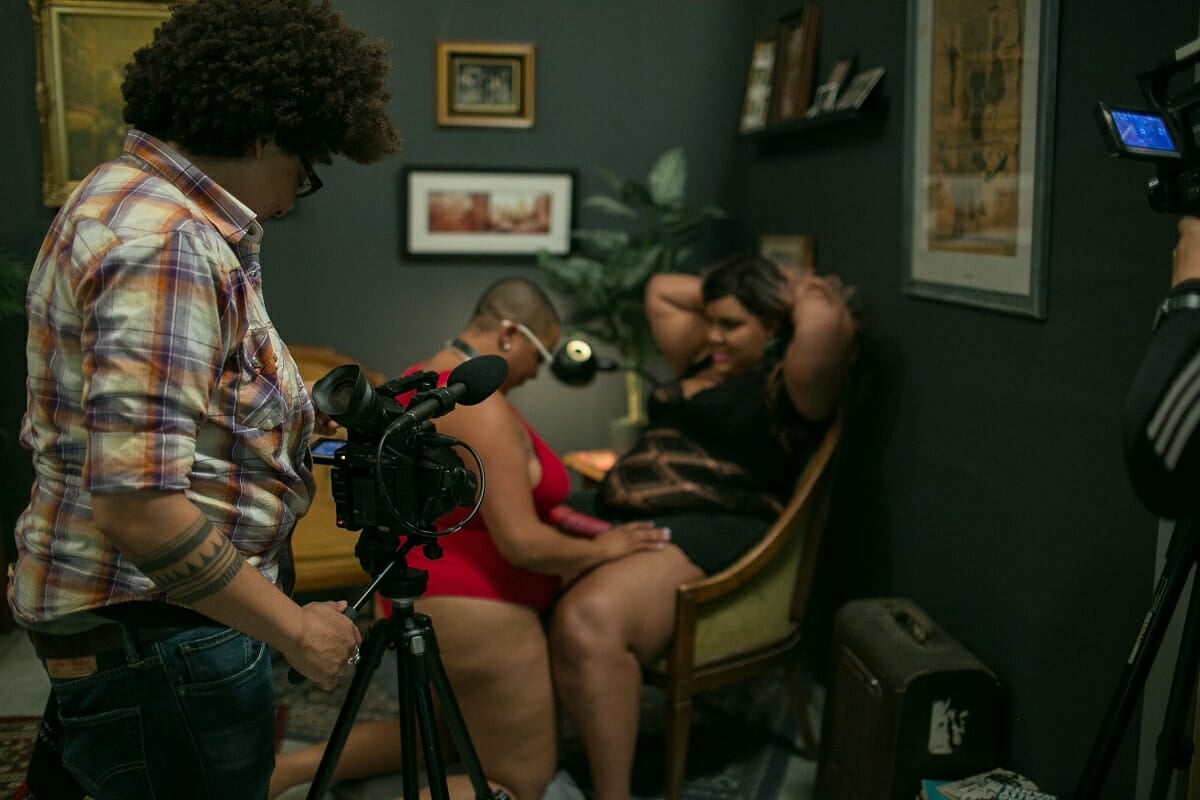 Rise of the auteurs
Houston isn't the only one driving porn's Black renaissance. Nor is the only one who understands its necessity.
"One of the things I definitely can see with more people of color in different positions—whether it be productions, directing, owning, investing—is that we actually understand the ramifications of what it's like to be on the outskirts of life and want to uplift people out of that," says Lotus Lain, a Los Angeles-based sex worker and industry relations advocate for the Free Speech Coalition.
Lain has been in the industry since 2012. A company that only hired Black women once rejected her because of her mixed Black, Filipino, and Mexican heritage. Although she has had mostly positive experiences as a porn performer, it's moments like those that have made her aware of how the industry sometimes "others" people who don't perfectly fit into the mainstream, or even those who don't fit into mainstream "other" categories.
"When it's sets controlled by women of color, it's definitely more comfortable. We understand each other more and what needs to happen, and the jokes are more comfortable," says Lain, who has worked on both mainstream and independent productions. She says on set with other women, she doesn't have to laugh at "typical meathead bro" humor.
Trick is another Black female performer who has taken control of her own content so she could see her sexual desires represented on-screen and create opportunities for queer people of color. With her adult-oriented multimedia company Slanted Tendency, which is on hiatus at the moment, she has often collaborated with performers and tailored the videos to their ideas, an uncommon practice in the world of porn.
"I was like, 'Let me create porn that I can get off on,'" Trick says. "Some days, it was challenging because some days, I was jerking off to my own porn, and I was like, 'I gotta edit it.'"
She started Slanted Tendency in 2012 after she became frustrated with the lack of options available to her as both participant and viewer.
"Most of the big studios are straight, white, and patriarchal, so there wasn't really an outlet for my look," Trick says. "Even with Kink.com, I tried to apply with my lover and they took her because she was a classic hourglass shape, and she was white, and I was nothing like that, you know, queer woman of color, who was muscular with tattoos. I have yet to see that in their videos." (In response, a spokesperson for Kink told the Daily Dot that the site prides itself on its reputation of diversity in shapes, races, sexualities, and genders and that the platform actively works with queer and trans directors and performers, and people of color.)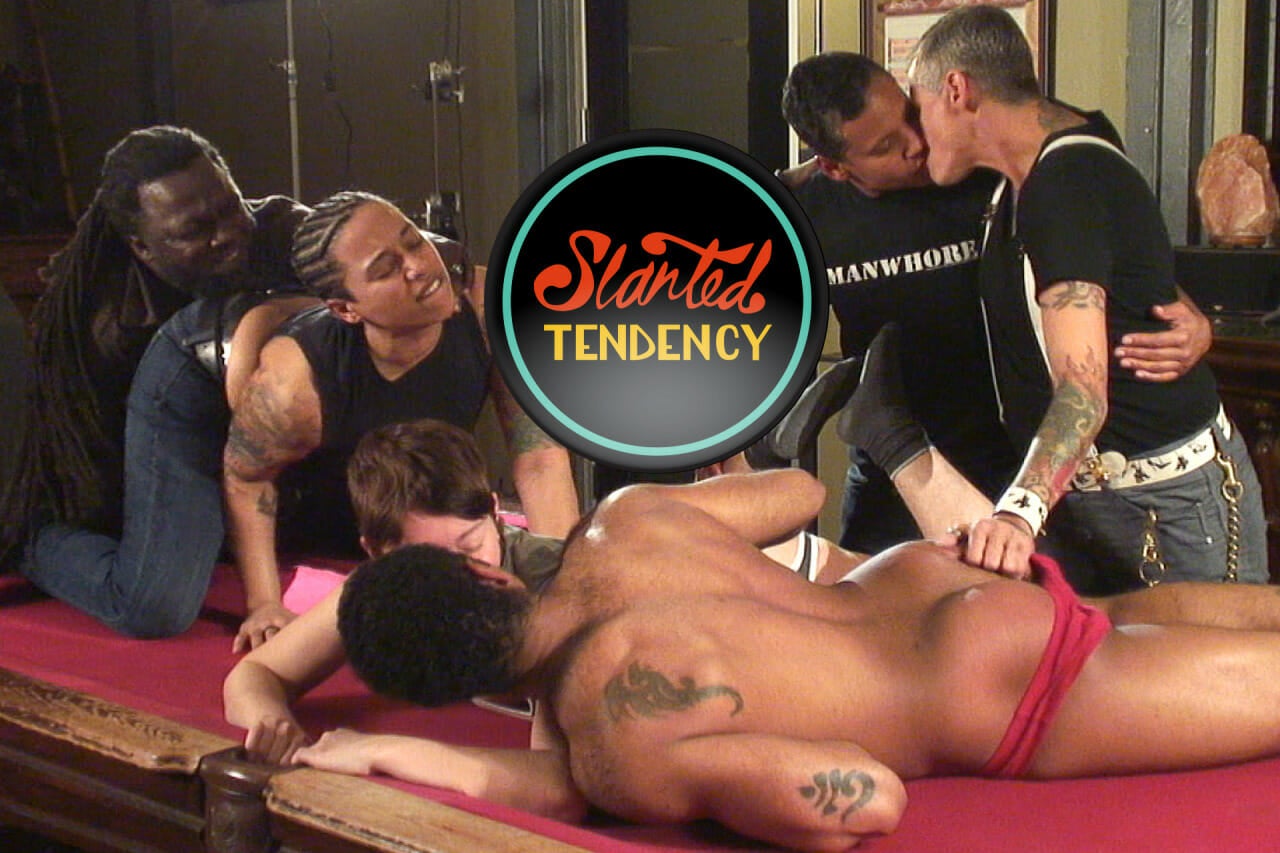 Making ethical, inclusive porn
There is a long-held, overarching narrative that taints the porn industry: It's an exploitative environment that lends itself to human trafficking and sex slavery. Women who go into porn are presumed to be saddled with the industry's so-called "occupational hazards," a rotating schedule of harassment, objectification, and abuse. These bleak stories are among some of the most tightly clung-to in pop culture—just look at the popularity of the 2015 documentary Hot Girls Wanted or at the bizarre alliance between anti-porn conservatives and self-described feminists.
While this creates a stigma about the women who choose to work in porn, of which there are many, it doesn't mean the work is easy for those who do choose it.
"Porn has a reputation for a good reason," Trick says. "It's a mental challenge, it's a physical challenge. You have to work very hard to continue in the industry without being unscatched somehow."
In response to the demanding and misogynistic nature of the industry, "feminist porn" has skyrocketed in popularity, among both creators and viewers, in recent years. Female sex workers are taking action to create content for and by themselves—and to great success. Pornhub's 2017 year in review reported that "porn for women" was the top trending search on its website that year, increasing by 359 percent from 2016.
Despite the move to more female-friendly adult content, however, white women largely remain the face of "ethical porn." This seemingly progressive vision stalls when it ignores the fact that women of color face unique barriers that further limit their opportunities in the billion-dollar business. Though there is scarce reliable data on the adult film industry, and even scarcer specific to Black women, the industry can be a difficult place for Black female performers considering the intersecting oppressions of misogynoir (misogyny against Black women) and the stigmatization and risks already involved with sex work.
Black female performers can often be forced into uncomfortable roles or tired tropes like the hypersexual jezebel or the "ghetto" Black girl and end up fetishized and denied autonomy over their bodies and stories. Sometimes they aren't considered at all.
"The other day, I saw two different, newer Black female performers online saying, 'Oh, what's happening? I'm not getting booked, am I on a blacklist or something?' or 'Hey, I feel like I'm not in porn anymore, did people forget about me?' I laughed in my head, it's not funny, but I'm like, 'Welcome to the first year of porn being a Black girl,'" Lain says.
In one instance, Lain's vision for a '70s Black Panther-themed Black female dominatrix scene with her best friend got rejected after a joining performer felt uncomfortable with the shoot's racial aspects. "I felt like in that sense it got watered-down and the Blackness got taken out," she says.
But at Slanted Tendency, Trick made sure that every performer had the chance to show themselves and their identities, down to the details. One performer, Papi Coxxx, wanted to represent "boricua boi" and had cornrows braided into their hair for an orgy scene. "I wanted everyone to make themselves feel sexy and authentic," Trick says.
Though Trick's kind of porn is often categorized as "feminist porn," she prefers a more all-encompassing term. "Feminism, sure, can be applied to whatever gender a person is, but I feel like it's a little myopic," Trick says. "I would say my porn is inclusive, diverse, respectful, and collaborative, if I had to put a label on it."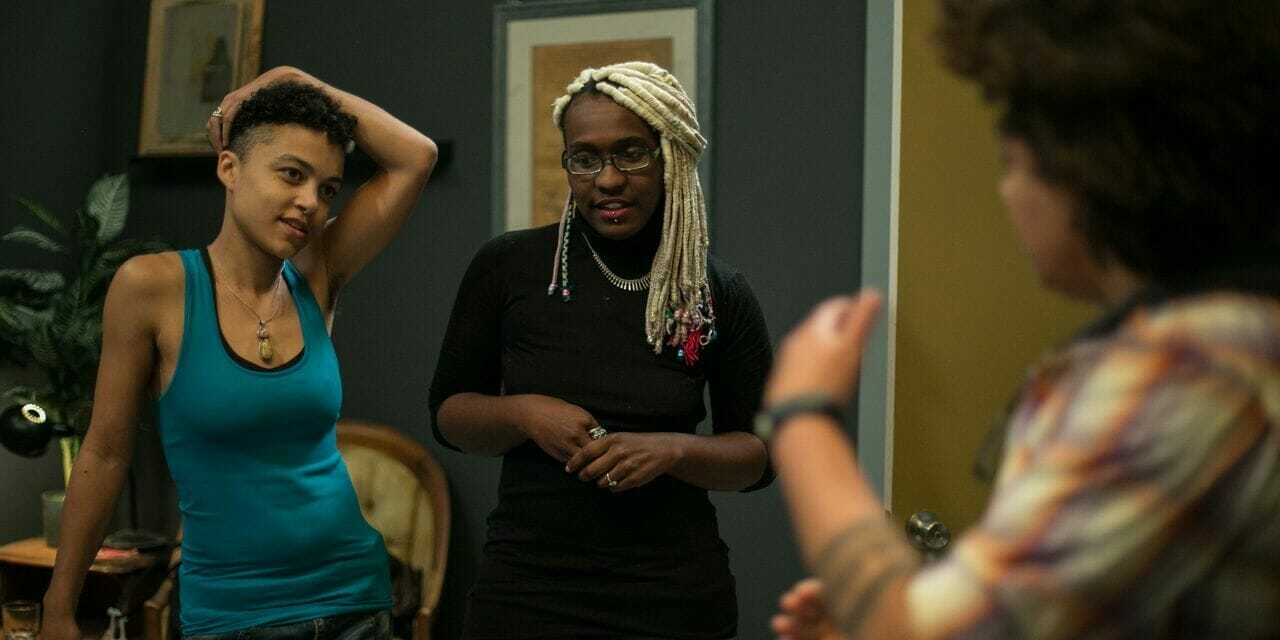 The highs and lows of accessibility 
The business and medium of porn is shifting. The rise of accessible technology has created new do-it-yourself avenues for many women of color. Look at the success of the iPhone-filmed Tangerine, an award-winning comedy-drama celebrated for featuring transgender sex workers of color, or even some of the videos in the Crash Pad Series: Cheap filming and editing equipment have made it easier than ever for both producers and performers who have been previously shut out.
"With the improvement of accessibility with technology, it's given girls like us, women of color, way more independence. We don't need to get a studio to notice us, we can just go on a webcam and get our fans just like that," Lain says.
Social media has likewise been a valuable tool for independent sex workers to market themselves outside of an industry that won't accept them. Some, like Lain, use it as a platform to air grievances and hold the industry accountable.
"I feel like I haven't been fair/forthright to my male fans & fans of me fucking cocks.. it's not that I don't do [boy-on-girl porn] anymore. It's that as a black femme performer I've been offered so few desirable scenes that eventually the offers got boring &/or offensive," Lain wrote on Twitter.
With the mainstream porn industry flooding the market with the same old mass-produced male gaze monotony, it's not a surprise that many share Lain's sentiments.
"We do have a fan base, as much as the mainstream industry would like to deny that or say the numbers aren't there, I don't know how people like myself or so many countless others, how are they able to do their own little webcam side-hustle career and make money off of it?" Lain says. "Because they have fans. Because we're desired."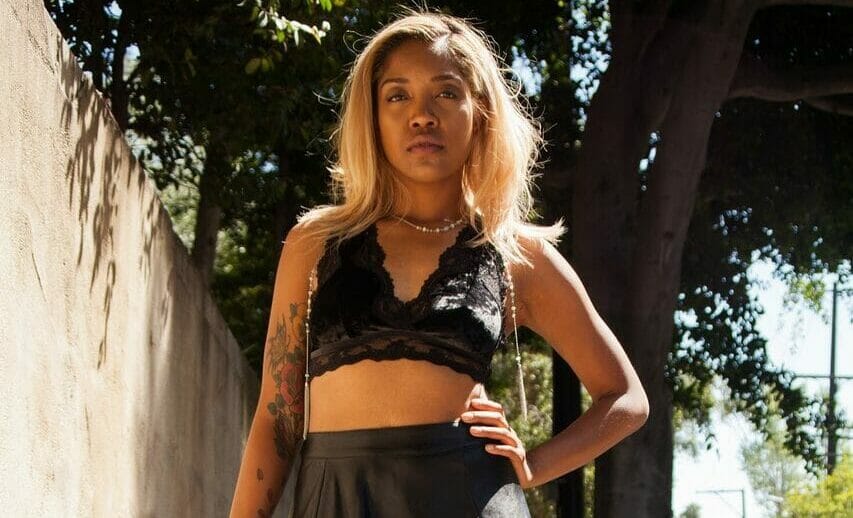 As the virtual barriers to creating porn slowly break down and the need for new perspectives grows, the demand for women of color-created porn becomes much more evident. Houston's companies have seen a "consistent and steady increase" in memberships and revenue since its inception, according to her online marketing director, Jiz Lee. They also say that they have a decent base of loyal members, as many of their subscribers tend to stay with them a long time.
But the sword is double-edged.
Even as big-name adult websites are monopolized, the increasing popularity of do-it-yourself porn has decentralized the industry in other aspects, making it an even trickier area for Black women. Pirated porn, declining revenue, and the ubiquity of free sites have created financial problems for the entire industry. (And we all know who gets the short end of the stick: Black female performers are often paid half of what their white counterparts make, according to the Independent.) Factor in the rapid rise of independent porn producers and performers, and it becomes an oversaturated and unregulated market.
That's not even taking into account the audience who isn't online. Structural barriers and racial discrimination limit internet access in many communities of color and worsen the digital divide, according to a 2016 report by Free Press. Internet-service providers systematically favor wealthier and white areas over those heavily populated by people of color. Furthermore, attempts to regulate the online sex industry have done little more than displace sex workers.
The recently implemented and moral panic-induced SESTA-FOSTA bill was designed to stop sex trafficking by holding websites accountable for users' content but ultimately harmed many sex workers. In the wake of its proposal, sites like Google Drive cracked down on adult content uploaded to its platform and removed pornographic material from many sex workers' accounts.
At best, Black women in the porn industry who aren't as technology-savvy lose the opportunity to make a space for themselves online. At worst, they're being pushed out.  
"You have all these independents and you have all of these different voices, but how do they get heard? And that's what I think is a big issue," Houston says. "How do all these people who have now been displaced, how do we get heard?"
Still, there's a world out there being created by and for Black women, one's that disruptive, subversive, and uniquely female. As the market recalibrates, the constant is that people are getting off to it.
"Queer people of color, we're a small market, we're insular," Trick says. "I think if we continue to make content that is for us and by us, that's the best way to go."
Correction: The Crash Pad Series was not filmed with an iPhone.
Editor's note: This article's headline has been changed.