Warning: This article contains sexually explicit material.
Jamie TT has blonde hair, blue eyes, and a devilish, porn star smile—the type that looks at you coyly and tells you, in the most seductive, smokey voice that she's yours if the price is right.
"I'm a horny and very dirty little girl with an HD cam and a desire to get you off," she writes on her Adult Work profile page. "My pictures are just total filth."
Jamie makes her money stripping naked for strangers online. She has an account on Adult Work, and she says that pays the bills.
"I just converted my spare room into a studio for work," she told me. "It's great. I love it."
Jamie stands 5'3″, enjoys dinner dates and "anal play," and she regularly takes part in girl-on-girl scenes on camera. She's been an Adult Work cam girl since she first filled out her Wishlist in April 2011, but lately she's been cruising other corners—like Stream Mate, Cam Models, and Reddit's r/GirlsGoneBitcoin.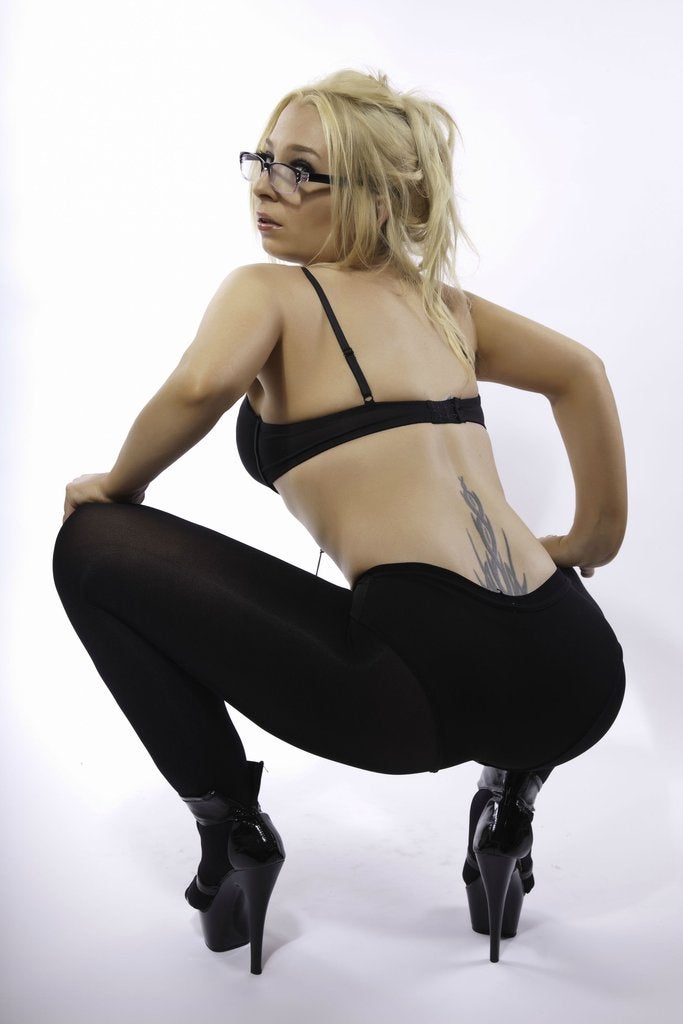 For the uninitiated, r/GirlsGoneBitcoin is the online iteration of Amsterdam's Red Light District, a "Mature Audiences Only" destination that users flock to in an effort to snoop pictures of female redditors in progressing states of undress. In exchange, the redditors tip the girls in Bitcoin, the online currency that's governmentally unregulated, untraceable, and altogether unwieldy.
The subreddit locked in at 700 core subscribers when the Daily Dot first profiled it last May. Thirteen months later, the population of r/GirlsGoneBitcoin has swelled to more than 2,500 users.
R/GirlsGoneBitcoin' has gone through with somewhat of a facelift, both in makeup and in models. What was once a bare-bones subreddit with the look of the social news site's front page now has its own thumbnail icon in the top left; a bigger, almost Cabaret Club-styled logo on the right; and a fancy new interface for the submissions each girl posts.
It also has a new crop of girls—professionals like Jamie TT—who get naked for more than a hobby.
Much of that change could be attributed to the runaway success that Bitcoin has experienced over the course of the past few months. Once relegated to drug traders and online gamblers in dark corners of the Web, the currency is now seeing the development of ATMs, banks, and government-appointed regulation positions, driven in part by Cyprus's banking emergency and Spain's economic crisis.
The value of Bitcoin has increased tremendously over that same time span. Once traded at about $5 US, bitcoins are now converting at a rate of one for every $162, at last check. Online gambling has adopted the currency. So have some pizza shops. In March, venture capitalists invested more than $3 million into the development of Bitcoin-related startups.
Bitcoin is legitimizing, leaving a trail of panties and used kleenex in its path.
Jamie TT was "flicking through random webpages" when she came across r/GirlsGoneBitcoin.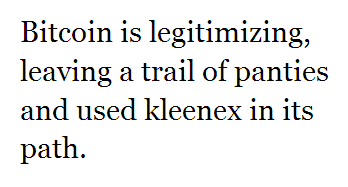 "It seemed like I could make bitcoin from the work that I already do," she said. It felt like the perfect fit. She logged on and got her account verified, writing to the subscribers that she can do Skype shows "and sell you items of used clothes if that's what you like."
A few hours later, she'd posted a 60-image gallery that finds her in a wide array of compromising positions. She's licking her feet in some, spread eagle on a black bed in others. In one particularly graphic photo posted, Jamie is crouching down on her knees and elbows while she looks into the camera and sucks on a dildo.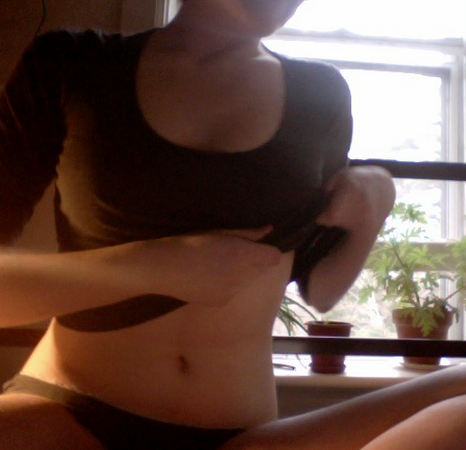 "I can see the other girls on r/GirlsGoneBitcoin," she wrote. "They tend not to show all, cover their faces, et cetera.
"I guess I'm in a different standard. This is my work. I'll bear all!"
Jamie's not alone. An entire flock of more professionally minded strippers have jumped over to r/GirlsGoneBitcoin.
"I learned about r/GirlsGoneBitcoin through my husband," wrote Sierra, a 25-year-old from Oklahoma who one day hopes to start her own business. "We've both been interested in bitcoin for some time and he found out that there is a bitcoin version of the r/GirlsGoneWild subreddit.
"The subreddit, as well as r/Decrypto and r/GuysGoneBitcoin, appear to be a fun and relatively safe place where we can enjoy our exhibitionist sides while being appreciated through tips as a bonus."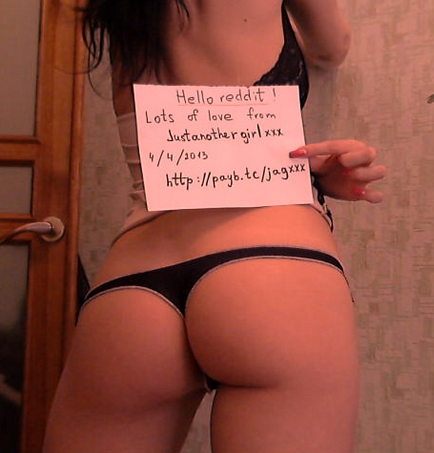 Online exhibitionism is nothing new to Sierra or her husband Victor. The two regularly log on to online fap forum Chaturbate "as a way to pay rent and bills as well as have a little fun," but Sierra just started posting to r/GirlsGoneBitcoin after learning about the online currency's newfound value. She's received only one tip so far, for .01 bitcoin ($1.34), from a man who goes on Reddit by the name of SatOnMyNutsAgain.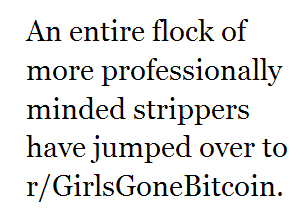 "Stripping in person does not have the same appeal due to its lack of freedom," Sierra wrote. "Bitcoin is flexible and easy to use once you understand the basics. We just don't have the audience yet, and it's hard to grow one."
The same can't be said for Jamie TT, whose posts have started to move towards the top of the r/GirlsGoneBitcoin ranks. (Content on Reddit is democratized, with positioning determined by an internal voting system.) Her professionalism and penchant for posting high-definition, potentially Photoshopped images of herself could usher in a new era for the subreddit, one in which professional models and cam girls move in and start stealing tips from the community's amateurish models.
Jamie suggests that's still a ways away, but she's ruling nothing out.
"I doubt the pornstars in London and my old work colleagues will get involved" right now, she said. "The tips are too low for them, to be honest. They tend to want fees and wages for their work.
"I'm just playing about on the site to see if I can earn, and so far it's working!"
Photo via JamieTT/Reddit