Opinion
The internet runs on porn. Maybe to a fault.
In one of my favorite episodes of South Park growing up, the U.S. is thrown into chaos after the internet dries up. This is partly because men around the nation have grown used to masturbating to "really perverted stuff on the internet," so they can't go back to Playboy.
While the internet is down, Stan's dad, Randy, tries dealing with his sexual frustration by visiting an "Internet Porn Simulator" where users request specific kinks and fetishes in exchange for stick figure drawings. Many of these categories are racist ("interracial gangbang") or taboo ("bestiality"). One, in particular, stuck out to me: Randy tries asking for "shemale" porn, a derogatory name for fetish porn fixated around trans women.
When I rewatched the episode 10 years later, both post-transition and socially conscious enough to find some of its jokes hurtful, I was particularly struck by the subtext of Randy's urge to jack off to trans women. It's a microcosm of how cis men still view trans people: perverted yet attractive, disgusting yet still a turn on. That's because trans bodies are ridiculously objectified in the mainstream adult content industry. We're not supposed to be hot, but alas, thousands of straight cis men like Randy enjoy ogling at our bodies solely because we have penises. The penis, in their eyes, is a vessel only for penetration. It does not occur to them that a penis doesn't need to be erect to be attractive.
It's in this context that premium porn service Adult Time's new series Transfixed comes in. On the surface, it tries to bill itself as introducing a "new era in trans sexuality." But it still feels like something Randy would jack off to.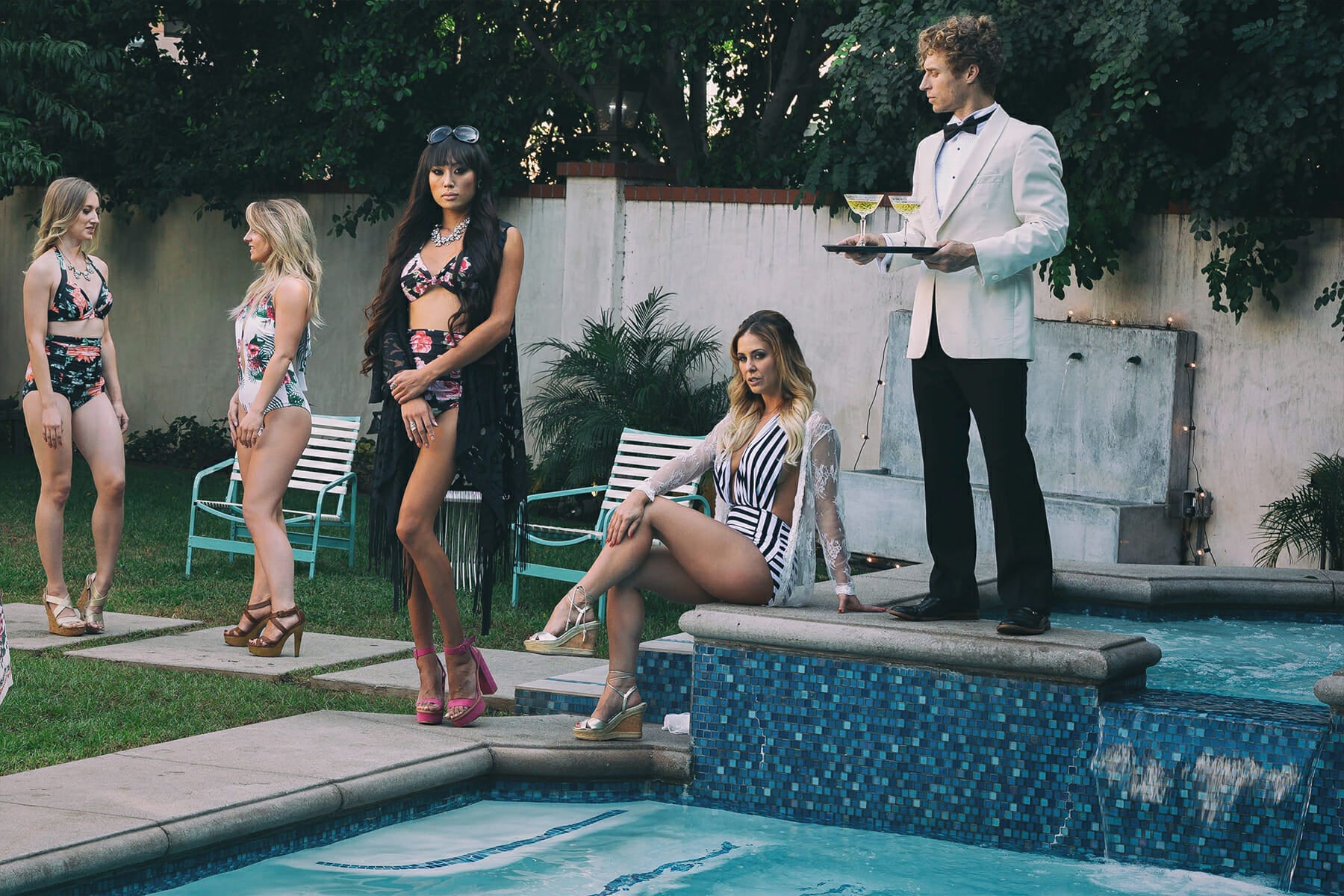 Transfixed's press kit opens with trans and cis women lounging around a pool in swimsuits underneath a blurb that calls the series "groundbreaking" for featuring "trans and cis women together." The channel's creator and director, lesbian adult filmmaker Bree Mills, is quick to capitalize on the claim.
"Transfixed is a groundbreaking new adult series that offers top cis female actresses the opportunity to explore their sexuality with beautiful trans women in empowering erotic stories," Mills opens in her "director's vision" statement, implying the series is built for someone other than its trans models. "Our vision is to go beyond XX and XY and celebrate the love and lust of these different women together."
Mills is a bit of a rising star in the adult entertainment world. She doesn't just manage Transfixed's production studio Gamma Films, she also serves as vice president of content for its parent company, Gamma Entertainment, which also runs Adult Time. Mills refers to the website as the "Netflix of porn," and it's a fitting title. Mills' work feels much more like watching a movie than a smut flick, complete with artistic camera shots and immersive sets with believable storytelling. And because the site focuses on niche genres, its scenes are built with love and care, a point that's earned her praise with performers.
But technical skills aren't enough. Transfixed is still mainstream porn. And by "mainstream," I mean porn built by studios for cis straight men. When she was profiled by Forbes in December 2017, Mills explained that her lesbian porn series Girlsway is largely watched by men. Half of the ideas behind the series' episodes come from them. This urge to please men can be felt in Transfixed too. When I reached out to Gamma Entertainment for comment, Mills told me over email that the company does not have a specific breakdown for Transfixed's demographics by gender, but that Adult Time's audience has "approximately 85 percent male-identifying and 15 percent female-identifying viewers."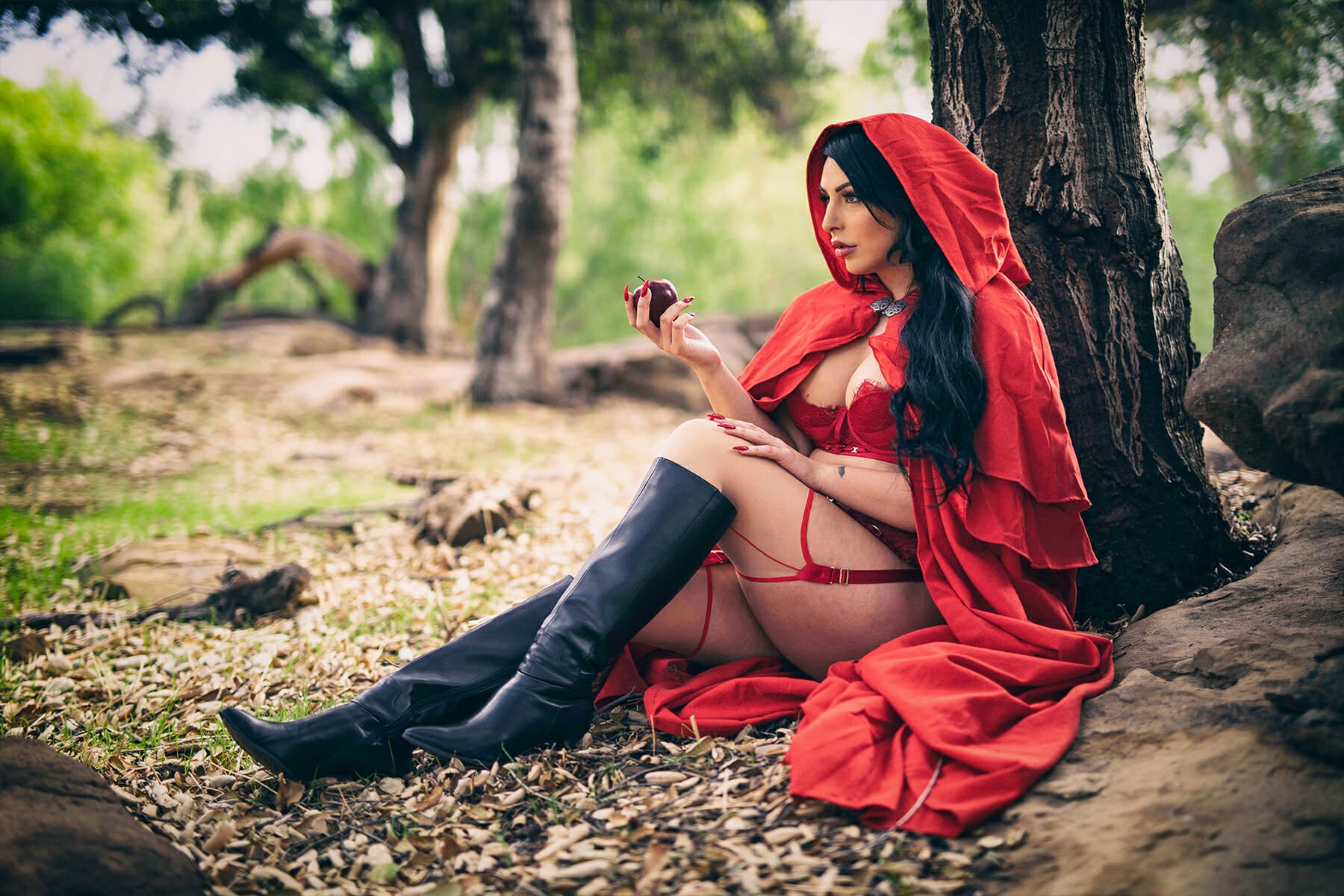 After Gamma Entertainment sent me an Adult Time press account, I started with the clip I found the hottest first: a trans take on Little Red Riding Hood called "Chanel and the Wolf." The scene features cisgender performer Kleio Valentien as a futchy wolfgirl that stalks trans star Chanel Santini in the forest. After a tense slow burn between the two, they meet at grandma's house, where Valentien entices her prey. The two make love for the rest of the episode, engaging in everything from oral to vaginal sex.
But while I loved the story and premise, ironically enough, I found the sex itself hard to watch. Valentien roughly jerks and strokes Santini's cock in a way that feels much more fitting for a cisgender man's genitals than a trans woman's on HRT. Oral sex is no better, as she vigorously sucks on her dick with aggressive force and pressure. While these scenes were certainly cinematic, the gaze still rested on Santini's erection. Each position felt like a cisnormative fantasy of what trans lesbian sex should look like: trans women using their erect penises to penetrate cis women.
I wasn't sure if this was just an issue with "Chanel and the Wolf," so I started watching another episode, "Housewife Secrets." This one had a lengthier storyline, and it was admittedly pretty hot. Playing into the "traditional housewife" trope, a cis homemaker (Sarah Vandella) visits her close friend (Casey Kisses) while their husbands are away. When Vandella reveals her husband barely touches her in bed back home, Kisses hints that she has a secret to her sex life. On Vandella's insistence, she ends up outing herself as trans, lifting up her skirt and exposing her bulge in her lingerie. Lost for words, Vandella begins worshiping her cock, and the two begin to fuck in a way that eerily mirrors Valentien and Santini's hookup.
Like "Chanel and the Wolf," I just couldn't enjoy "Housewife Secrets." Vandella repeatedly pressures Kisses to talk about her gender identity instead of playfully walking the tension between coming out and staying stealth. That conversation needed closure with a payoff, like Vandella affirming her sapphic lust for Kisses' body, or at least saying that her genitals look soft, feminine, and gorgeous. Instead, Vandella goes feral, as if the mere presence of dick has her ready to fuck as soon as possible. And of course, the way Kisses has sex is, once again, a fantastical image of sex with trans women that focuses more on Kisses' penis as opposed to Vandella and Kisses' attraction for each other as women.
This isn't a coincidence. "Kissing Lena" opens with a shot of Lena Kelly's body in the sauna with just a towel draped over her crotch, working viewers up to a full body shot with her exposed cock and balls. Then there's "Workout Girls," which uses one close-up after another of Kayleigh Coxx's visible bulge in her spandex, complete with Kenzie Taylor lustfully eyeing her body up and down. I don't know about you, dear reader, but I almost always go out of my way to tuck my junk when I'm working out. But then again, Transfixed is obsessed with trans women as penetrative women with penetrative sex organs. It isn't interested in exploring the ways trans women actually have sex—which doesn't always involve an erection or even their penis—like delicately licking a trans girl's soft cock or fingering her perineum while using a Magic Wand on her half-mast girldick.
When I asked about Transfixed's reception with both queer women and trans performers, Mills told me responses have been "universally positive," including from fans on social media and cis and trans women working with Gamma Entertainment. Mills also stressed that she "intentionally broke from traditional trans porn conventions by not faking ejaculations when performers did not have them and not playing into stereotypical narratives that would make light or novelty out of their body type."
"When taking feedback from our audience, we don't segment them by their gender as much as their viewing preferences," Mills explained. "Part of the reason why I wanted to create this series was to offer it for fans of lesbian content, which make up a sizable portion of our audience. They have been the most receptive and engaged viewers so far, because for many of them it marks the first time they've seen this kind of lesbian pairing. When it comes to the women we work [with], both communities feel it is about time there is a mainstream adult series that features them together and they are eager to work together to create a fantastic episode."
But then there's Adult Time's adjacent channels. On several Transfixed episodes, I received recommendations in the sidebar for videos separate from Transfixed, each titled things like "Menage a Tranny #03" or "Translicious." A quick search on Adult Time brought up an entire series of videos called "Don't Tell My Parents I'm a Tranny." "Tranny" is a slur that dehumanizes us and turns us into nothing more than our transness. Its inclusion on the platform tells viewers that it's OK to degrade Transfixed's stars with similar derogatory terms.
The way Adult Time's metadata categorizes Transfixed speaks volumes about what Gamma Entertainment is really selling, doubly so when you read through comments on its videos. "No condom good. Swallow her load!! More hung ts plz!!" one male Transfixed subscriber wrote. On another video, he said, "glad there was rimming and the shemale was bareback, can you get a tgirl with a big cock please, any some bareback breeding, and load swallowing please!!"
In Mills' artistic statement, she stresses that she wants Transfixed to break down barriers. But who is Transfixed made for: queer trans women, or cis men that want to gawk at "top cis female actresses" who are ready to lustfully "explore their sexuality with beautiful trans women"? When I brought up Adult Time's transphobic slurs, Mills stressed Gamma Entertainment will be reviewing offensive language found on the service's content.
"Within Adult Time, we have several external channel partners that have provided trans content for our catalog… some of which does include this outdated and negative language," Mills said, referring to videos that use the term "tranny." "Adult Time will be making a commitment in 2019 to remove instances of degrading or derogatory language from our catalog, starting first with reviewing our own archives and then working with our partners to modify their titles. This will include any negative language associated with the trans community."

Compare this kind of content to queer porn where trans women aren't forced into a cis fantasy about how a trans woman's penis works. Take Ruby Rapture and Kiwi Couli, a married trans and cis lesbian couple that create adult videos as independent creators. Their clips aren't quite as cinematic as Gamma Films', sure, but the two women make up for this by shooting erotic fantasies that let their desire for each other run wild on camera.
One of my personal favorites, "Kiwi Fucks Ruby Missionary POV," features Couli slowly entering Rapture's pussy as she eagerly begs for her cock. Couli starts slow, then ramps up the speed until she's vigorously pounding her partner. It's incredibly hot. They have an innate chemistry that comes from, well, having sex with someone you desire. That differs greatly from Transfixed, where each episode feels like its stars are acting out a scripted fantasy.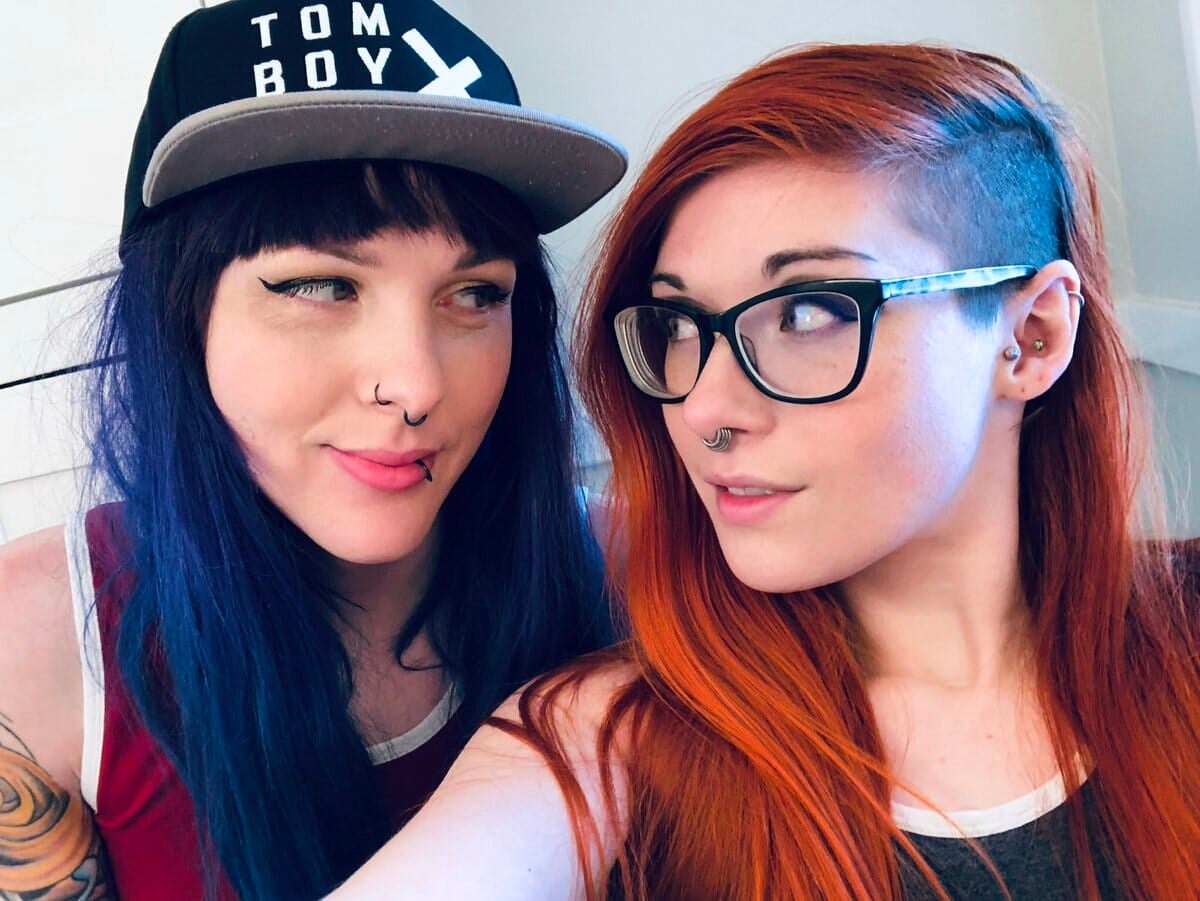 Sure, Couli and Rapture aren't just creating porn that trans women can enjoy. They have plenty of videos designed with straight men in mind too. But the couple's missionary sex scene doesn't hyperfixate on Couli's junk; it focuses more on the experience of being fucked and doing the fucking. And even when their videos center around Couli's junk, it never feels like the two are performing a fantastical idea of lesbian sex between a trans woman and a cis one. Rather, it's a much more accurate depiction of the real thing.
Another personal favorite of mine, the Crash Pad Series, embraces this idea too. In Episode 167, trans star Chelsea Poe has rough sex with costar Sugar Blair, complete with slapping and forceful fingering. It's ridiculously hot. However, Poe never uses her penis to penetrate Blair. At most, the scene features a realistic take on oral sex where a cis woman eats out a trans woman. It's a far cry from the erect cocks used for penis-in-vagina sex in Mills' series, and it's proof that a trans woman can top without fitting into a heteronormative idea of what sex with a trans woman should look like.
There are other problems, too, with Mills and her production studio. Late last year, Gamma Films was publicly called out for ethical concerns on set when adult performer Lily Adams said she was sexually assaulted by director "Stills by Alan." In an anonymous email, one person told Adams that Mills had publicly mocked her after the assault and implied Mills knew about other cases of abuse by Alan. Gamma Films suspended Alan, began investigating the incident after Adams spoke out, and created a formal code of conduct that "all of our producers, sub-contractors, and representatives" must sign, including Mills. But five months later, the entire incident leaves a sour note.
When reached for comment, Mills sent an explanation about the incident, claiming the email "attacked [her] character" and its claims are "absolutely untrue and unfounded."
"The internal investigation concluded in January 2019. At this time, the director, Stills by Alan, also issued his own public defense and publicly shared a statement along with pieces of evidence/private correspondence that he felt disputed the [performer's] statement. Those are all still pinned to his Twitter profile," Mills told the Daily Dot. "Despite these findings, Gamma Films decided that it was in the best interest of our company and our values to not continue to work with Stills by Alan. He has not shot any productions since the day of the statements and we have formally agreed to terminate his business relationship with us."
Then there's one of the series' most critically acclaimed models, Natalie Mars. After the 2016 Pulse nightclub shooting in Orlando, Mars wrote a series of tweets that were Islamaphobic, arguing she would not "stand up for an 'oppressed minority' that would throw me off a rooftop given the chance. Fuck. Them." These comments subsequently sparked a backlash against Mars that remains to this day. Despite Transfixed's image as a progressive series, Mars' inclusion will turn some trans women away from watching.
When I reached out to Mars for comment, she seemed deeply apologetic, noting that she tweeted "very regrettable things three years ago" after Pulse. She stressed that she has changed since then and that she has publicly apologized for her statements, albeit some tweets may have been deleted from TweetDelete. (One tweet from February 2018 shows Mars admitting that she said "something critical about Islam (the religion)" but that she finds "racism and bigotry abhorrent.")
"I said some very bigoted, racist, even Islamaphobic things that I do not stand by. I've grown as a person, I don't believe those things anymore. I've learned from friends of mine and people I've interacted with at this point why the things I said were wrong," Mars told the Daily Dot over the phone. "I don't feel that way anymore, and I should not have ever said it. I have apologized, but I understand that it's the internet, and not everyone sees everything you say."
When I asked Mills about the comments, she defended Mars and told me Gamma Entertainment was unaware of her statements in 2016.
"This is the first time we've heard about these comments, as they have never been brought to our attention by any concerned fan or fellow performer and we don't review Twitter archives," Mills said. "Our professional experience with Natalie has been very positive and without incident. She remains the most requested model to work with on our sets by her co-stars and we have never heard her say a negative or harmful comment about any community while on our sets."
Gamma Films may advertise Transfixed as a "breakthrough," but the baggage surrounding the series makes the channel impossible to recommend. It's porn for South Park dads, eager to watch cis women and trans women ravage each other without thinking about who is making the content and why. But for queer women who want to see realistic depictions of sex with trans women, don't settle for Transfixed. Buy your adult content directly from the source instead.
READ MORE: