YouTube Premium surprised the internet last week with the release of The Thinning: New World Order. The antics of star Logan Paul caused the film to be shelved while YouTube put one of its biggest cash cows in timeout. But nothing gold can stay, so here we are. The Thinning: New World Order is the sequel to 2016's futuristic sci-fi thriller The Thinning. I didn't see the first film, and after watching its sequel, I certainly will not be filling that gap. The Thinning: New World Order is a bad, low-impact movie that dissolves from your mind as you watch it.

New World Order takes place in the dystopian future of 2040, by which point overpopulation has become a global crisis. The powers that be have concocted "The Thinning," a program that tests school-age kids and deals death sentences to the lowest scorers. Blake Redding (Paul), son of powerful politician Dean Redding (Matthew Glave), sacrificed himself at the end of the first film in protest of both the program and his father. New World Order opens with the reveal that the students marked for death are actually used as slave labor for tech company Assuru Global.
The premise has some potential, but New World Order never finds anything interesting to do with it—and that's the film's fatal flaw. Cardboard characters, exposition-heavy dialogue, and slack-jawed acting don't help matters either. It's hard to imagine anyone caring about the characters or story. Judging by their performances, the actors apparently don't either. Honestly, if you want to watch a movie about a tyrannical government keeping citizens in line, just watch The Purge films.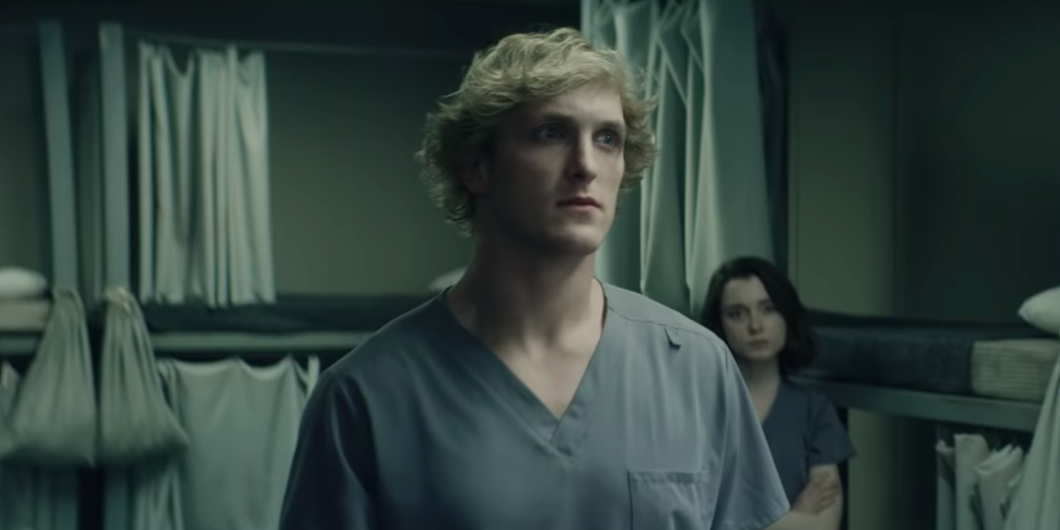 It's easy to imagine reviews of New World Order turning into diatribes on Logan Paul. He's divisive and craves attention and yada yada yada. Mercifully, I only know him through news blurbs and a few generic performances in disposable movies. Therefore, my harshest critique of him is that he's not a compelling actor. That holds true for the entire cast.
The Thinning: New World Order is the kind of movie that exists only because someone felt they could make a buck off it. I hope they do, so it's not a complete waste of everyone's time. The ending proffers the threat of a sequel, and unless writer-director Michael Gallagher and co-writer Steve Greene find some sort of inspiration, I'm sure The Thinning 3 will be another lifeless film unworthy of your time. I'm just glad my YouTube Premium trial will expire before that can happen.