It feels like the rise of Alexa and other voice assistants have coincided with the rise of listening to podcasts. So, it makes sense that Amazon Echo owners want access to their favorite podcasts via simple voice commands. Luckily, it's possible to listen to podcasts on Alexa.
There are three main ways to access podcasts. Firstly, listeners can use Alexa's preferred podcast player, TuneIn. Secondly, Alexa owners can create podcast skills to use AnyPod or Stitcher. Thirdly, users can stream via Bluetooth from their favorite podcast player app.
Here's how to listen to podcasts on Alexa. 
How to listen to podcasts on Alexa 
Play podcasts on Alexa via TuneIn
TuneIn is a podcast player app with an extensive library of live, on-demand and original audio. However, TuneIn emphasizes live events, like sports. The app has been an integration partner with Alexa since 2014, according to TechCrunch. Therefore, users don't need to enable any Skills to use it. TuneIn even offers its $9.99 per month premium subscription plan to Amazon Prime users for $2.99 per month. Additionally, Alexa users who don't have Prime can subscribe for $3.99 per month.
To access podcasts from TuneIn, ask Alexa to play a podcast. The voice assistant will pull up the most recent episode in your queue. While you can't pull up specific episodes by name, you can ask Alexa to play the previous episode. 
Since TuneIn focuses on its live events and radio capabilities, the podcast section is not as robust as other podcast player apps, like Stitcher or Apple Podcasts. It does, however, still offer the more popular podcasts, such as S-Town or Serial. If you're diving into podcasts for the first time, TuneIn will suffice. But if you're looking for more niche series, continue exploring other ways to access podcasts on Alexa.
Access TuneIn via the Alexa app
Just like you would play music from the Alexa app, you can access podcasts in TuneIn, too. To play podcasts from the Alexa app, it takes seven steps.
Open the Alexa App on your phone or at 

alexa.amazon.com

.

Open Music, Video, & Books.

Under Music, select TuneIn. 

Within TuneIn, select "podcasts."

Pick your podcast.

At the top of the app, select the speaker you want to play the app through. 

Press play.
Add TuneIn podcasts to Routines
If you listen to podcasts regularly, adding them to Alexa's Routines will optimize your listening experience. However, this is only available to do with TuneIn.
To add a podcast to a Routine:
Go to the Alexa app and choose 

Routines

.

Start a new Routine and choose your command for Alexa.

Go to "m

usic" 

and type in the name of the podcast you want to play.

Choose TuneIn as the provider.

Save the Routine.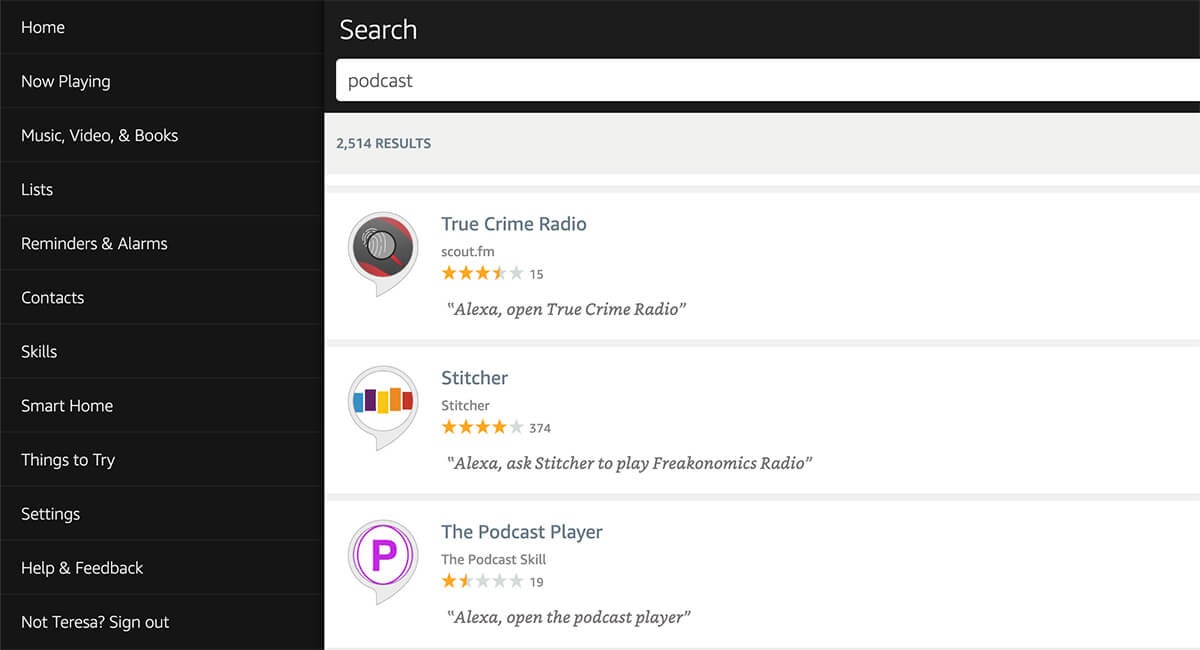 Use a podcast Skill
By creating a Skill, Alexa users can gain access to three popular podcast player apps: AnyPod, Stitcher, and Pocket Casts.
Though, none of these apps are perfect. For example, AnyPod doesn't offer an app or website, so there's no visual interface. Stitcher, on the other hand, is more glitchy than AnyPod. Many of the commands only work half the time, according to reviews in the Alexa Skill Store. But Stitcher's main strength is that you can link your account to Alexa and pick up where you left off on other devices. Lastly, when using Pocket Casts, Alexa will always play the newest episode rather than the next one in your queue.
Despite these issues, some users may prefer to play their podcasts on Alexa through a Skill.
To enable podcast Skills:
Open the Alexa App on your phone or at 

alexa.amazon.com

.

Select Skills.

Search for your preferred Skill and select it. 

Select "enable skill."
Stream a Podcast App via Bluetooth 
Anytime you're using an Alexa product with Bluetooth capabilities, you can pair it with your phone or tablet and use it to stream.
Additionally, the process is the same as practically any other Bluetooth device:
Make sure your device disconnects from any existing Bluetooth connections. 

Set your smartphone or tablet to Bluetooth pairing mode.

Set your Echo device to pairing mode. 

On your phone or tablet, select your Echo speaker under Bluetooth settings.

Alexa will tell you when it's connected.
READ MORE: