What is country music? To answer that question, you have to ask a more fraught one: What is the American working class?
For centuries, country music has been the music of this group of the American working class. By paying tribute to the late Johnny Cash's iconic concert at Folsom State Prison with their new album and Netflix concert special, Los Tigres del Norte assert their claim to the legacy of American country music. More importantly, they identify what the American working class looks like in 2019: more like them than Cash. 
Los Tigres del Norte at Folsom Prison
RELEASE DATE:
9/15/2019
DIRECTOR:
Tom Donahue
STREAMING:
Netflix
The norteño music legends honor Johnny Cash's legacy with a powerful concert film featuring the stories of fans who are behind bars.
Fifty years ago, Cash recorded what might be the most beloved live album in country music history, At Folsom Prison. It's no accident that Los Tigres del Norte chose the same title for their project. Their genre, norteño, was developed in Northern Mexico, combining German folk music and native Mexican music. The result bears similarities to cajun music and western swing, two genres that have hit country charts in the past. From its inception, norteño has been the music of ranch hands and laborers, and Los Tigres del Norte celebrate that tradition. 
The Cash comparison is purposeful and symbolic. Near the beginning of the film, one band member says in a voiceover, "Johnny Cash's music, like ours, is about those who struggle, the marginalized, and the voiceless."
The population of the voiceless looks much different today than it did half a century ago. When Cash played Folsom Prison, it held virtually no Latinx inmates. Today, 43 percent of California inmates are latinx.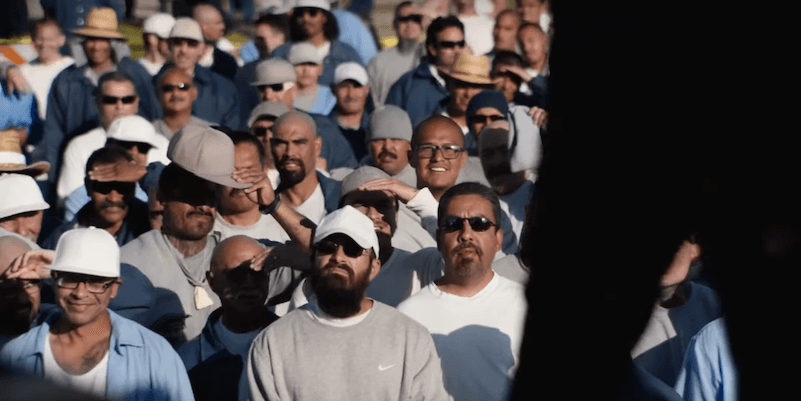 Unlike in Cash's performance, we hear from these inmates, who are presented throughout the film as talking heads. They share their stories and talk about their experiences with Los Tigres del Norte. One even formed a band in part because the quintet inspired him. Los Tigres del Norte have been making music since the 1960s, and they are as ubiquitous in Mexican-American communities as Garth Brooks is in white, rural communities. They routinely sell out stadiums, and in Mexico, they often perform to six-figure audiences.
Many Mexican-Americans feel a deep, even spiritual connection to Los Tigres, and that reverence permeates the film. "The messages in your songs are what gives us the strength to live every day," one inmate tells the band. "They make us conscious of the fact that we're human beings too."
It's easy to see why many Mexican-Americans feel such a close connection to Los Tigres del Norte. Their songs about the Mexican and Mexican-American working-class experience are an antidote to the predominantly white depictions heard in American country music. They sing about the border, racism, deportation, and assimilation, with song titles such as "Tres Veces Mojado (Three Times a Wetback)" and "Jaula de Oro (The Golden Cage)."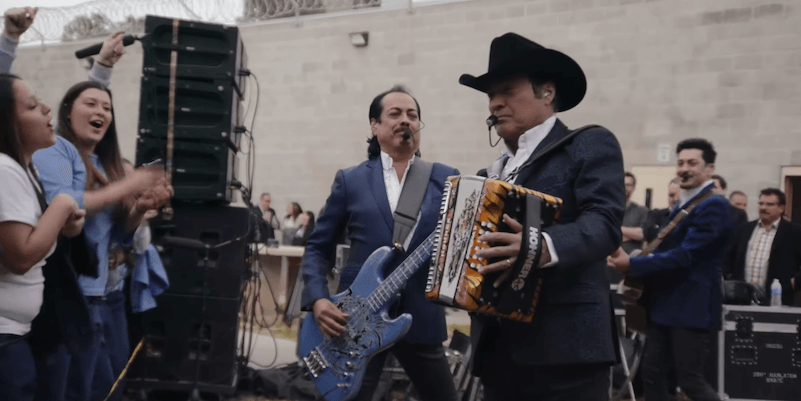 Like Cash once did for poor, white Americans only a generation or two descended from immigrants, Los Tigres del Norte sing proudly about themselves and their countrymen, belting lines that translate to, "They have waged war on us / Patrolling the borders / They can't tame us," and "What's money good for / If I live like a prisoner / In this great nation?"
The inmates featured in Los Tigres del Norte at Folsom Prison create chorus of stories—some sympathetic, some less so, but all reflective of the American experience. Some men and women were in the wrong place at the wrong time, or are truly victims of an unjust system. Others own up to crimes, including murder. The film does not seek to vindicate the inmates, but simply to tell their stories. Their testimonies serve the same purpose as Los Tigres' songs: to relay the experiences of a Latinx community that faces disproportionate poverty and imprisonment.
Like many of the inmates in the film, Los Tigres del Norte are American. The band formed in San Jose, California in the 1960s after the members—brothers Jorge, Hernán, Eduardo, and Luis Hernández and cousin Óscar Lara—immigrated from Mexico as teenagers. You believe the band members' sincerity when they call the inmates paisano or hermano.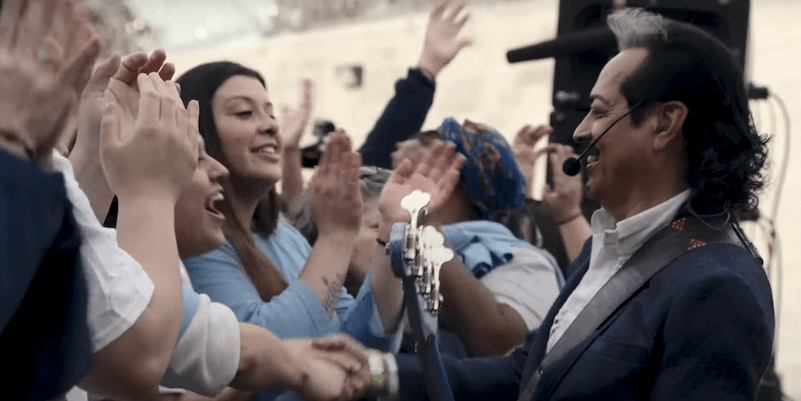 It might be humbling for country music lovers to admit that they've never heard of Los Tigres del Norte (as it was for this critic, who prides himself on his Merle Haggard and Loretta Lynn vinyl collection). But with Los Tigres del Norte at Folsom Prison, the band is slyly yet forcefully emphasizing that it deserves a slot in the country music canon just as much as Willie Nelson, George Strait, or Alan Jackson. Los Tigres del Norte are effectively saying, "Yes, you should have heard of us by now. But we'll help you understand why we matter, why this concert matters, and why the issues facing our people matter."
The band wraps up its Folsom Prison set with one last Cash reference, as a band member says via voiceover: "Like Johnny Cash, we came here to bring light to this dark place. No matter how dark their crimes, there is always the chance for hope and redemption for all of God's beings. These people and their stories will forever be in our hearts and in our music."
Still not sure what to watch tonight? Here are our guides for the absolute best movies on Netflix, must-see Netflix original series, documentaries, docuseries, and movies.
Looking for something more specific? Here are our Netflix guides for the best war movies, documentaries, anime, indie flicks, true crime, food shows, rom-coms, LGBT movies, alien movies, gangster movies, Westerns, film noir, and movies based on true stories streaming right now. There are also sad movies guaranteed to make you cry, weird movies to melt your brain, old movies when you need something classic, and standup specials when you really need to laugh. Or check out Flixable, a search engine for Netflix.