Written and directed by Greta Gerwig, the new Little Women is a fresh and feminist interpretation of the classic novel. Set in 19th-century Massachusetts, it stars Saoirse Ronan, Florence Pugh, Emma Watson, and Eliza Scanlen as the four March sisters, loosely based on the family of author Louisa May Alcott. Already earning rave reviews, Gerwig's version combines the cozy sensibility of the novel with more explicit social commentary, emphasizing Jo March's desire to be an independent, unmarried woman.
Costumes were key to Gerwig's vision, designed by Oscar-winner Jacqueline Durran. Known for her work on historical dramas, including Joe Wright's Atonement and Pride & Prejudice, Durran brings deep expertise to the film, avoiding Hollywood stereotypes of Victorian fashion. Each of the sisters' personalities shines through in their costumes, from Jo's tomboyish confidence to Amy's desire to be a sophisticated lady. Speaking to Durran for this interview, we learned about the film's aesthetic inspiration, the philosophy behind each character's fashion taste (including whether they wear a corset), and the influence of Louisa May Alcott's "radical" political outlook.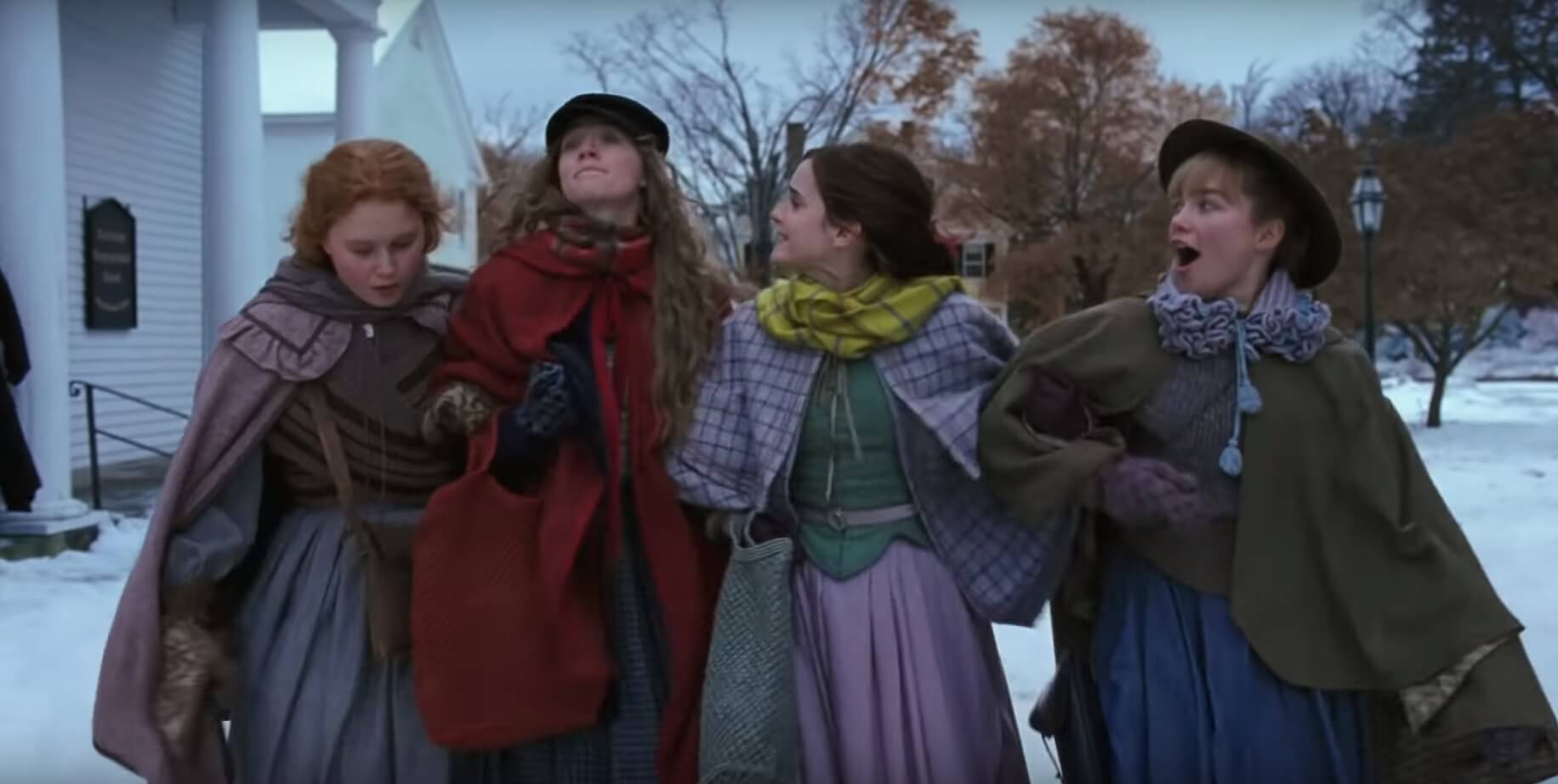 The Daily Dot: It's wonderful to see a historical drama where the female characters look so comfortable, with all these cozy outfits. It felt really realistic for their home and economic background—is that something you and Greta Gerwig discussed from the start?
Jacqueline Durran: Yes, it was completely that. We wanted to work out the economics of how many clothes they would have, how much things would cost. All their clothes in their younger period, apart from the bridesmaids' dresses and the dress that Meg borrows… I mean, they don't wear silk, they wear cotton and linen. One of the key things was to understand their life and to make the costumes work in the environment of their family. That idea of freedom of movement came from that. Also, the idea of them living their lives in a rural situation, their relationship with the outdoors, and the fact that Louisa May Alcott was a runner, and Jo is a runner.
It felt to me almost like a feminist choice, the acknowledgment that they would be more interested in comfort and freedom than fashion in some cases. Was that a particular concern?
I think it was about the fact that, historically, the Alcott family were radicals, and [the mother] Marmie chose not to wear a corset. Each of the girls had a decision about whether their character would wear a corset or not. Saoirse decided that Jo would not ever wear a corset, whereas Emma sometimes wore a corset depending on the occasion. Eliza never wore a corset, and Amy always wore a corset. The thing is, in the context of the Victorian world, I think we assume that most people wore a corset most of the time, but there must have been times when people didn't wear them, and the Alcotts are evidence of that.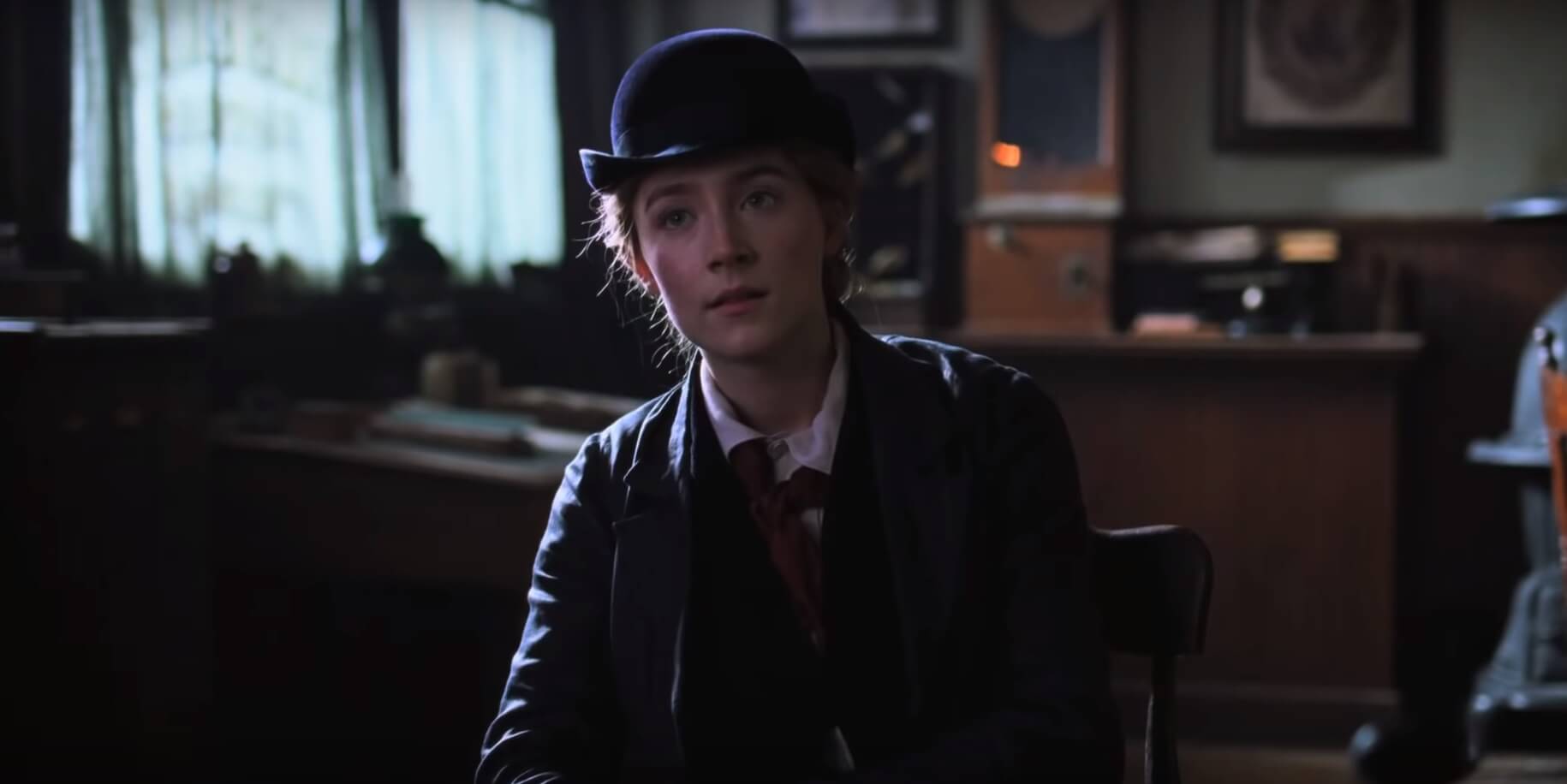 Along with the corset thing, Jo's tomboyish look is really distinctive, I love the androgynous crossover between her and Laurie (Timothée Chalamet). Could you tell me a bit about your vision for those two characters?
At the very first meetings I had with Greta Gerwig and Amy Pascal, the producer, that was immediately discussed. One thing that was a key theme for the childhood section of the movie was the almost symbiotic relationship between Laurie and Jo. Much more of a fluid situation than a boy-girl situation. It just evolved naturally out of that idea that they were so close that they would've shared things to wear. That she would've borrowed things from him, and they would've worn the same things. I really wanted to emphasize the closeness, even if they weren't a couple, the fact that they were sort of inseparable.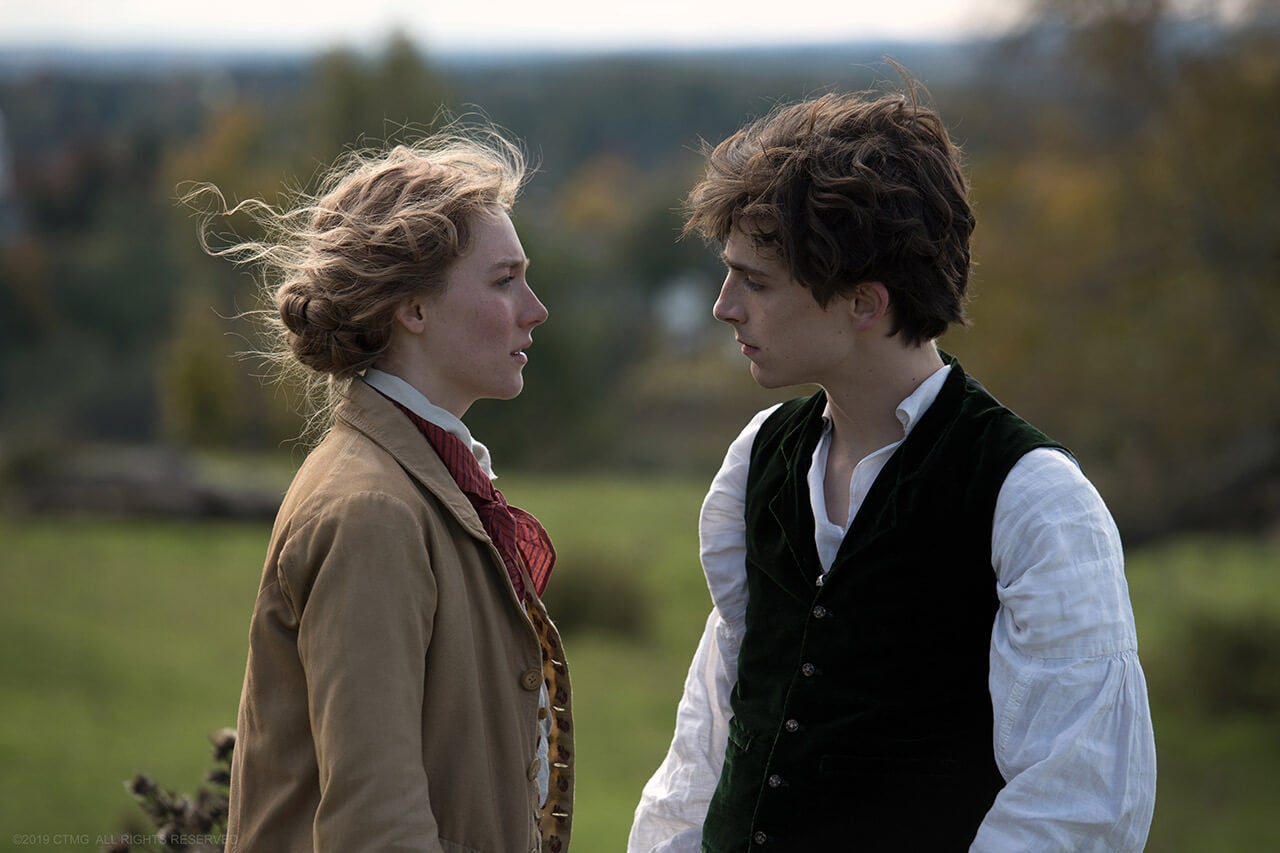 How would you describe each of the sisters' styles? You were saying you can really see how their personalities shine through.
I made a theme and a story for each daughter. Jo's was her boyishness. She didn't want to be feminine or wear girls clothes, and she was always striving to be a boy. And each girl has a color, so Jo's color is red, but because I didn't want her to wear red all the time, I made [her colors] into red and indigo. That was sort of thematically what she was about.
I wanted to find a way of expressing the kind of romanticism that [Meg] had, and how she wanted to be married and have a happy family. I felt that in some ways could be represented by sort of Gothic revivalism, the romanticism of the past. For Eliza, she was all about home and about being the kind of emotional glue of the family, so her color became a kind of pinkish brown. Amy's color was light blue, and she was all about being fashionable and well-dressed and having as many fashionable details on her clothes as she could manage. She always wanted to be wearing a corset because that is the way you're grown up. So all her clothes are striving in that direction, particularly when she goes to Europe with Aunt March.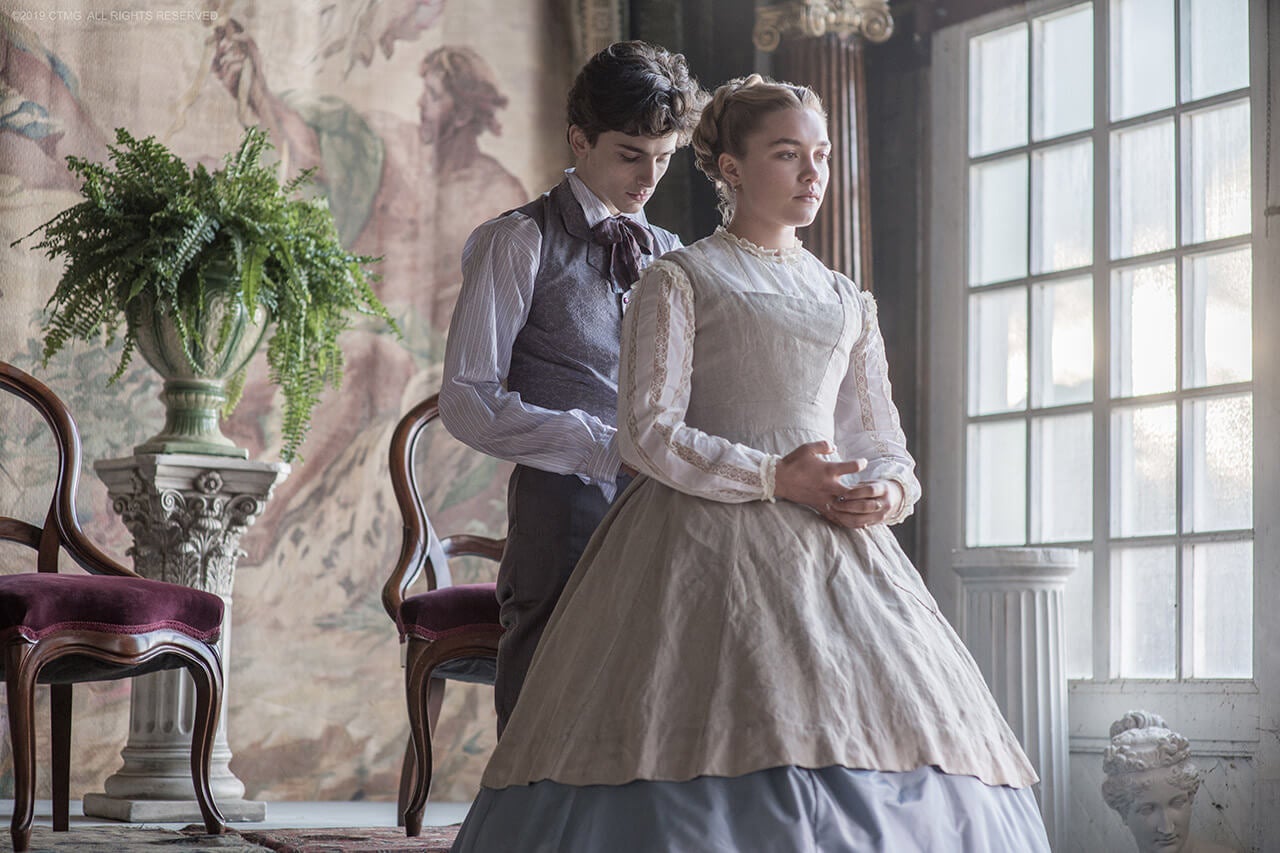 You've worked on a lot of beloved, iconic historical dramas at this point, and I imagine each one comes with unique challenges. What was the research process like for Little Women?
What's amazing about doing something in the 1860s is there's absolutely tons of reference, because photography was reasonably new and it was very popular. I also looked at an American painter I discovered on the job, Winslow Homer. He's just an amazing painter and he painted in Massachusetts at this period. The colors and the sense of nature, the sense of life and freedom in nature really comes through in his painting. It makes you think that there isn't just one way to have lived your life at that time in a rural setting. There must have been ways in which children played outside in the fields without being corseted.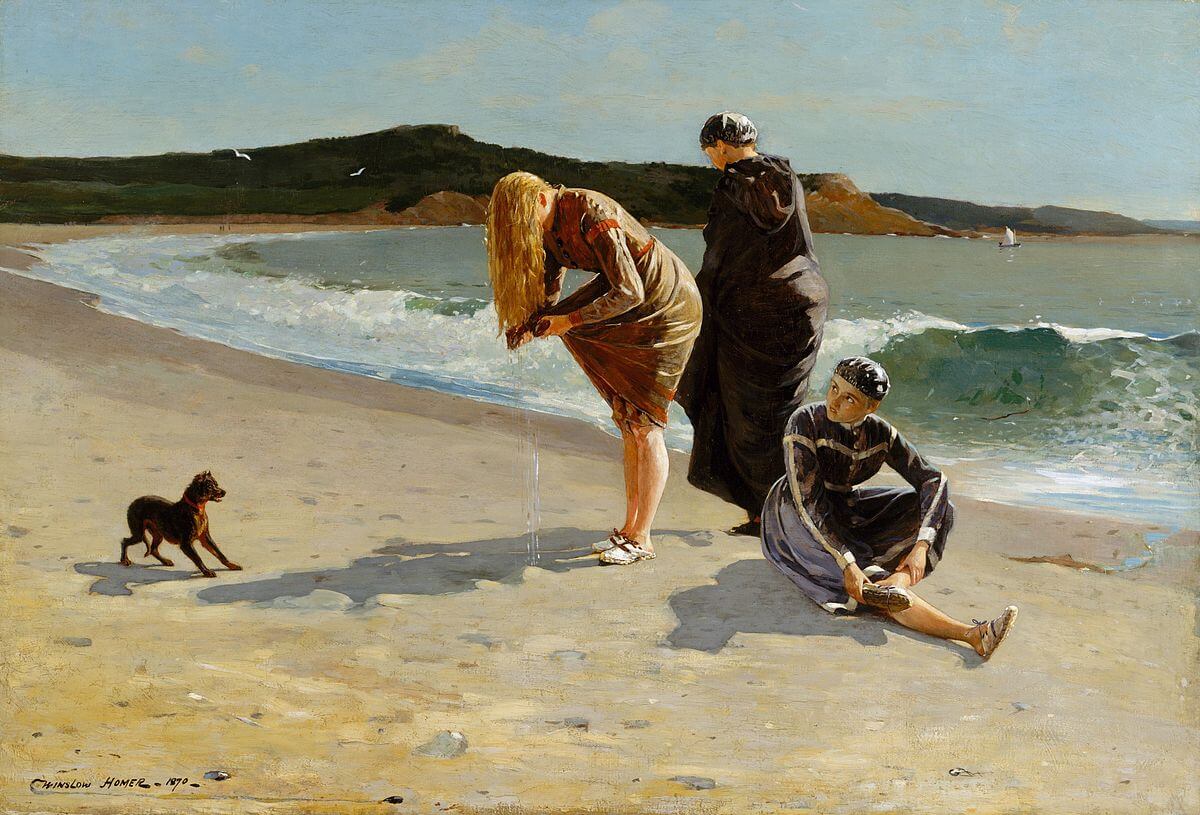 I think instantly he sort of led the way to… a freedom of interpretation, I suppose. We looked for things that chimed with the characters and put together elements that would be parts of each girl's character. Obviously you have all that research in your brain, and then you start doing the fittings and you then talk to the actresses, and the actresses do their research, knowing what they want to bring to the character. You work forwards step by step until you arrive at an interpretation that works.
What was your relationship like with the book? I know a lot of people read it as children, and that often shapes people's expectations for what those characters are going to look like.
I did read it as a child, I read it probably when I was around ten or eleven. I absolutely loved it and I read all of the sequels, although none of them were really as good as the first. But it wasn't something that became a big life influence on me. I loved them at the time and then sort of went away and forgot them. And then I didn't see the 1994 film because I was just the wrong age, I think it came in my early twenties. The whole thing passed me by slightly, and then when I came back to doing it and I spoke to Greta, I just thought, what a great opportunity for showing the different ways that you can grow up and the different lives you can have, and they're all valid.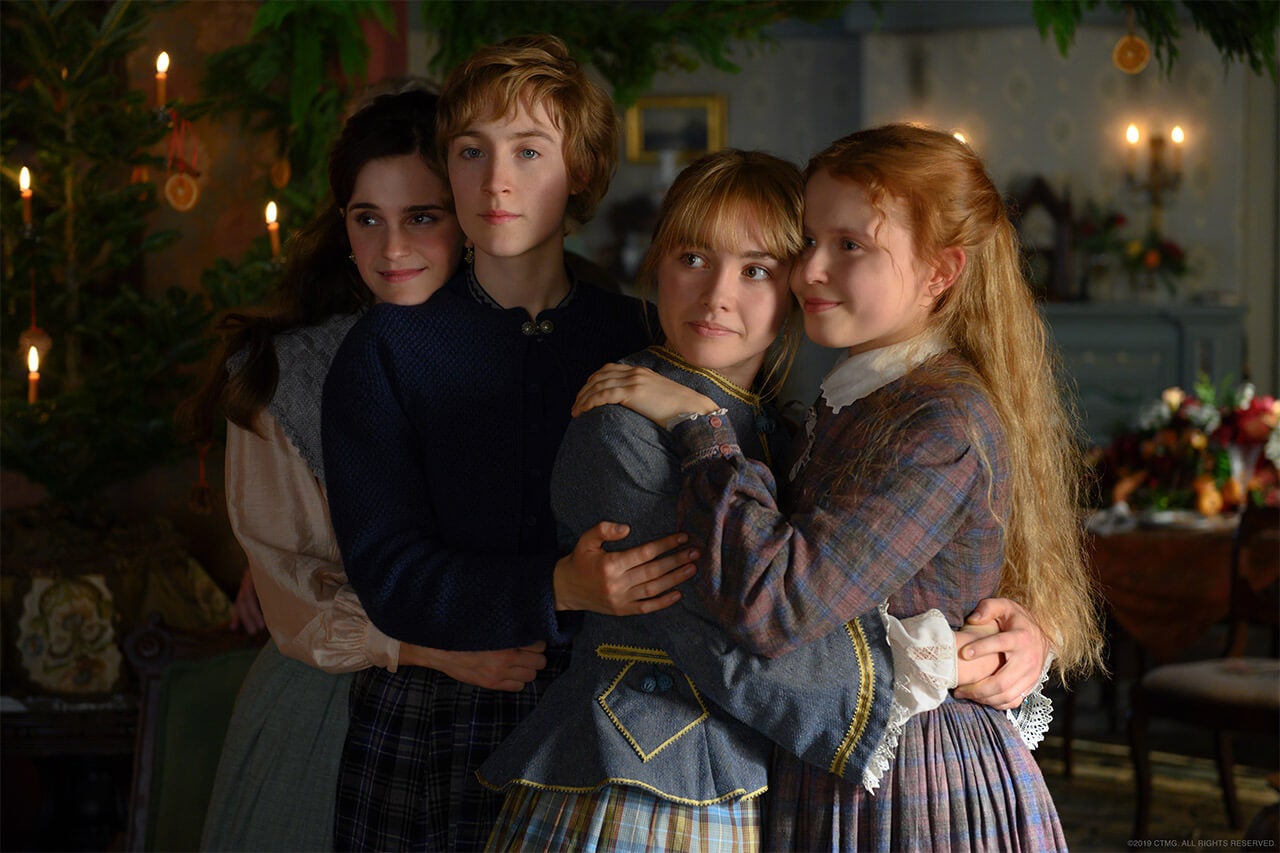 That's one of the great things about Greta's version, that each daughter has her path that she takes and they're given equal value. I think in the past, Amy maybe hasn't been given a fair representation, and in this one, I deeply sympathize with her. I think she's pretty clever. 
Do you have any particular favorite outfits from the film, things you think say a lot about the character or story?
I like the ones where I feel the correct period and the interpretation overlap quite well. Jo's sailor costume on the beach, because sailor costumes were really popular boys' costumes in the victorian period. She's wearing something that's a child's costume and is boyish, and at the same time she's got the freedom of a boy on the beach, and she looks really good in it. I just really love that summation of the idea of her character.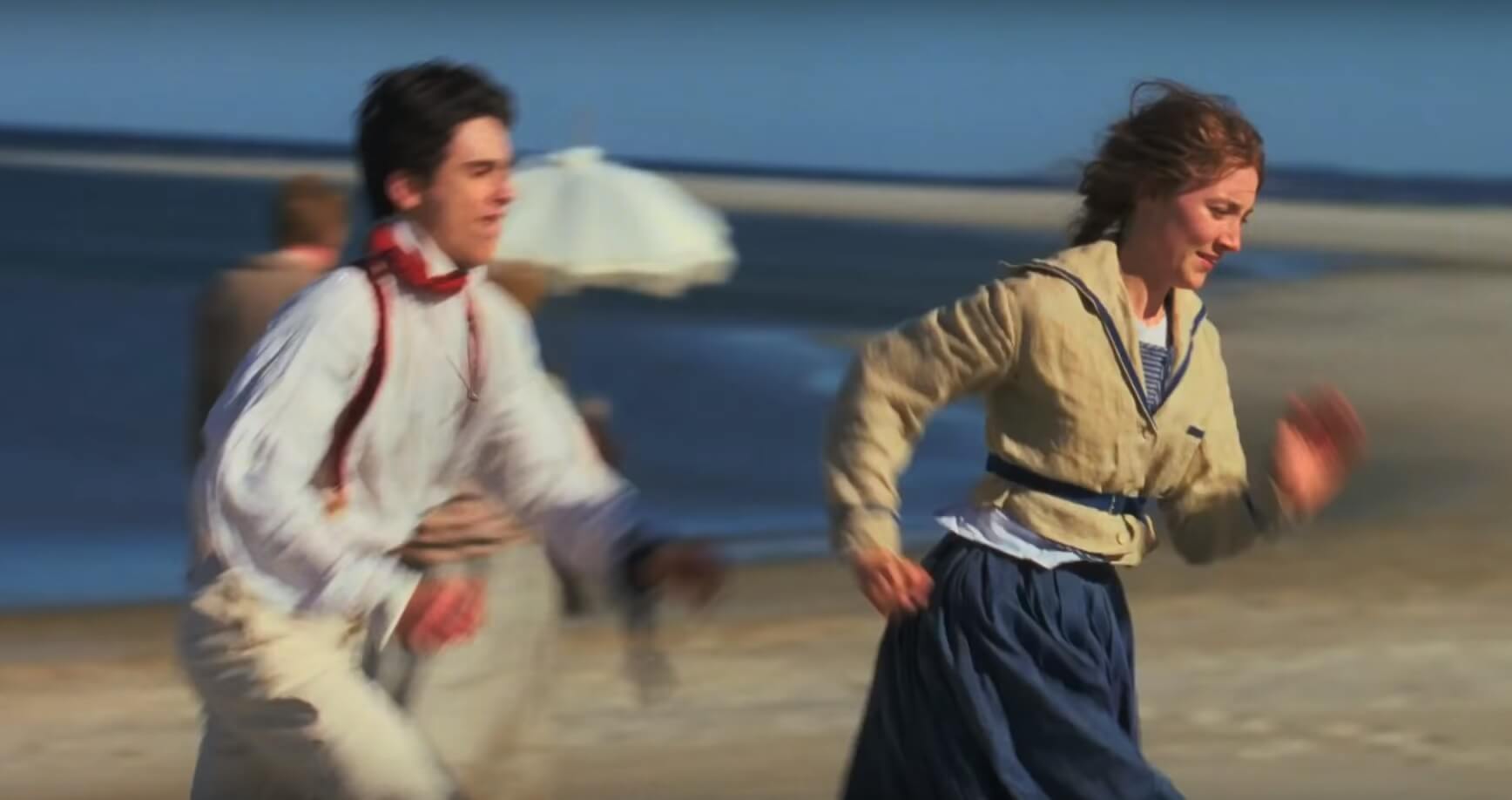 I like Amy's dress in France, the black and white dress when she's drawing Laurie, because one of the themes of Amy's costumes when she's in the France section is that she was influenced by the Impressionists. So the dress was an homage to the kind of black-and-white dresses in impressionist paintings. I really like that connection between Amy as the painter, and thinking she's failed as a painter, and wanting to dress like the women in the impressionist paintings.
Little Women comes out in theaters on Dec. 25.