In a hilarious reaction video posted to YouTube on Wednesday, internet personality KSI perused through Reddit's responses to his request to "roast me."
KSI, whose real name is Olajide William Olatunji, made the Reddit request earlier this week. In a post titled "lol good luck tryna roast me," KSI posted a photo of himself minus his ever-present bandana. In true Reddit form, users took his challenge to the next level, dishing out savage digs left and right.
In his reaction video, KSI alternated between pained laughter and flabbergasted silence.
In the video, KSI browsed through numerous burns about his celebrity status, his forehead and, mostly, his hair. Comparisons ranged from "dying kelp," "moldy Cheetos," and "a dirty mop," to "coral that spent its entire lifetime in a sewer."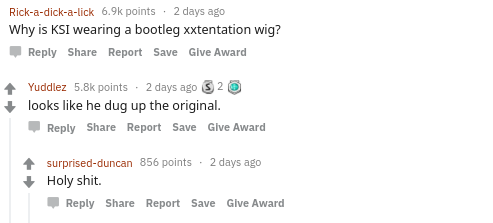 The entire video is gold, as KSI digged his way through brutal shade and painfully on-point comparisons, but it reached its peak around the 4:55 mark. "Your film got a lower rating than Alvin and the chipmunks," user Daveatron wrote. "Also lower than 'The nut job 2: nutty by nature,'" AlbrechtArt added.
KSI was clearly taken aback when he stumbled across these comments. "Fuck off, is that true?" he asked, before immediately switching over to IMDB. Alvin and the Chipmunks, as Daveatron noted, boasts a 5.2 out of 10. KSI's Laid in America, on the other hand, has only a 4.6 out of 10. The Nut Job 2: Nutty by Nature has the highest score of the three, at 5.4 out of 10.
By the end of the 11-minute video, KSI is thoroughly finished reading the abuse. "Definitely not looking forward to looking at my own Reddit and Twitter anytime soon," he said.
"Hopefully you guys enjoyed me getting roasted because I didn't. I fucking hated it."
READ MORE: