BY RACHEL SIMON
There's a scene toward the end of the new Netflix movie The Incredible Jessica James in which Jessica Williams' character, also named Jessica, argues with her love interest in the middle of the street. Exasperated, Boone (Chris O'Dowd) tells Jessica, "I really like you." In a typical romantic comedy, Jessica might either A) capitulate and say she really likes him, too or B) burst into tears, and end the relationship. But The Incredible Jessica James isn't your normal rom-com, and Jessica James isn't your normal heroine. So instead, she chooses response C: "Yeah, Boone, of course you do. Everybody does. I'm friggin' dope." And, with that, she walks away.
Sitting on the couch in New York's Bryant Park Hotel, early in the morning on a rainy mid-July day, Williams breaks into a grin when I bring up this line. "You never hear that. You never hear a woman saying [that in films]," the actor says, leaning forward. "They're always like, 'please, please love me.'"
"She says 'sorry' when she's wrong, but she's not being like, 'sorry I'm alive,' you know?" she continues. "So hopefully, when people see [the movie], there'll be more parts where women just get to exist, because in a lot of roles for men, they don't have to ask to exist. They just are."
And at age 28, with Jessica James, a popular podcast, and various other projects in the pipeline, Williams just is—but that didn't come without a hell of a lot of work. Although her journey to success might seem to have happened overnight (in college, she became a correspondent on Jon Stewart's The Daily Show, where she stayed for a much-lauded four-year run), the reality is anything but. Her career actually started back in the mid-'00s, when, as a teen, she starred on Nickelodeon's Just for Kicks; later, she'd spend years doing auditions and performing at the Upright Citizens Brigade Theater. Yes, her Daily Show spot came along quickly, but she earned her place—and as anyone who's seen her work on the series… or her role in the film People Places Things… or heard her chatter on 2 Dope Queens, can attest, she's been proving her worth ever since.
Jessica James, though, is her biggest platform yet to show off the voice and talent that got her that Daily Show spot in the first place. Written and directed by James C. Strouse, who directed Williams in the acclaimed People Places Things, the film stars the actor as a 20-something playwright struggling to find success (both romantic and professional) while living in New York. The role was written for Williams (which feels "pretty damn great," she says) and while O'Dowd and Keith Stanfield, who plays Jessica's ex, are strong in it, it's her movie.
In the film world, female actors are still rarely depicted as vividly as Jessica is, and Williams is glad that she can be an exception. "What I want to add is a new way for people to see women and a new way for people to see Black women," she says. "Multiple versions of Black women are allowed to exist, and multiple versions of funny Black women are allowed to exist."
Williams says she admires her character's "unapologetic" nature, the self-assuredness that leads her to tell a guy how "friggin' dope" she is and never doubt her place in life. "She's not defined by her relationships," the actor says. "Really, what she's driven by are her goals." The same can be said for Williams, whose career so far reads like a checklist of any aspiring comedian's dreams. But unlike her character in the film, the actor isn't all confidence, all the time.
"With acting and doing comedy and doing live shows, there's so much room for you to doubt yourself," Williams says. "When I'm having those feelings, I acknowledge it, and allow myself to sit with it, and then when I'm done with that, then I do something about it."
"I've had to learn to not just put it in a box and then push it away, because then it just gets bigger and bigger," she adds. "I have to really pay attention to it and be like, oh why do I feel this way? Why am I doubting myself today? Oh cool, what's truth and what's a lie? OK great, let's lean into what the truth is and let's do something about this."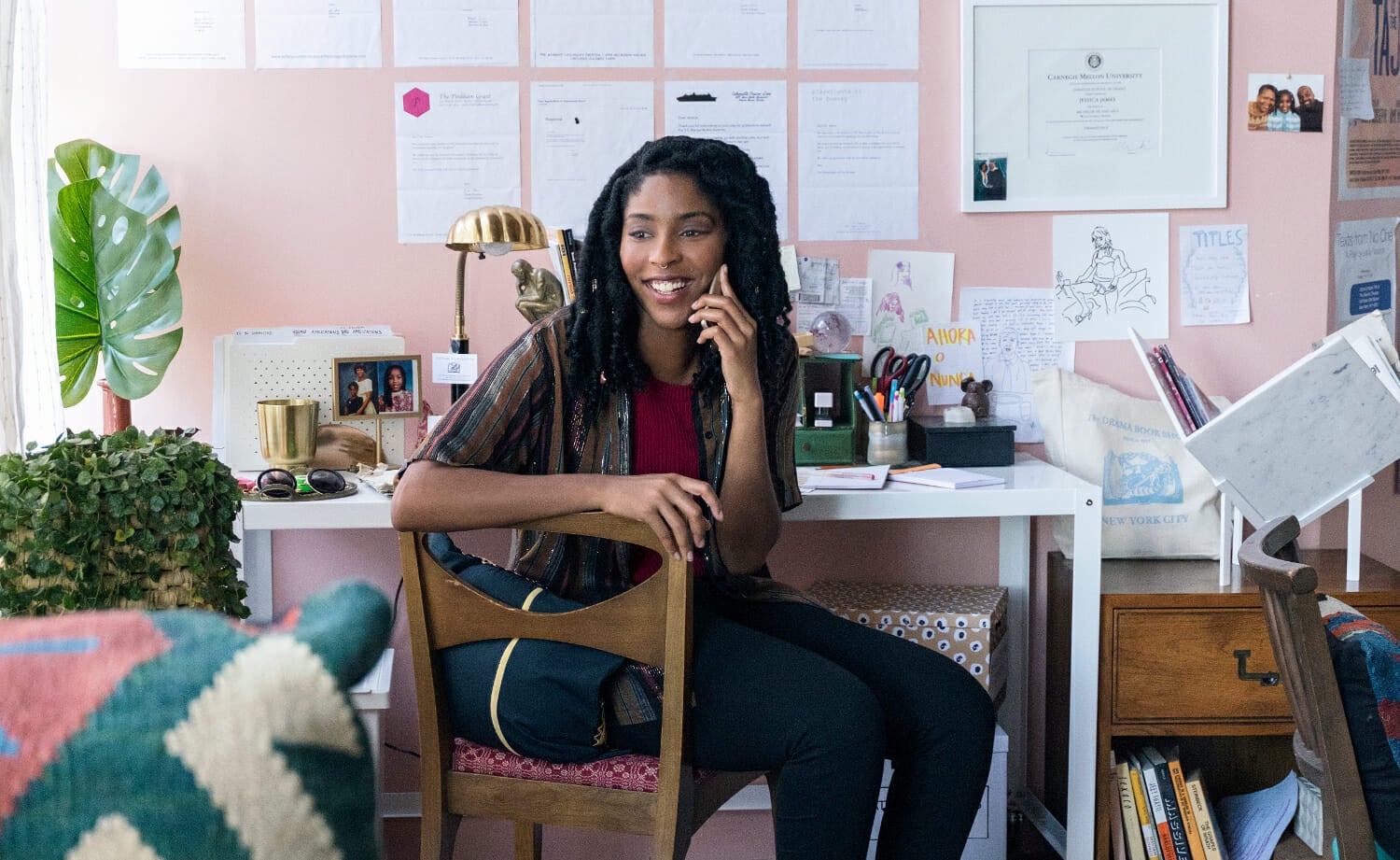 Williams is making self-care a priority, especially when it comes to her own self-esteem. As she told the New York Times recently, she and her 2 Dope Queens co-host Phoebe Robinson work to ensure that they're "the stars of [their] own narratives," but that's easier said than done. There are times when, Williams says, she finds herself pushed to the sidelines, or treated in a way she finds a "disservice." When that happens, she doesn't yell, or fight, or blame herself; instead, she simply makes her voice heard.
"As a woman, as a Black woman, I always want to try and be professional no matter what. I think it's kind of necessary if I want to continue to work," the actor explains. "So I think if [being treated poorly] is happening in the moment, I speak up. Because that's what I definitely can do—that's what's in my control, and how people respond to it is out of my control."
"And if nobody really adjusts after I speak up, then I finish what I'm doing and I'm professional and calm and then I make note of it, and I make note of the way that person wrote or the way that person directed or the way that person acted and I just remember it, I file it away," she continues. "And just know that it's like, when the time comes around again, I won't do that again."
"And then," she finishes, "I'll go vent, I'll go to a boxing class and punch some shit out, or I'll talk to my therapist about it, have a cocktail with my other Black female friends or female friends who understand."
It's an impressive attitude, but not one that a person arrives at without some trial and error. When Williams started out on The Daily Show, she was just 22, and the pressures of taking on such a coveted job—and being the both show's first Black correspondent and its youngest—were immense. Even as she earned raves for her work and grew in fame, she struggled, turning to therapy. "I think it took a while for me to figure out balance," Williams says. "I was trying to figure out how to balance my personal life with my work and what my expectations of myself were versus what the expectations of work were for me."
When Stewart stepped down as host in 2015, fans and critics alike clamored for Williams to take on his role, but she quickly shot down the idea in a series of tweets explaining how unqualified she was for the job. Looking back, she says not trying out for the gig was "the right thing," adding, "I think that I did, and am still doing, what's best for me."
She doesn't rule out the possibility of hosting her own show down the line ("I think that would be very premature to think, 'I'm never doing that,'" she says with a laugh), but her goals for the immediate future are more simple: travel more, get through her reading list, be "the best aunt ever" to her sister's infant son. One day, she wants to take him to Harry Potter World, as she's a massive fan of the series (and a self-proclaimed Gryffindor). Recently, Williams has been hanging out with J.K. Rowling, and earlier this summer, the duo sat down for an emotional hours-long chat that Williams later hilariously recapped on Instagram. Rowling, the actor says with glee, was "won-der-ful." Talking to the author, Williams teared up, overwhelmed by the opportunity to meet someone she considers an idol.
"Lately, I've been thinking about, especially since I met [Rowling], what my 10-year old-self would say, and I think she'd just be so excited that I got to kick it with her," Williams says. "I think about little me, and I'm like, 'oh shoot.' I think she would say it's kind of badass."
That's for sure—at 28, there's nothing about Williams' existence that wouldn't make her younger self proud as hell.