The owner of a hugely popular network of YouTube channels that produces content by and for preteen and teenage girls has been arrested and charged with "lewd and lascivious molestation" of one of the performers, BuzzFeed News reports.
Ian Rylett, 55, was arrested in Orange County, Florida, in August after, according to the arrest warrant obtained by BuzzFeed, he allegedly made a girl under the age of 16 undress in front of him. He then allegedly fondled her breasts before trying to take off her underwear, demanding she undress so she could "practice wrapping her breasts down, to make them appear smaller for the video shoot."
Rylett, a U.K. resident, has pleaded not guilty to the charges and given up his passport until he stands trial.
Rylett helped create and now runs a network of channels starring young girls, called the SAKs channels, which boast more than 15 million subscribers. The network includes the channels of SevenSuperGirls (9 million subscribers), SevenPerfectAngels (3.2 million), SevenAwesomeKids (2.6 million), SevenFabulousTeens (710,000 subscribers), SevenFuntasticGirls (702,000), SevenTwinklingTweens (430,000), and a now-defunct channel called SevenGymnasticsGirls. All of the channels feature girls younger than 18 who take turns starring in videos and skits.
According to BuzzFeed, YouTube has known about Rylett's arrest since August, and the social media giant said it demonetized the channels soon afterward. BuzzFeed wrote that "there's no evidence" YouTube has tried to contact the girls who are featured on the channel.
"We take safety on YouTube very seriously. We work closely with leading child safety organizations and others in our industry to protect young people. When we're made aware of serious allegations of this nature we take action, which may include suspending monetization, or, upon conclusion of an investigation, terminating the channel," a YouTube spokesperson told the Daily Dot.
In cases like these, YouTube immediately terminates a channel following a guilty plea or conviction.
As of this writing, the SevenAwesomeKids channel, which last published a video on Aug. 14, was still active, as were the rest of the SAKs channels. Here's the list of SevenAwesomeKids performers, their scheduled days to post videos, and their ages.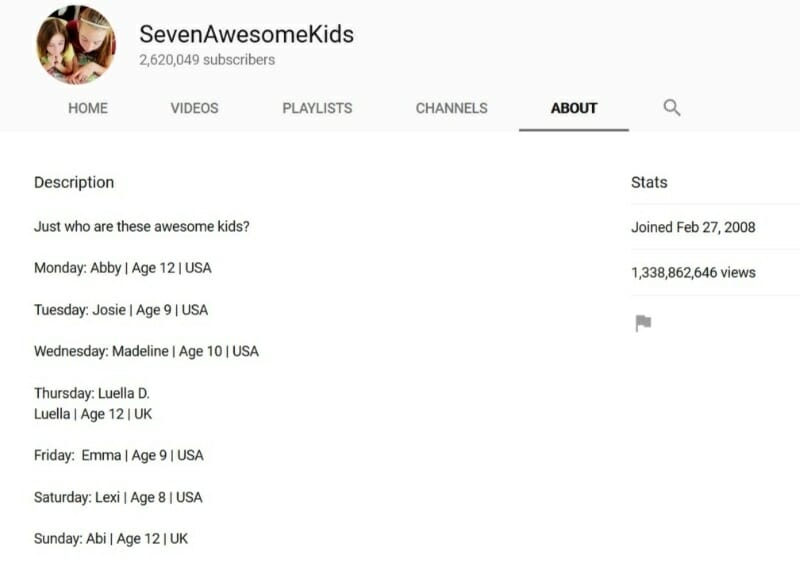 A description also reads, "Please note: This is a parentally controlled and moderated channel. The parents are responsible for all uploads, and all content is vetted by them. Inappropriate behavior will not be tolerated."
A number of former performers on the channel talked to BuzzFeed for the story and said Rylett had been awkward and made them uncomfortable. It only got worse when comedian Daniel Tosh featured the channel on his Comedy Central TV show Tosh.0 and intimated that leering men also probably enjoy the content.
"Then some of us started to get the feeling we were being groomed for some darker audience," one former SevenAwesomeKids performer told BuzzFeed. "Things that didn't feel weird at the time—like the themes, the leotards, and the camera angles—started to feel strange. I started to get that feeling especially when you think that some of these girls are 9-years-old."
YouTube has come under fire for its issues with children starring in and watching videos. Though YouTube has been fighting a wave of disturbing videos aimed at kids through its algorithm, conspiracy videos on the YouTube Kids app still were slipping through earlier this year. The platform also has had to deal with channels, like DaddyOFive, that have inappropriately pranked and abused children in the name of page views.
YouTube did not immediately respond to the Daily Dot's request for comment on whether there was any immediate plan to potentially shut down the network of SAKs channels.
Read the entire BuzzFeed report here.
Editor's note: This article has been updated to reflect YouTube's statement to the Daily Dot.