A random acquaintance once recommended a podcast where three brothers and their dad play Dungeons and Dragons via Skype. There was no false advertising.
The Adventure Zone is literally three brothers and their dad playing D&D Fifth Edition. They are Griffin, Justin, and Travis McElroy of My Brother, My Brother and Me fame, and the show is rounded out by their dad Clint, a radio veteran. This week, roughly three years after episode one was released, the show has come to the conclusion of its first narrative arc. A season finale, so to speak.
When Justin was having his first child three years ago, the crew needed some content filler for his paternity leave.
"I just really wanted to play D&D," Griffin McElroy told the Daily Dot. "I had a couple times in the past and it was really fun, but it's hard to get a group of folks together. I thought my family would be really good at it. And they are, so it all worked out."
The McElroys are something of an indie comedy force of nature. In the last few years, they've built a media empire that includes roughly a dozen popular podcasts, a VRV show which was originally set to stream on shuttered NBC comedy arm Seeso, and most recently The Adventure Zone graphic novel. One of my favorites, The McElroy Brothers Will Be In Trolls 2, is a nod to their future ambitions. They made a recent appearance on Midnight with Chris Hardwick, Justin and Griffin do hugely popular video work at gaming site Polygon, and their live events routinely sell out.
But The Adventure Zone is the group's first push into a fictional universe. The show is broadly mapped out by Griffin, the dungeon master, and the details are left to the organic gameplay of the rest. If you're unfamiliar with D&D, basically it's a game where players pretend to be, or roleplay, a character within a gaming arc that's set out by the dungeon master. He (Griffin, in this case) controls the exposition and all non-player characters, or NPCs.
Clint plays Merle Highchurch, a dwarven cleric armed with a warhammer and praying to Pan, the god of nature. Travis plays Magnus Burnsides, a human fighter and rogue armed with a battle ax. Justin plays Taako Tacco, an elven wizard with a focus on transmutation.
The brothers are scattered throughout the U.S. Griffin lives in Austin, Texas; Travis lives in Cincinnati, Ohio; and Justin and Clint live in Huntington, West Virginia.
"I go to Justin's house, we do our thing across the table, and then we're connected to Travis by some mystical, magical thing," Clint added, referring to Skype.
The show runs 69 episodes, broken into seven campaigns, or tasks within a narrative arc. (During the finale, Griffin is proud to point out that 69 is the sex number). Generally speaking Merle, Magnus, and Taako are aiming to capture the seven grand relics, each of which represent a different class of magic. Each campaign pulls in aspects of Griffin's favorite cult classics including Fast and the Furious, Alien, Harry Potter, Groundhog Day, and of course, the original D&D Fifth Edition campaign book.
That's all the setup you need—we don't want to spoil the absurd plot twists.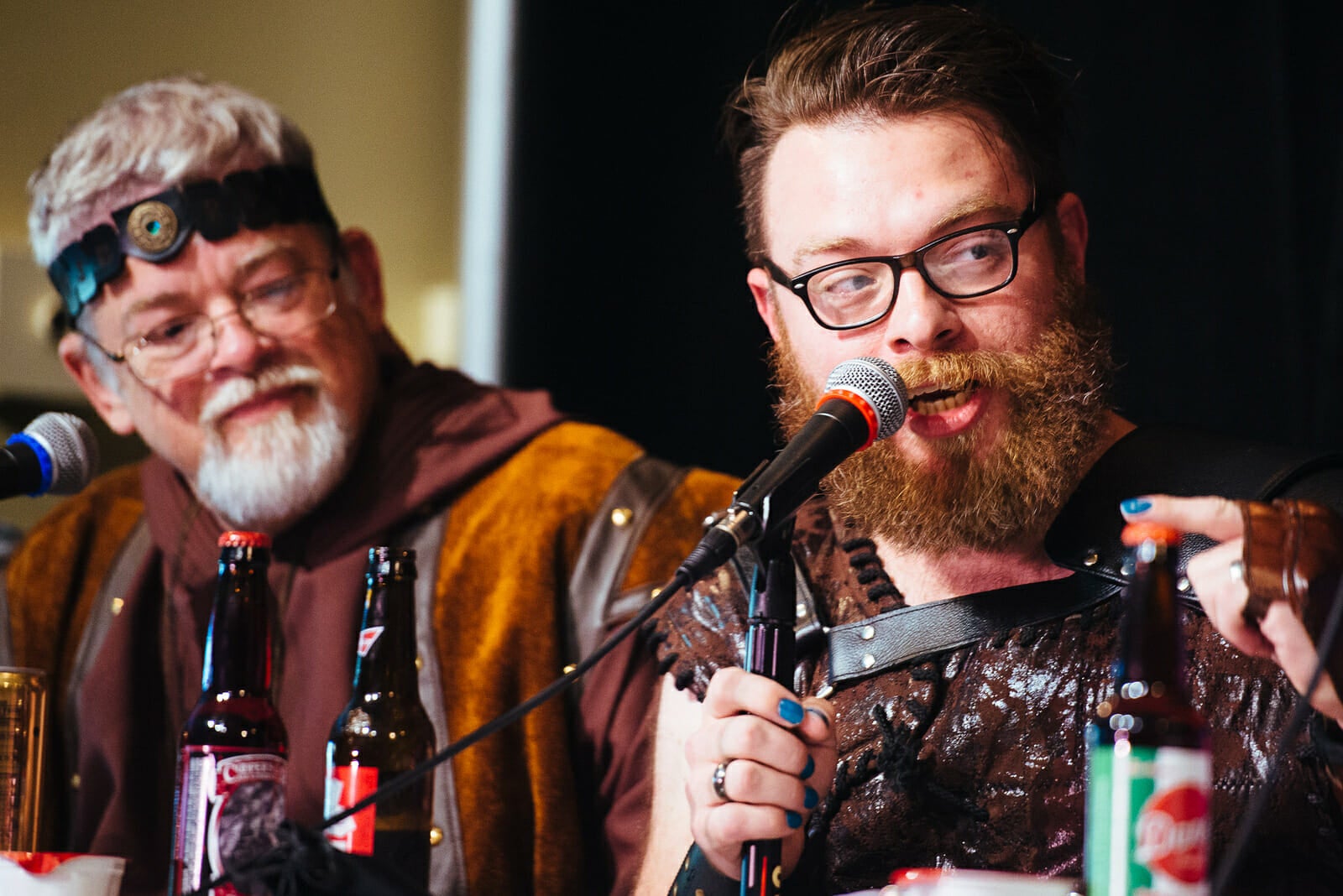 The show is usually in the comedy top 20 comedy on Apple Podcasts, garnered more than 5,000 reviews on the platform, and spurred the creation of many new live roleplaying podcasts. It's a social media behemoth, and some have even claimed the show gets nearly 2 million downloads a week. (The Daily Dot has not been able to verify this figure.)
The show is kept afloat by its ravenous fans. There are Facebook groups setting up cosplay events, rabid Twitter users asking about delayed episodes, and congratulating Griffin by the thousands using the hashtag #GreatJobDMGriffin. In real life there are standing-room-only events, and people willing to listen to three hours of audio wherever and whenever they're at.
But the success of The Adventure Zone isn't surprising. The McElroy family has a history in theater, has been podcasting since 2010, and possesses Clint's 40 years experience in radio. It's also not afraid to take an inclusive tack. The show features several homosexual love stories, different races and religions, a trans protagonist, and a dozen other storylines the show didn't need to tell, but wanted to. It's a refreshingly active course correction.
According to some people, The Adventure Zone is a direct and somewhat subversive response to the stressful and bad mainstream news Americans are inundated with daily. Some people think it's a sign that nerdom is becoming the new cool. The truth is that the show is relatable to anyone. During the life of The Adventure Zone, the McElroys have undertaken major life changes. These emotional revelations have come across in the show itself, and it's a key humanist element to its appeal.
"I had a baby and moved a couple times during the life of The Adventure Zone," Justin said. "That was hugely impactful of how I thought about my character interacting with other people. But also, I myself was in a way more emotional place for four or five months (mostly due to lack of sleep and general baby stress), so I reacted to things in a more emotional way than I normally would have. I think, if you were to track it, you would see in those four months Magnus having some pretty big emotional revelations too."
Griffin concurred: "I think the tone of the show has changed… It's been this story about horrible, destructive forces and what people do to ban together and stay positive in the face of all that stuff. I definitely think all of our lives have changed and I think I struggle with anxiety a lot so it's been important to me that we tell this story about people who are good to each other and just doing their best. That had always been the kind of story that I've wanted to tell, and I've found it helpful to work to tell that story during some of my shittier days."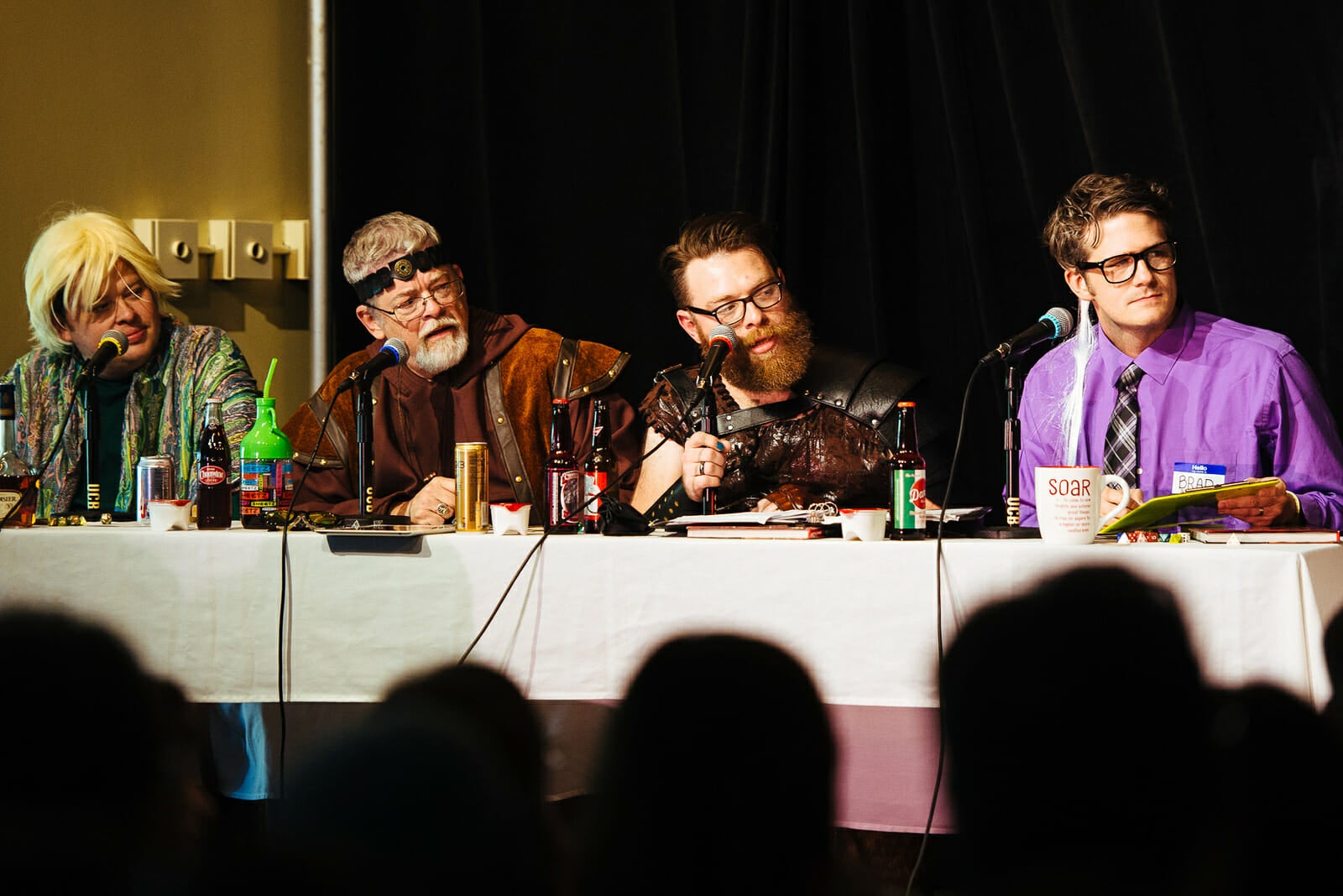 Another key to success for the McElroys is the inclusive nature of the fandom. Listeners could pay for a shoutout on the show: This often resulted in pronouncements of love, friendship, and general goofy weirdness. Listeners could also tweet with the hashtag #thezonecast to possibly be included in the show as an NPC. Small gestures like this made the listener feel like they were a part of the show, and they often were.
Above everything else, though, lies the fact that this is a damn good story. As dungeon master, narrator, storyboarder, scriptwriter, voice-over actor, DJ, and editor, Griffin is mostly to thank for that.
"I've never worked as hard at anything at my whole life. This is the creative endeavor that by far, I have poured the most of my time on this earth into. And I'm extremely proud of it, but it's really scary for a lot of reasons. It's scary because I want the audience to find it satisfying. But it's not like that, it's a game where different things can happen based on probabilities and dice rolls and the decisions that Justin and Dad and Travis make," Griffin said. "I've had ideas for what I thought the ending would be for a couple for years now… with one dice roll, the direction that I thought the ending would go (and that's a direction I've spent dozens of hours writing ideas down for) could be completely closed off to us."
The podcast proves that if you do something you love and put the work and time in, you can be successful. No matter how niche the material, the labor of love makes it a transcendent work. And this series is not going anywhere.
"The Adventure Zone is not ending," said Justin. "The podcast will continue with different stories or what have you, but to watch something that we have worked on for so long come to fruition and turn into something that we are really proud of, and to actually see it reach its culmination, is really exciting."
It's also a strong family bonding experience. Clint called into the interview first, and we chatted about his impending retirement and birthday, but he really just wanted to talk about his boys.
"All three of them have been called upon to basically do this for a living as well. Especially with My Brother, My Brother and Me and all the other podcasts, where I don't want to toss around the word lightly, but you're a professional," Clint said.
The show often meanders and goes off on tangents. But that's kinda the point of D&D, to have fun with your family. The final episode includes this telling line: "Thus ends the Adventure Zone Balance, the story of four idiots that played D&D so hard that they made themselves cry."