A meme has people fantasizing about locking lips in hypothetical scenarios, usually set in very peculiar places.
What is the 'What would you do if we kissed' meme?
The format is simple: It's a photo of anywhere—literally anywhere, and the more specific, the better—overlaid with text that asks, "what you would you do if we kissed" in this place?
For example, one user asks, "What if we kissed in a Jones BBQ and Foot Massage?"
"What about in Randy Jackson's dressing room?" asks another.
From an incinerator to the very abstract "intersection between art and technology," the possibilities for kissing spots are endless.
The meme took off in April of 2019 but is still being used in 2021.
Examples of the meme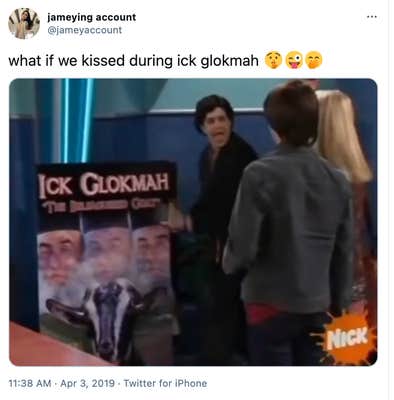 For some, the imaginary kiss happens by accident.
The meme even has people throwing it back to early 2000s cult-classic virtual animal games with Neopets, Webkinz, and Club Penguin fantasies.
Others are deviating from the traditional meme, of course, and adding their own takes on the ideal romantic scenario.
The origin of the meme
The meme has roots in Reddit, according to Know Your Meme. In 2018, Redditor u/h0bbez posted an image of the blue battle bus from Fortnite Battle Royale with the caption, "What is we kissed in the battle bus?"
Editor's note: This article is regularly updated for relevance.
READ MORE: