At this point, we're probably all familiar with the National Health Service guidelines for washing our hands. If you haven't seen the official version here it is: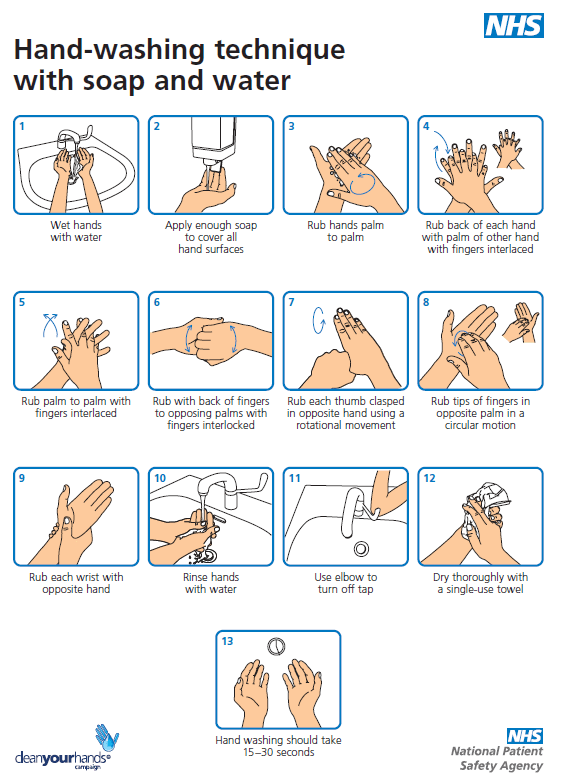 According to the NHS, you should wash your hands for around 20 seconds or "the amount of time it takes to sing 'Happy Birthday' twice."
A fair choice since that's a song most Americans are familiar with, although it's certainly not the most exciting song, and you have to sing it twice?
There must be better options. In this age of specialization, why can't everyone pick their own individual song? Obviously, you could figure out 20 seconds of your favorite song on your own, but now you don't have to even waste that small amount of brainpower.
William Gibson, a 17-year-old developer/designer from the U.K. has taken it upon himself to create a web site called "Wash Your Lyrics". The site takes your favorite song and automatically generates a handwashing song complete with a poster. Then all you have to do is print it out and hang it next to your bathroom sink.
Gibson told the Daily Dot via email that he hit on the idea after seeing someone else create a version of the poster using lyrics from the song "Money Machine" by 100 gecs.
"I wanted to make more lyric posters," said Gibson, "but I thought it'd be more fun to automate the entire process and that led me onto creating the site!"
Despite having under 300 followers on Twitter (many of whom he undoubtedly picked up since posting the about his creation yesterday) Gibson's tweet already has nearly a thousand retweets. People seem to be getting a lot of use out of it, creating hand-washing posters from lyrics by Taylor Swift, Carly Rae Jepsen, Queen, and others.
These are all great choices, but Gibson told us his personal preference for a handwashing song is "Popular" by umru.
"Maybe because it's my favorite song," he said, "or maybe because it works so well in lyric poster form." He also noted that umru was the first artist to mention the site on Twitter.
At 17, Gibson is already gathering quite a bit of design experience. The last project he worked on was an app called Cryb. "Ultimately, I wasn't able to make it happen because it would've been expensive to run, which resulted in some serious burnout," he said. "This is my first project coming back to programming after I've experimented with music production and I'm so happy it's doing well!"
It is, in fact, doing so well that the site was briefly down due to the high volume of people using it.
"Wash Your Lyrics" might not be enough on its own to stop the spread of COVID-19, but every little bit helps. It certainly doesn't hurt to raise people's spirits a bit while you're raising their awareness.
Speaking of which, Gibson had a bit of advice he wanted to pass along "Remember to wash your hands and be nice to everyone (including yourself)!" he said.
READ MORE: