This article contains spoilers for episode seven of WandaVision.
WandaVision is riddled with deep cuts from Marvel comics lore, spawning plenty of theories about what's really going on in the town of Westview. And in episode seven, one of the most popular theories came true.
It's all about Kathryn Hahn's character, who until recently was just another cheerful occupant of Wanda's sitcom universe. Introduced as Vision and Wanda's nosy neighbor Agnes, it turns out she's actually the Marvel character Agatha Harkness, a witch.
The reveal arrived at the end of the episode, when Wanda went down into Agnes' basement to look for her twin sons. At this point in the story, Wanda is visibly struggling with her grief and the pressure of maintaining the sitcom world of Westview. Instead of finding a regular suburban basement under Agnes' house, she steps into a creepy dungeon where Agnes reveals her magic powers with an incredibly catchy theme song titled "It Was Agatha All Along."
In the comics, Agatha is a witch who originally showed up as a Fantastic Four villain and later had a storyline as Scarlet Witch's magical mentor. She's usually depicted as an old lady with white hair, but many WandaVision fans suspected from the start that Hahn's character was Agatha in disguise. The most obvious Easter egg arrived in last week's episode, where Agnes wore a Halloween witch costume.
Agatha is particularly important in the context of Wanda's (currently missing) twin sons Billy and Tommy, because the boys actually have a similar role in the comics. Introduced in a 1980s Vision and the Scarlet Witch storyline, they're "born" as a manifestation of Wanda's wish for a happy family, fueled by Life Force from the villain Mephisto. As the resident magic expert, Agatha explains that the twins aren't real people, because Wanda's magic isn't powerful enough to create life from thin air. Billy and Tommy are ultimately "re-absorbed" by Mephisto, and Agatha erases Wanda's memory of the children.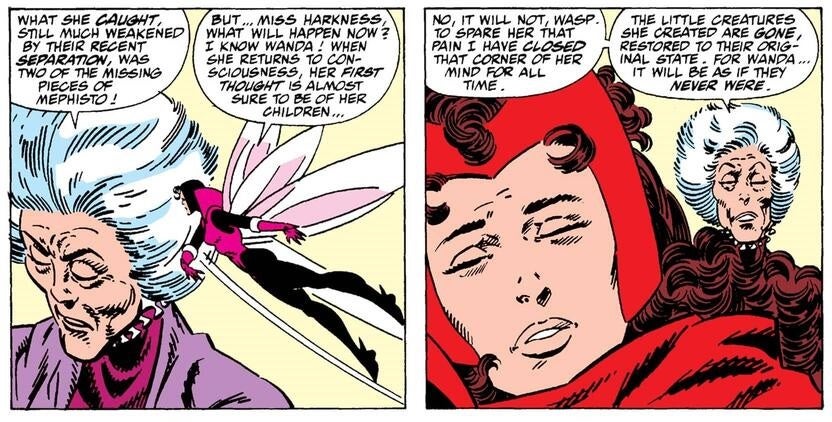 The twins later return in different forms: Tommy Shepherd, a Quicksilver-style speedster, and Billy Kaplan, the magic-using Wiccan. So WandaVision may well be an origin story for those two Young Avengers characters.
Episode seven frames Agatha as the show's Big Bad. While Wanda is the powerhouse behind Westview's pocket dimension, Agatha was manipulating her behind the scenes. This potentially sets the scene for a big showdown where Wanda defeats Agatha and saves the day.
But fans should be wary of expecting an Avengers-style finale. While WandaVision is full of comic book callbacks, the story itself is all about grief, and it's an impressively thoughtful (and perversely fun) exploration of Wanda's repressed trauma. Ending with a "defeat the villain" storyline would be pretty dull by comparison, so we should expect something a little more surprising in the last two episodes.
It's possible that Agatha Harkness has been manipulating Wanda all along, using her grief to create this bizarre suburban prison for dozens of civilians. But it's also possible that Wanda created Agatha in order to pin the whole situation on an outside enemy. At any rate, this isn't a problem that can be solved by fighting a bad guy. Wanda needs to confront her issues head-on.
---
More essential culture reads
---