President Donald Trump visited Puerto Rico on Tuesday in the wake of Hurricane Maria. This was his chance to show some some compassion to the survivors, especially after tweeting insults about San Juan Mayor Carmen Yulín Cruz over the weekend. Instead he made a joke about the disaster messing up the government's budget. And he handed out emergency supplies like he was on a game show.
Here's Trump tossing paper towel rolls:
Pres. Trump tosses paper towel rolls, distributes other supplies to hurricane victims during his Puerto Rico visit https://t.co/UAjQrpyToV pic.twitter.com/8IAj5F5OKH

— CBS News (@CBSNews) October 3, 2017
https://twitter.com/AlanYuhas/status/915281524819398656
The internet did not think it was a good move.
Trump
-Told PR to be proud "only" 16 dead
-Complained bout recovery cost
-Shot paper towels into crowd
-Told victim to "have a good time"

— Sam Stein (@samstein) October 3, 2017
Republicans: Kneeling for the National Anthem is offensive.
Trump: What if I throw paper towels at hurricane survivors? pic.twitter.com/p8aofglDIc

— Full Frontal (@FullFrontalSamB) October 3, 2017
This is horrendous. This isn't how you distribute ANYTHING to victims of a natural disaster. https://t.co/aBmgEm2kUE

— Shaun King (@shaunking) October 3, 2017
https://twitter.com/BasedMonitored/status/915284027850002432
https://twitter.com/jayfromtex/status/915295069003042816
The video of Trump throwing out paper towels in Puerto Rico is even worse than I imagined https://t.co/gBK9MQ0YmE

— Roland Scahill (@rolandscahill) October 3, 2017
Americans in Puerto Rico have no power, are starving, are thirsty & trump threw paper towels at a crowd organized to praise him. Vile.

— Ricky Davila (@TheRickyDavila) October 3, 2017
https://twitter.com/cher/status/915462440028012545
How many rolls of paper towels does it take to sop up a hurricane?

— Anthony Houser (@tonyhouser) October 3, 2017
Trump looked like he was taking a jump shot, which people began to parody. It became an instant meme.
Found this vid of Trump when he took his paper towel basketball style distribution to the next level pic.twitter.com/ACAqYvSFpE

— Denlesks (@Denlesks) October 3, 2017
I imagine instead of "Kobe!" Trump yells, "Nixon!" after each paper towel shot. pic.twitter.com/7SV0RLLgCH

— Matthew A. Cherry (@MatthewACherry) October 3, 2017
Over on Reddit, a "Photoshop battle" broke out.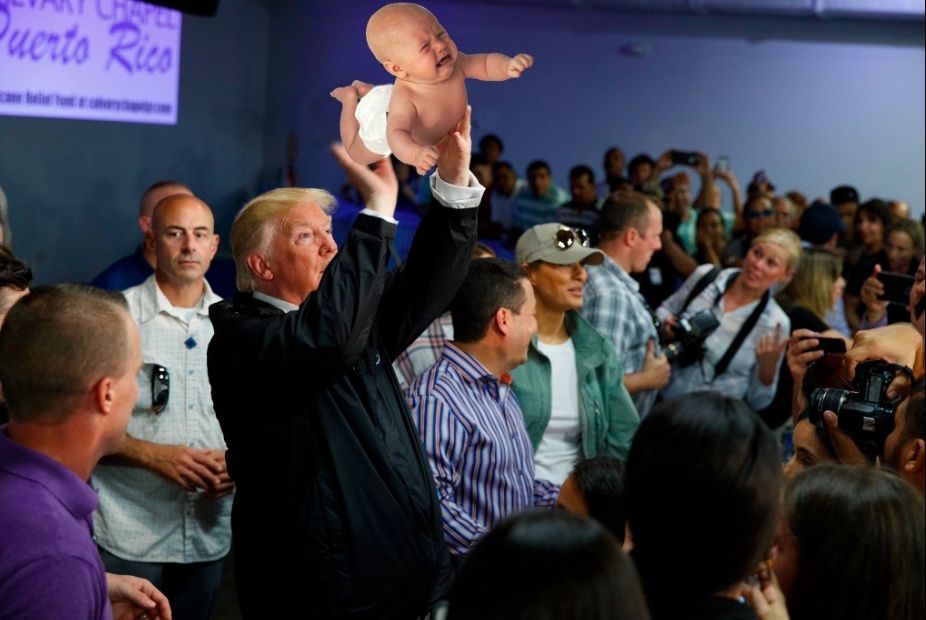 What a collection of photos we'll have of this presidency by the end of 2017.