Sluggo is lit. If you don't know what this phrase means, you probably took an extended Labor Day holiday from the internet. Last Monday, the long-running Nancy comic—which is now being drawn by a woman for the first time in 85 years—published a series of panels that offered readers a sneak peek at future Nancy strips. The first panel shows the titular character riding a Hoverboard while holding both a smartphone on a selfie stick and a portable music player. "Sluggo is lit," the speech bubble over Nancy reads.
https://twitter.com/IMissMyPencils/status/1037065919262932992
holy shit today's Nancy is good pic.twitter.com/oqdKTbB001

— jae (@jkap) September 3, 2018
In only a week, "Sluggo is lit" has become a meme. There are already T-shirts. Everyone seems to agree with Nancy: Sluggo is lit. If you're not familiar with the Nancy comic, Sluggo Smith was originally introduced as Nancy's best friend from "the wrong side of the tracks." The comic has also implied a romantic relationship between the two characters. Despite being created in 1938, the Nancy comic has managed to stay surprisingly relevant. Nancy is a deeply relatable character in 2018, especially when she reflects on issues like societal constraints…
nancy is a real one pic.twitter.com/0KbFtx6bat

— chris randle (@randlechris) July 1, 2018
…and how technology affects us and our relationships.
holy shit nancy pic.twitter.com/KwcAJg4yM0

— stefapie (@stefapie) July 9, 2018
the new nancy cartoonist, Olivia Jaimes, is buckwild. don't read the comments https://t.co/YssGNlWFr0 pic.twitter.com/13GbAqto27

— Cohen is a ghost (@skullmandible) April 18, 2018
Since the new illustrator, who goes by the pseudonym Olivia Jaimes, took over Nancy in April, the internet has embraced the comic. People regularly post screengrabs of the comic in tweets, which receive thousands of likes and retweets. It's not a surprise that "Sluggo is lit" became a meme so quickly. The internet was already paying close attention to Nancy.
As Know Your Meme reported, meme-makers have already photoshopped "Sluggo is lit" into other memes, like the Steven Crowder "Change My Mind" meme.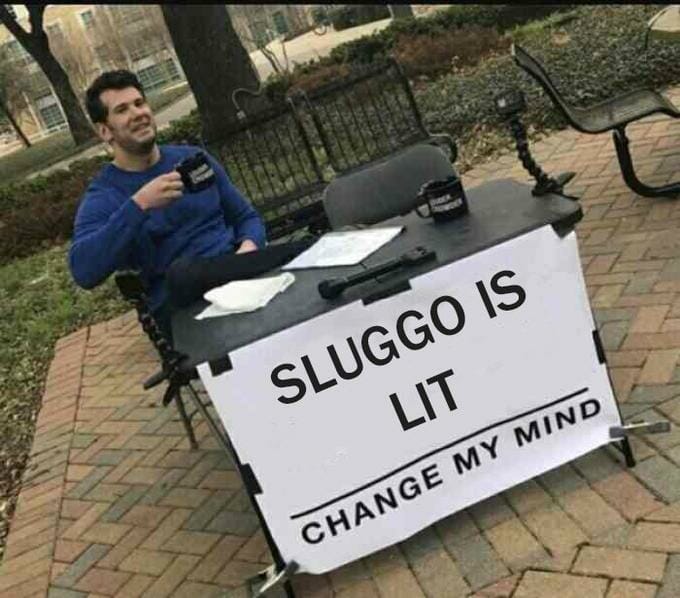 We're all having fun with this meme, but what does "Sluggo is lit" actually mean? Lit is a slang word used to describe something, usually an event or party, as being awesome or exciting. According to Merriam Webster, the earliest use of "lit" meant "intoxicated." People now say "it's gonna be lit" or "it's lit" ironically (hopefully). The term even appeared in Bo Burnham's recent film, Eighth Grade.
So, we can assume that Sluggo is doing something cool or exciting in a future comic. Or perhaps Jaimes is making fun of us and our repetitive internet speak. Considering the context—Nancy holding two electronic devices while saying the phrase—it's probably the latter. But we'll have to wait for the full comic to find out.