Getting dumped two days after prom, while maybe not as bad as getting dumped two days before prom, has to suck pretty hard. All the fond memories seem tainted, and all the hours and days of preparation seem, if not wasted, at least not as worth it.
So who could blame Canadian teen Gabi Dunn for wanting to modify those memories a bit?
She used her Photoshop skills to replace her ex-boyfriend with actor Ryan Reynolds, something a lot of girls probably wish they could do in real life.
My boyfriend and I broke up a few days after prom, so I decided to "edit" the photos a little @VancityReynolds pic.twitter.com/Ecvn5Wkgb4

— Gabi Dunn (@gabidunn99) July 4, 2017
"I kind of have a huge love for Ryan Reynolds, and I wasn't totally feeling myself on prom day, so I wanted to post my look," Dunn told Yahoo Style, "Who could be a better prom date than him?"
That alone makes for a pretty good story, but things got bumped up to a whole new level when the Deadpool star actually responded, suggesting they should Photoshop him over the ex's yearbook photo as well.
We should photoshop me over his yearbook picture next. #DontMessWithGabi https://t.co/o0qFBXvSNi

— Ryan Reynolds (@VancityReynolds) July 6, 2017
He even added the hashtag #DontMessWithGabi, which will now probably be the girl's life motto.
Maybe not surprisingly ex-boyfriend Jeff Bright decided not to heed the warning. Clearly wanting to grab a little viral fame for himself, he tweeted out the unaltered prom photo and mentioned he wouldn't be going to see the new Deadpool movie but would instead be spending his money on seeing comedian Kevin Hart.
jokes on you now im not going to see deadpool 2, my 11$ is going to @KevinHart4real pic.twitter.com/CcMILHA32J

— Jeff Bright (@JeffBright20) July 6, 2017
He must talking about the upcoming release of Jumanji: Welcome to the Jungle, because tickets to see Kevin Hart live are going to be way more than $11.
High school relationships never really last, and we don't know the details of the breakup, but throwing shade at a girl you broke up with two days after prom is not a good look. Twitter had no problem letting Bright know whose side they were on.
something tells me that Ryan will be fine without your $11 #dontmesswithgabi

— sara jaye (@sarajaye212) July 6, 2017
https://twitter.com/wunderwoman170/status/882820548664991744
July 6, 2017
https://twitter.com/z_kahn92/status/882888369872785408
If poking fun at the girl you broke up two days after prom is a bad look, an adult getting in a Twitter war with a child is an even worse one. Reynolds, wisely, didn't reply to the boy's tweet.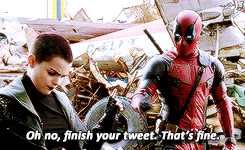 H/T Yahoo Style