Several years and several reboots after his turn as Spider-Man, Tobey Maguire is back… as a meme. A scene where Maguire's Peter Parker discovers he doesn't need glasses anymore has become shitlord shorthand for commenting on what you perceive to be the true nature of things. When Parker puts on the glasses, he suddenly sees things for what they are.
The poster of this meme, for example, sees news outlet BuzzFeed as a cancer on the meme world: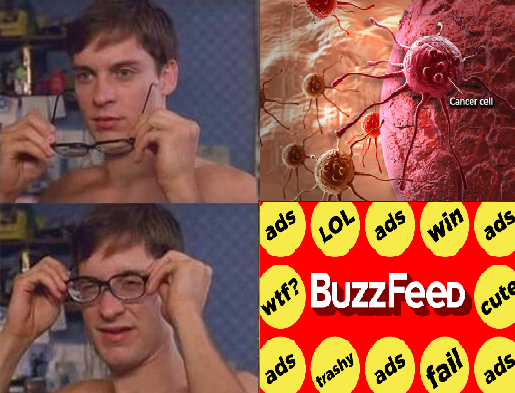 The actual scene in the movie was reversed: Due to his superpowers, Peter could see without the glasses; putting them on made things blurrier. That doesn't matter for the purposes of the meme, though: Without the context, it makes sense that glasses would bring things into focus.
Here's one that embodies the meme community's half-joking fixation on depression and suicidal thoughts: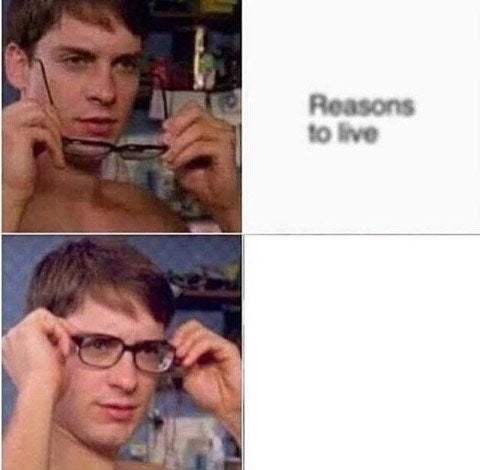 From a formal perspective, memes in 2017 are trending more and more toward a four-panel format. Tropes like Drakeposting and the Persuadable Bouncer use four simple panels to express the idea that one thing is good and another is trash.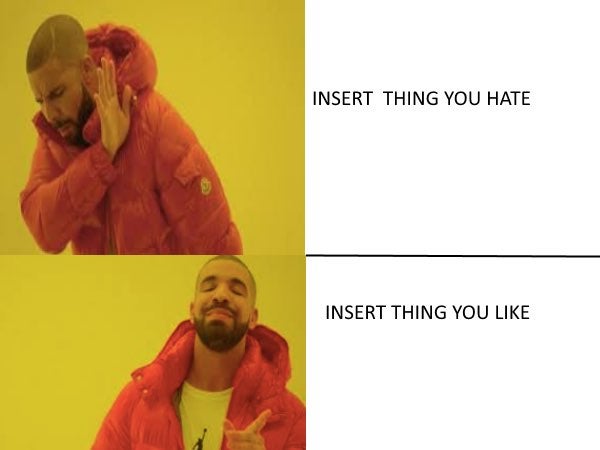 The Peter Parker glasses meme is a twist on the approval grid format. Instead of saying one thing is worse than another, it's just saying that one thing is better or worse than it seems. Usually, the meme makes things look worse once they're brought into focus, but sometimes it can be used to say, for example, that NBA player James Harden is the G.O.A.T.—the greatest of all time.
https://twitter.com/houstonrockets/status/841127611183050754
That's some wishful thinking by the Houston Rockets, but it also shows the mainstream reach of the Peter Parker glasses meme: Even NBA teams are using it.
And the glasses meme isn't even the only popular Peter Parker meme happening this month. Spider-Man also stars in a four-panel joke based on his origin story: being bitten by a radioactive spider. The punchline shows people being bitten by various other things and objects, transforming them into similar hybrids. The most popular example is this box-man: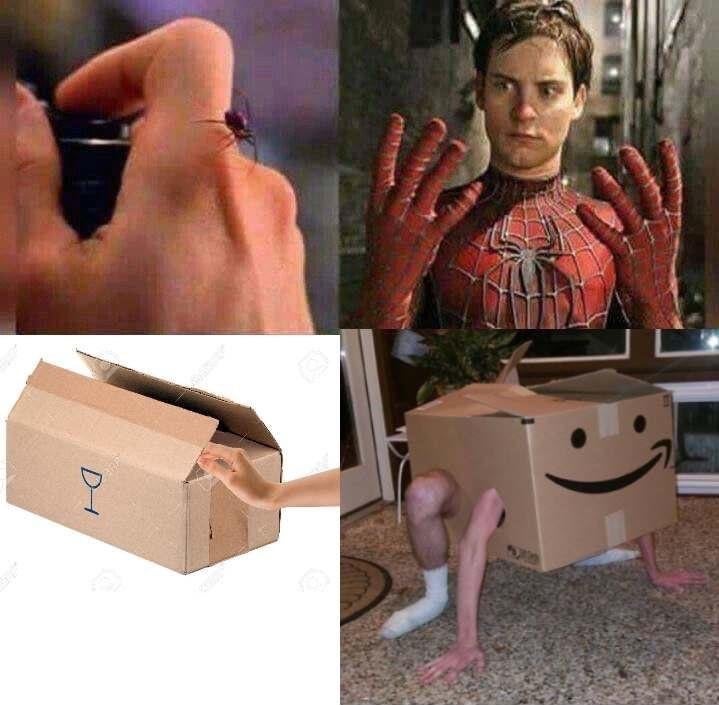 And there are many, many more where that came from (specifically, Reddit's r/me_irl subreddit).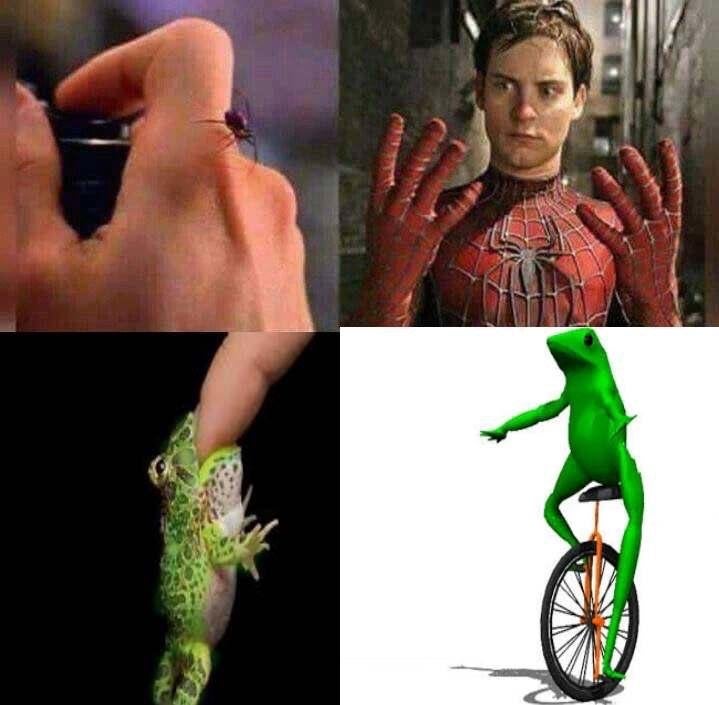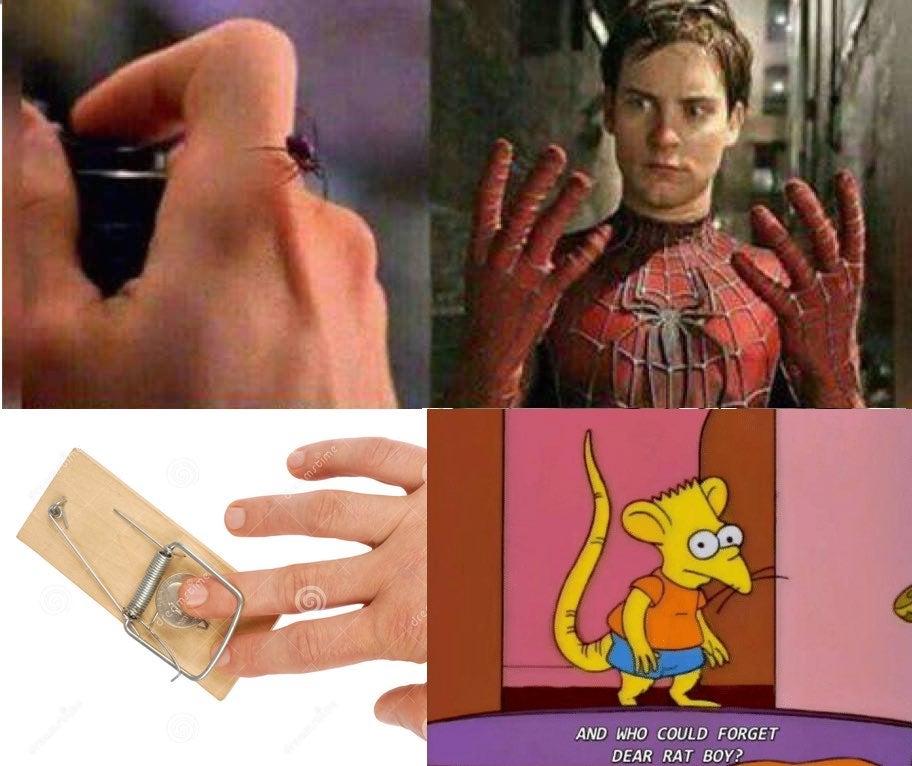 This one isn't as much about communicating a message as it is about making visual puns. Like Loss.jpg, The Meme from the Future, or Increasingly Verbose memes, it's a formal exercise, a game that's all about putting the funniest things you can think of into the boxes. Thing, plus thing-man, equals punchline.
Door? Door-man.
It's that easy.
This meme format may not stick around as long as Peter Parker glasses, simply because it doesn't have any broader application than its single joke and won't blend as easily with new memes as they appear. It may, however, get a temporary boost from the latest Spider-Man reboot, due in theaters this summer.