When Doge isn't enough, there's always Moon Moon, the intellectually stunted wolf. It's been seven years since Moon Moon bound onto our screens and stumbled awkwardly into our hearts, banging his head on the way. Here's everything you need to know about the meme.
The history of the Moon Moon meme
The meme originated from a Tumblr post by a user named Kitchiki, a London-based animator, who shared a screengrab of a name generator offering "Your Wolf Name?" The only problem is that, if your initials happened to be P.W., then your wolf name is… Moon Moon, which, as Kitchiki pointed out in his post, is hilariously stupid. "Oh shit, who brought Moon Moon along?"
The post immediately went viral—though Kitchiki wisely updated the post to remove an offensive term—accumulating over 158,000 notes in the first two weeks. Today it has over 800,000. Moon Moon's exposure rapidly expanded from that initial Tumblr post, finding popularity on photo-sharing sites like Tickled and Imgur.
Moon Moon vs. Doge
Moon Moon wolf certainly shares a few similarities with Doge, its more popular dumb-dog counterpart. Although Doge was created in 2010, it wasn't until 2013 that that meme began to really pick up steam on Tumblr and Imgur. Whereas Doge jokes are in a more clipped two-word rhythm, always beginning with one of a handful of regular modifiers ("so," "such," "many," "much," and "very"), Moon Moon comics are more narrative and character-driven, almost like a one-panel comic strip.
Examples of the Moon Moon wolf meme
Moon Moon was created in 2013, and the format of the meme reflects that time period on the internet. Most of the Moon Moon memes show an image of a wolf who is acting silly or goofy with overlay text that imagines the wolf's internal monologue. A few examples are below.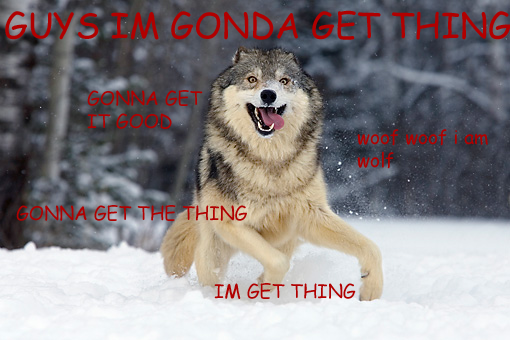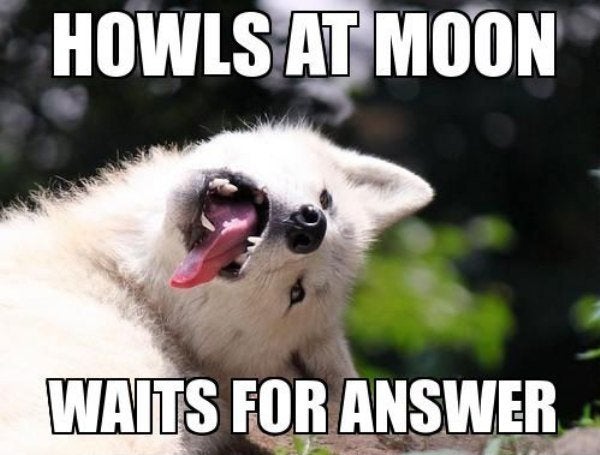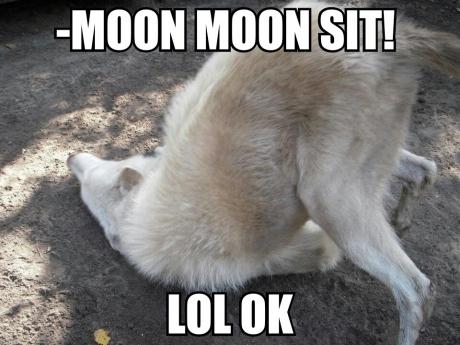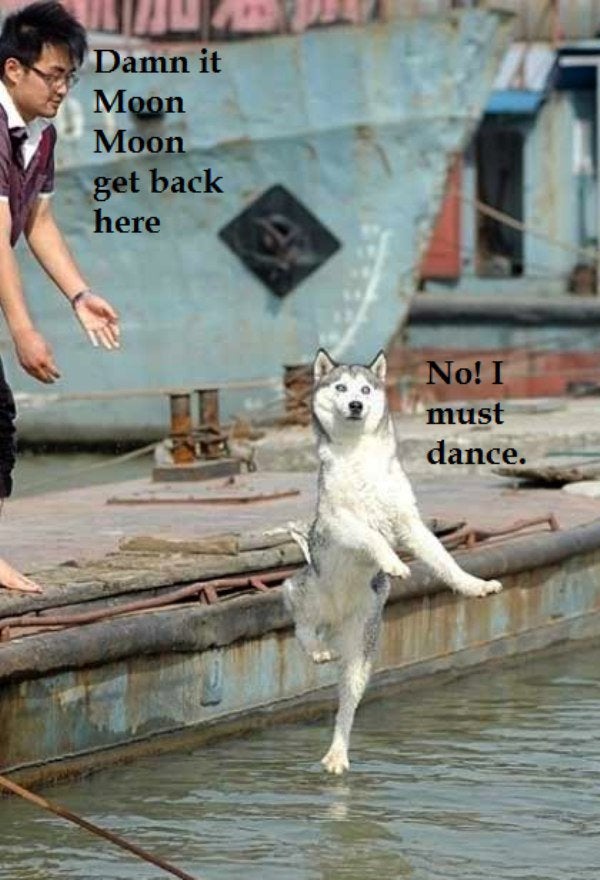 The meme is still going strong. Interest in it has stayed pretty constant, according to Google Trends.
That's thanks in part to a dedicated Moon Moon subreddit, which adds new videos and GIFs to the Moon Moon legend every day.
We asked one of the subreddit's moderators, JHoward777, why he thinks the meme endures. "I'm pretty amazed to see how far this trend has come along," he said. "And with Reddit now catching on to the trend, it'll definitely grow faster and become much larger in the future."
Probably not, but one can dream.