Opinion
You, like me, must have wondered at one time or another where the "line" is when it comes to Twitter suspensions. I've seen overt racists, abusers, misogynists, and hot-take artists thrive on the app, so it must take something seriously drastic to actually get suspended, right?
On All Hallows' Eve, I saw a clearly photoshopped image of a Monster Energy-infused ham product (a meme made by Adam The Creator). As a normal person, I was disgusted and downright bewildered that someone took the time to do this, but as a Twitter user addicted to those sweet, sweet likes and retweets, I saw gold. I saved the image to my phone, came up with a caption using a made-up word, and hit the tweet button. Regular stuff. The likes, retweets, and mentions started pouring in and everything was good.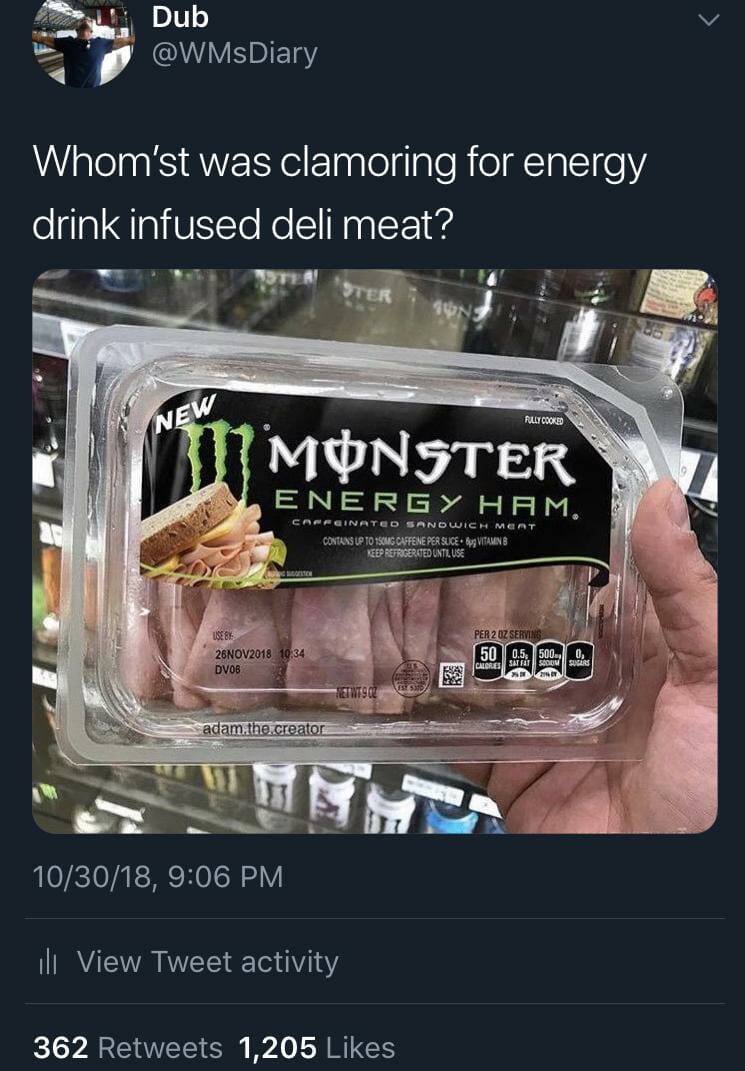 Halloween played out like any other day. I was ignoring my daily work responsibilities and tweeting my normal brand of wholesome nonsense when all of a sudden the app stopped working. Initially, I started blaming my carrier, Sprint, because the internet tricked me into thinking that anything but Verizon is poor. Then I checked to see if the website was down. (It wasn't.) As a last resort, I reset my iPhone. Once that didn't work, I decided to give it a minute, take a breath, and calm down. After exactly 60 seconds transpired (I'm like Bubbles from The Wire, but replace heroin with getting these tweets off), I checked my email to see if there was some massive outage that I wasn't aware of. That's when I saw my Scarlet Letter: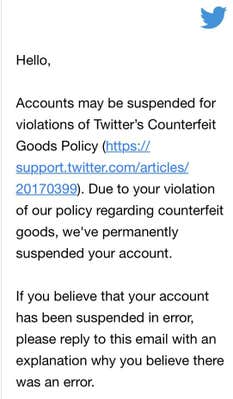 "If you believe that your account has been suspended in error.."
Buddy, you best believe my account was suspended in error. You're associating me tweeting about caffeinated ham with one of those bootleggers in Times Square selling fake Louis Vuitton bags? Really? This surely had to be a mistake. I've been a loyal and avid Twitter user since 2011. I'm that guy whose friends say "wow, you tweet a lot" when, in reality, I wish I tweeted more. Because I love Twitter so much, I chalked it up as a bot-related error. It happens. The appeal process was likely going to be seamless and efficient.
Fast forward 24 hours to November 1, and I'm patiently waiting for my imaginary digital attorney to get me out of Twitter jail for a crime I did not commit.
That's when the next email came: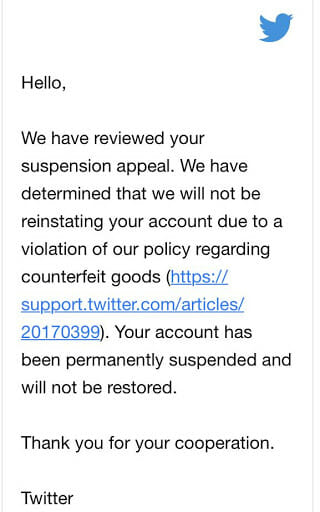 "Your account has been permanently suspended" might be the polar opposite of what I was looking for after tweeting about some caffeinated deli meat. I was seemingly unaware that Monster Energy had the feds doing sweeps up and down Twitter, shaking down any accounts that connected them with swine. But in all seriousness, I was sad. I was angry. And I had no other option but to start anew, so I can complain in an even bigger vacuum where absolutely no one is listening.
I wasn't exactly "killing it" on Twitter. I wasn't verified. I didn't have thousands of followers (I had ~700). But the followers I did have became part of my online community. They became my digital friends that I knew I'd never meet in real life, but I spent several hours with every day. It was a community I learned from, laughed with, and watched grow throughout the course of my 46,000 tweets over the last 7 years. And it was all taken away because of a meme of some fake ham.
I mourned (aka I've played "I'll Be Missing You" by Diddy and Faith Evans on repeat for the last 12 hours), I complained to friends, and I even created a new janky ass Twitter account @_WMsDiary to try to recapture the magic, but it wasn't the same. It was like trying to rebuild credit after bankruptcy. I always viewed that sky blue bird as a friend, an entity that I've defended, invested in, and supported, but after the suspension, that all changed. It's like when Obi-Wan fought Anakin and screamed: "You were my brother!"  
On Friday afternoon, Twitter gave me back my account. Here's the email: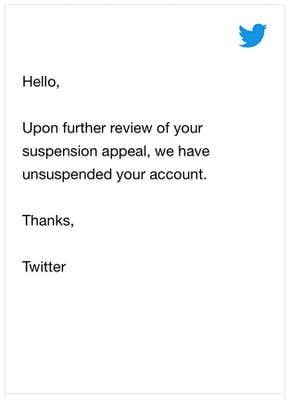 My tenure as an internet criminal was a short-lived 36 hours, but it had enough twists and turns to age me at least a decade. This is such a 2018 problem that I'm already ashamed to tell my future kids this story. Thank you, Twitter.
(Editor's note: We've reached out to Twitter for a comment on the suspension, and we'll update this article if we receive a response. In case you had any doubts, The Monster Energy Ham is definitely not real.)