Embattled nerdcore rapper Christopher "MC Chris" Ward has made peace with Mike Taylor, the Twitter user he exiled from his show. It's Reddit that he can't seem to get off his back.
Ward posted an apology confession to YouTube last night, taking blame for the fallout over his decision to kick Taylor out of his Philadelphia show Tuesday night and asking for forgiveness from a passionate fanbase that's turned on the enigmatic nerdcore icon.
"I've had a horrible day today," Ward said in his apology. "And I'm sure someone else had a bad day today too, because they didn't get to see the show last night, or the bands they wanted to see, because I kicked them out of the venue."
Speaking into a cellphone camera, Ward owned up to his history of throwing fans out of shows and said that he's "made more than enough mistakes" during his time as one of nerdcore's most prominent personalities.
He fought back tears for much of the video, openly weeping during the portion wherein he pledged to "be a good person."
"I'm an ex-Catholic," he said. "I want to atone, and I just want things to go well in the future."
Posted last night, the video's garnered a wealth of attention but hasn't done much to earn Ward any points. At press time, the "I'm sorry" video had 4,283 dislikes and only 1,212 likes.
Meanwhile, Redditors have continued to berate the rapper and his on-stage practices. In an r/Gaming thread, Redditors took the opportunity the rattle off stories about Chris's antics, saying that he's "not a fan of his fans" and a hypocrite who uses his phone during sets but berates others for doing so.
One Redditor made a chart detailing the supposed changes to the rapper's fan base.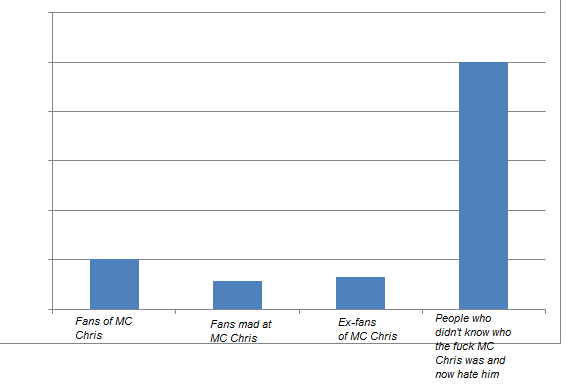 Ward, however, has turned his attention to the "nerdy shit again."
"Can't wait to show everyone what a show is really like tonight in Baltimore," he wrote. "No one gets kicked out, everyone can tweet whatever they like, and i'll make sure everyone feels respected.
"and there's music too!"
A rapper talking about music at his show. Now, what a novel idea that is.
Photo via YouTube