When it was announced that the theme of this year's Metropolitan Museum of Art's annual gala co-hosted with Vogue is "Camp: Notes on Fashion" to match the new fashion exhibit at the Costume Institute, we knew that celebrity attendees would be going all-out for Twitter reactions, no matter how they interpreted this year's confusing theme.
As we wrote on Monday's story, "The theme's title is a play on writer Susan Sontag's essay 'Notes on Camp,' one of many famous attempts to define the famously ambiguous aesthetic. … Camp embraces the uniquely flamboyant and skirts the line of good taste."
And boy did celebs deliver on campy outfits! Twitter responded in kind with memes of the dresses that graced this year's pink carpet.
Leading the pack are the Jenner sisters, who arrived in matching Versace feathered gowns—Kendall in bold orange and Kylie in icy lavender that matched her wig. While both looked stunning, people on Twitter couldn't help but compare their looks to several pop culture pairs that have supposedly inspired them—everything from the evil stepsisters in Disney's Cinderella and Ella Enchanted to the hilarious duos in comedy films like White Chicks and Dumb and Dumber.
https://twitter.com/em_chew/status/1125546227532099584
Kendall and Kylie Jenner channeling Cinderella's evil step-sisters at the #MetGala. #MetGala2019 #KylieJenner #KendallJenner pic.twitter.com/zaeiyTu8mf

— Gibson Johns (@gibsonoma) May 7, 2019
Kendall and Kylie looking like the evil step sisters in Cinderella #MetGala pic.twitter.com/0bcOWhmtTp

— Ahhh da (@pizza4zayn) May 6, 2019
If Kendall and Kylie did get inspo from Hattie and Olive from Ella Enchanted IM NOT EVEN MAD #MetGala pic.twitter.com/SILfOtWQNS

— this is the worst (@sorrysprinkles) May 7, 2019
https://twitter.com/whitemanswhor3/status/1125579994611294208
Kendall herself acknowledged the comparisons in her Instagram stories.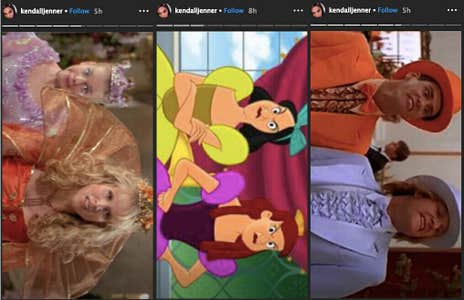 Providing the Cinderella to the Jenner sisters' wicked stepsisters look is Zendaya, who stole the show dressed exactly like the Disney princess in a Tommy Hilfiger gown that was "magically" lit up by her own fairy godmother (stylist Law Roach), complete with a glass slipper she left as she ascended the Met steps.
https://twitter.com/Saraechevarria_/status/1125595421420736515
https://twitter.com/hoorrulainn/status/1125581143938670598
#MetGala ZENDAYA "lost" A SLIPPER ON THE STAIRS, SHES SO DEDICATED TO THIS ROLE THE ACTRESS REALLY JUMPED OUT pic.twitter.com/XjvVl9bi1e

— anna (@hemmingsxworth) May 7, 2019
can't believe the irony in kylie and kendall arriving earlier and accidentally channeling the ugly step sisters, and then zendaya showing up fashionably late in a cinderella getup pic.twitter.com/J684e1P8kK

— brooke (@darthvernon) May 7, 2019
Cinderella and her evil stepsisters have arrived. #MetBall2019 pic.twitter.com/XbynqY9NKe

— _donttreatmebadly (@Faith1065) May 7, 2019
People demanded a photo of Zendaya with the Jenner sisters.
https://twitter.com/kyliesnapt/status/1125565357215965185
ok but zendaya, kendall & kylie need a pic together! #MetGala pic.twitter.com/pdR38hJCpb

— reanna (@reannalebleu) May 7, 2019
Completing the Cinderella narrative is Riverdale's Madelaine Petsch as the fairy godmother (apart from Roach, that is).
https://twitter.com/frapeeelll/status/1125646409070301184
Kendall and Kylie Met Gala memes
Here are the rest of the memes comparing Kendall and Kylie to other pop culture duos.
As Jim Carrey and Jeff Daniels' Lloyd and Harry in Dumb and Dumber
Kylie and Kendall arrive. Serving us some Dumb and Dumber. #MetCamp #metgala19 #MetGala2019 #METGaga #metgala #KylieJenner #kendalljenner #balladofkyliejennersoldface pic.twitter.com/PIf3WntWnT

— J A Y D E (on tour) (@jaydeadams) May 6, 2019
https://twitter.com/h_stovie/status/1125569452802805769
As Shawn and Marlon Wayans' Brittany and Tiffany in White Chicks
https://twitter.com/sssunflowr/status/1125597897276436480
Un poco de humor. I love @KendallJenner and @KylieJenner #MetGala pic.twitter.com/npWxbiXjCU

— Zanty Rangel (@RangelZanty) May 7, 2019
I think it's so sweet and iconic of kendall and kylie to pay homage to this cinematic excellence #MetGala pic.twitter.com/lwzjAxOlYP

— 🦴 (@pescatarianslut) May 7, 2019
#MetGala knew Kylie and Kendall looked familiar pic.twitter.com/M5rrIeAg4m

— Bradley Boo (@bradley_jah) May 6, 2019
Who wore it better?
Who wore it better? @KylieJenner @KendallJenner #MetGala pic.twitter.com/n9HnLo9V7K

— Saint Hoax (@SaintHoax) May 7, 2019
As Will Ferrell and Jon Heder's Chazz and Jimmy in Blades of Glory
Kylie and Kendall about to win the Winter Sports Games #MetBall2019 pic.twitter.com/heVgGJsQM6

— Maddie Hormann (@madelinehormann) May 7, 2019
As cartoon characters, including Velma and Daphne from Scooby Doo
Kylie and Kendall channeling Velma and Daphne at this year's #MetGala. pic.twitter.com/lO5cXcdJbK

— rei (@thereimond) May 6, 2019
https://twitter.com/nasreenibrahimx/status/1125619185986326528
Kylie and Kendall really went out and stole their look huh…. #metgala pic.twitter.com/GxGKG1gNN8

— Ellie ✨ (@ellcven) May 7, 2019
As snack staples
Some even think the Jenners are giving "Takis & Flamin' Hot Cheetos" or Fanta orange and grape vibes.
The Jenner's giving me Takis & Flamin' Hot Cheeto vibes #metgala #MetBall2019 pic.twitter.com/QUN11uN2Es

— First We Feast (@firstwefeast) May 7, 2019
May 7, 2019
A lot of Twitter users are just shocked the sisters actually made an effort to follow the theme, after previous years of seemingly missing the mark or completely ignoring it.
https://twitter.com/saintvenchy/status/1125543494380949504
me seeing that kendall and kylie have actually followed the theme #MetGala pic.twitter.com/2XjNH1H2D4

— Felix (@felixrackers) May 6, 2019
Kendall and Kylie actually making an effort for the #MetGala ??? I am SHOOK pic.twitter.com/J8HA53ZXXZ

— T (@tiffanyjadeeee_) May 6, 2019
More Met Gala outfit memes
While we're on the subject of Met Gala outfits that reminded people of entirely something else, here are a few more that contributed to Monday night's wealth of memes.
There's Cardi B arriving for her second Met Gala in an elaborate scarlet-quilted Thom Browne gown with a massive train that made people think of period blood on a pad…
why cardi b look like my pad when i sneeze on my period #metgala pic.twitter.com/DHUKCXwuxz

— cat (@markerfriesbaby) May 7, 2019
Cardi b looking like me on my period #MetGala pic.twitter.com/GXqOZzpJhw

— en (@yykrose) May 7, 2019
as a human bean who is currently menstruating i am DEEPLY bolstered by @iamcardib rolling up to the met gala dressed as an anthropomorphic Crimson Wave like wow thank you my queen i am obsesseddddddd 🥊 pic.twitter.com/zPthuM3dGp

— Kacey Rohl 😷 (@KaceyKadoodles) May 7, 2019
…or just a "red blood cell."
okay but why is cardi b a red blood cell #MetGala pic.twitter.com/Eyd5zaOCyL

— Felix (@felixrackers) May 7, 2019
Cardi B. is a virulent red blood cell. But I'm kind of impressed. #Metgala pic.twitter.com/4DgDdmxmpb

— Vanessa Friedman (@VVFriedman) May 7, 2019
@QUEEN_SOPHISTIC's "aunt said Cardi B looks like a placenta and I can't f*cking unsee it."
https://twitter.com/QUEEN_SOPHISTIC/status/1125607100300677120
To some, the gown looks like a duvet.
Was just shaken to the ground by the ultimate duvet dress @iamcardib #metgala pic.twitter.com/SDKmVnxTOr

— Man Repeller (@ManRepeller) May 7, 2019
Cara Delevigne's outfit looks like the pencil case that @pathetic_sam used to bring to school.
https://twitter.com/pathetic_sam/status/1125607229304893440
@fvmero thinks Emily Blunt looks like the Oscars trophy.
Emily Blunt said "Fuck it if The Academy won't give me my Oscar Award I'll just BE my own Oscar Award." #MetBall2019 #MetGala pic.twitter.com/dGjaXZoaoD

— Billie (@fvmero) May 6, 2019
Frank Ocean gave @jayversace "Jehova's Witness pastor at bowling alley vibes."
YESS giving me jehova witness pastor at bowling alley vibes https://t.co/KId6NSq3kb

— afro archangel jay (@JAYVERSACE) May 7, 2019
Meanwhile, Katy Perry dressed exactly as a chandelier (at first).
How could @KatyPerry top last year's larger-than-life gold wings? By dressing as a chandelier, naturally. #MetGala https://t.co/xKPp8Fbdpl pic.twitter.com/jPztmh7YFF

— Vogue Magazine (@voguemagazine) May 6, 2019
Or is it Lumière from Beauty and the Beast?
Katy Perry at the #metgala pic.twitter.com/mzafVriUr1

— 9GAG (@9GAG) May 7, 2019
Maybe she just misread "camp" as "lamp."
#MetGala #KatyPerry When you misread camp and you show up as a lamp pic.twitter.com/DtHzKXTGZ4

— Nat (@natushlookbook) May 7, 2019
Perry later changed into a burger outfit.
Katy Perry is shake s̶h̶a̶c̶k̶ing up her outfits at #MetGala. https://t.co/osYN1WpV9Q pic.twitter.com/5sIHedPux5

— E! News (@enews) May 7, 2019
Whether Kylie, Kendall, Zendaya, and the rest of the celebs successfully adhered to the camp theme, there's one thing they definitely achieved: Gracing us with meme fodder to tide us over until 2020.
READ MORE: